Pinney House did land-office business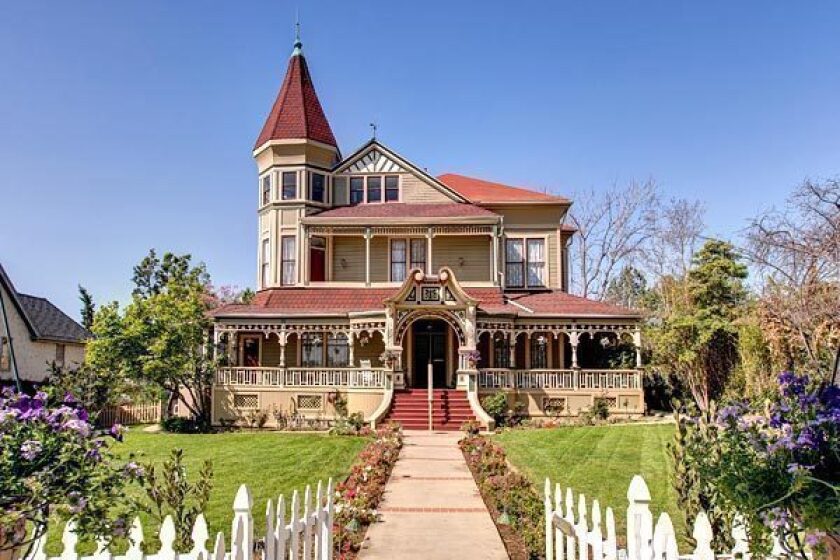 The Pinney House was built in the late 1800s as a hotel where visitors from the East could stay while making land purchases. The structure's three-story tower offered a view of the railway station, a mile away, so the proprietor would know when the train had arrived. Later a sanatorium, a boarding house, apartments and a filming location, the property is now a single-family house restored in keeping with the period ambience.
Location: 225 N. Lima St., Sierra Madre 91024
Asking price: $2.795 million
Previously sold: In 2002 for $1.3 million
Years built: 1887-88
Architects: Samuel and Joseph Cather Newsom
House size: 10 bedrooms, 11 bathrooms, 10,000 square feet
Lot size: Nearly half an acre
Features: Living room, dining room and parlor fireplaces, library, sun room, first floor studio, loft-like attic living quarters, front veranda, English-style garden.
About the area: Last year, 84 single-family homes sold in the 91024 ZIP Code at a median price of $690,000, according to DataQuick. That was a 10% decrease from the 2011 median.
Open house: Sunday, 1 to 5 p.m.
Agents: Katherine Orth, (626) 355-2384, and Judy Webb-Martin, (626) 355-2384, Podley Properties
—Lauren Beale
To submit a candidate for Home of the Week, send high-resolution color photos on a CD, written permission from the photographer to publish the images and a description of the house to Lauren Beale, Business, Los Angeles Times, 202 W. 1st St., Los Angeles, CA 90012. Send questions to homeoftheweek@latimes.com.
---
Inside the homes of the rich and famous.
Glimpse their lives and latest real estate deals in our weekly newsletter.
You may occasionally receive promotional content from the Los Angeles Times.