Southland housing market may finally be getting back to normal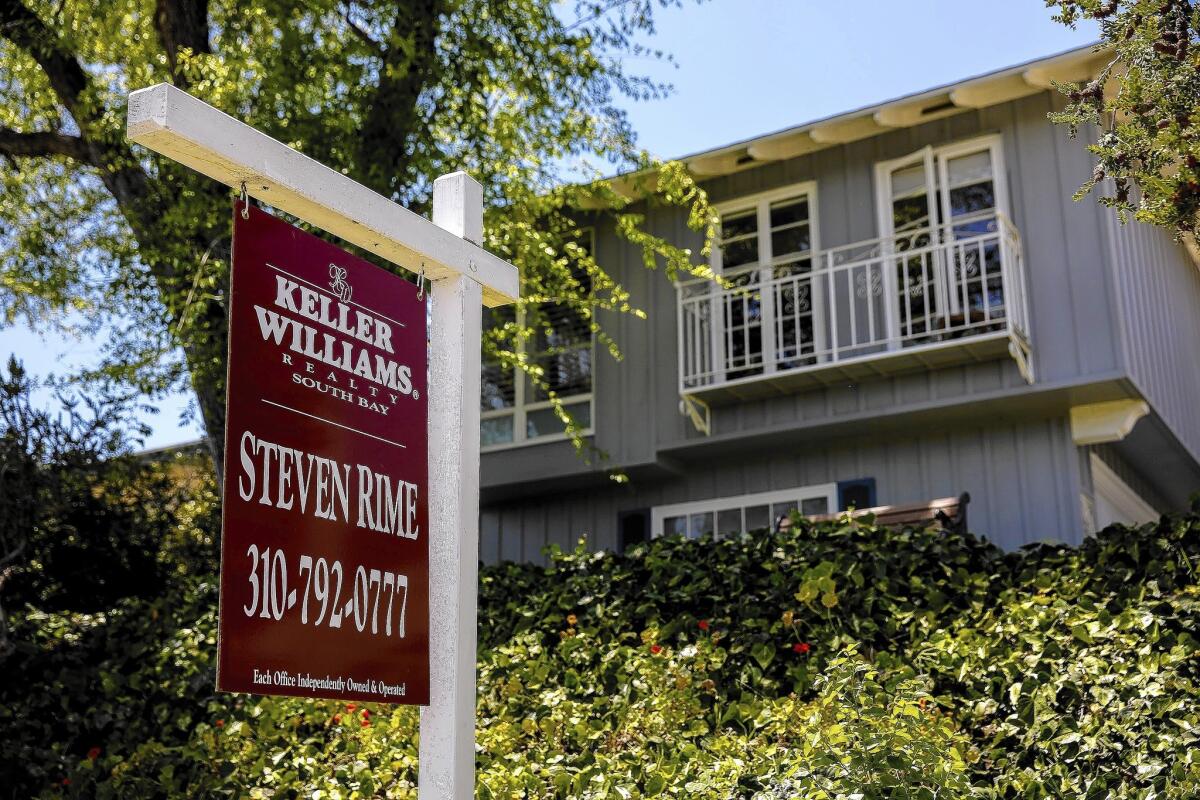 The housing recovery looks to be losing steam. But that may not be a bad thing.
In the latest sign of a market that's plateauing well below its past highs, home prices in Southern California grew at their slowest pace in two years in June, capping a spring selling season that never quite took off.
The median price of a home sold in the six-county Southland hit $415,000, according to real estate service DataQuick. That number is the biggest in four years, but 18% below the market's high point in mid-2007.
And the furious gains seen this time last year are a thing of the past. In the last 12 months, home prices climbed 7.8%, barely one-fourth their pace in the prior year.
But if the market's highflying days are over, housing in Southern California appears to be entering a healthier phase of growth, real estate agents and economists say.
"I think we're getting back to a very normal market, finally," said Syd Leibovitch, president of Rodeo Realty in Beverly Hills.
Tight credit standards and a still-soft economy are keeping a lid on prices, and Leibovitch said he expects that they will stay flat through the rest of this year.
Indeed, a report last week by real estate website Trulia said asking prices in Orange County — a leading indicator of the sales figures DataQuick measures — grew just four-tenths of a percent in the second quarter. But sellers, at least those with proper expectations, are still drawing multiple offers from buyers who are able to get historically cheap loans.
"This is a balanced market, and that's a good thing," said Rich Simonin, chief executive of Westcoe Realty in Riverside. "It is solid for sellers if their price is reasonable. And buyers can still get good interest rates."
Those buyers have a lot more to choose from. With prices higher than they were a year ago, investors and all-cash buyers have backed away, constituting their smallest share of home sales in four years, according to DataQuick. And banks appear to be loosening the tap on loans just a bit; DataQuick's tallies of jumbo loans and overall mortgage lending are at their highest level since 2007.
"Many of the market indicators we track continue to ease toward normalcy," said Andrew LePage, an analyst with the San Diego data firm.
That means more of the market consists of "regular" buyers purchasing houses from "regular" sellers, said Stuart Gabriel, director of UCLA's Ziman Center for Real Estate. And they're buying houses that they plan to live in, not investment vehicles that they plan to flip for profit. That will insulate them from ups and downs in the future.
"That would be a good outcome all around," he said. "Housing's not just an investment good. It's a consumption good. You buy a house you like and enjoy living in, and plan to live in for a while."
The price slowdown, though, could leave one segment of the market stranded: the roughly 300,000 Southland households that still owe more on their homes than they're worth.
Two years of rising prices have pulled many of these so-called underwater borrowers back above the surface. But at the end of the first quarter, 8.1% of home loans in metro Los Angeles remained underwater, according to data firm CoreLogic. In the Inland Empire, that figure is 17.3%.
Few of these borrowers are falling into foreclosure anymore, real estate experts say, but few can afford to sell their homes either. If prices stall, there's little they can do but wait out the market and keep making their monthly payments, Simonin said.
"They might as well hang on," he said. "You've waited out five years. What's another?"
For the rest of us, Simonin said, this leveling off is a welcome break. For the first time in 15 years, he said, it doesn't feel as if the housing market is either soaring or plummeting, and there's no pressure to buy — or sell — now, lest you miss out on a windfall.
Buyers and sellers can focus on deals that make sense for all involved. In the boom-and-bust Southern California housing market, Simonin said, that's a nice change of pace.
"This is boring and that's OK," he said. "The train will wreck eventually. It always does. But for now, we can enjoy a smooth ride."
Twitter: @bytimlogan