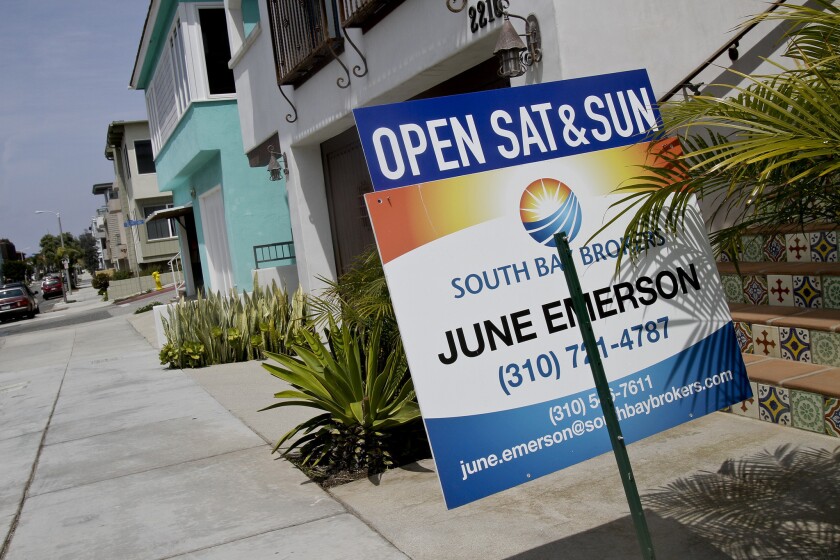 Home prices in Southern California hit their highest level in nearly seven years this summer, but those gains are slowing down.
The median price of a house sold in the six-county Southland climbed to $420,000 in August, according to figures released Thursday by CoreLogic DataQuick. That's up from $413,000 in July and from $385,000 in August 2013, a 9.1% increase.
August marked the highest median price the region has seen since December 2007, but it was also the third straight month of single-digit annual gains after nearly two years of double-digit price growth.
In more expensive parts of the region, that growth has slown to a crawl, with the median price in Orange County climbing just 5.4%, to $590,000. Prices remain nearly 17% below their peak before the housing crash.
Economists and other market watchers say the slowdown is largely a matter of affordability. The glut of foreclosures and other distressed properties mostly burned off last year, removing lots of bargain-buying opportunities. Meanwhile incomes haven't grown enough to push prices much higher, especially with lending conditions still tight.
"Prices are high enough to be a hurdle for a lot of potential buyers, even though mortgage rates have fallen in recent months," said CoreLogic DataQuick analyst Andrew LePage. "And price isn't the only impediment. Some still struggle to qualify for a loan or to mend their household finances in the wake of the Great Recession. Others are simply waiting for price appreciation to give them enough equity in their homes to make a move up."
That's one reason sales volume remains quite low by historic standards.
The number of homes sold in Los Angeles, Orange, Ventura, Riverside, San Bernardino and San Diego counties fell 18.7% compared with last August, to 18,796. That's the fewest recorded sales for the month since 2009 and more than 28% below the long-term average for August, CoreLogic said.
Keep an eye on housing and real estate in Southern California. Follow me on Twitter at @bytimlogan
---