Southern California home prices rise, sales fall in February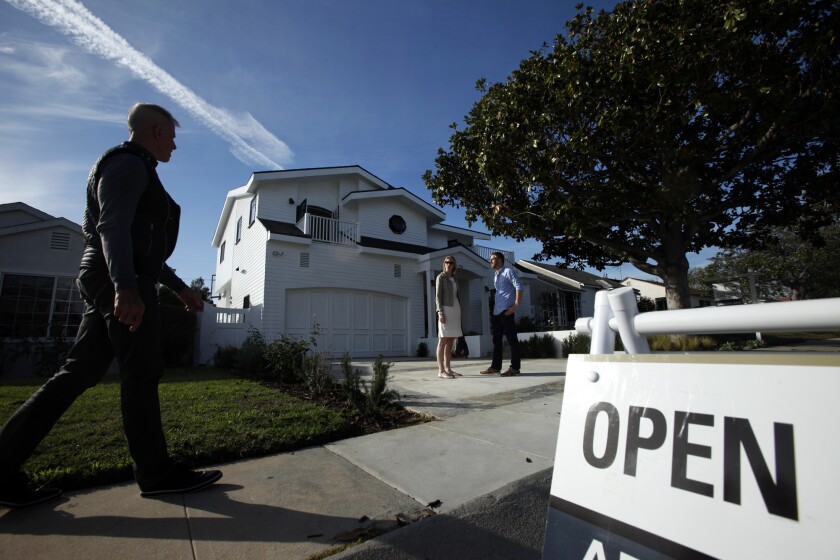 Spring has not sprung just yet in Southern California's housing market.
Home prices in the six-county Southland in February stayed about the same as they have been for nine months, while sales volume drooped compared to this time last year. That's according to new figures out Tuesday from CoreLogic DataQuick.
The San Diego-based housing data firm reports that the median price of homes sold in the region was $415,000 in the month, up 8.4% from February 2014 but roughly in line with where they've been since May 2014.
The number of sales fell 2.7% compared to last February, the 15th time in 17 months they have declined on a year-over-year basis.
January and February are typically slow times in the housing market here. The next few months will tell the story of whether the region's housing market will pick up speed or continue the slow-but-steady pace it's been on for about a year and a half now, said CoreLogic analyst Andrew LePage.
"This feels a lot like early 2014, with home sales off to a slow start as many would-be home buyers struggle with inventory constraints, credit hurdles and reduced affordability," he said. "And just like a year ago, one of the big questions hanging over the market is whether we'll see a sizable jump in inventory this spring and summer."
There are some good signs on the inventory front. On Monday, the California Assn. of Realtors reported 5.8 months worth of homes unsold on the market in Southern California, just shy of the six months that economists consider "normal" supply. In Riverside County, there are seven months of inventory available.
Around the region, price growth was strongest in San Bernardino County, with the median up 11.1% to $250,000. It was weakest in Orange County, up 4.2% to $590,750.
Home sales grew 9.8% in Ventura County and 1.1% in San Diego County but fell 11.5% in San Bernardino County and 1.5% in Orange County.
In Los Angeles County -- the biggest chunk of the six-county market -- median price grew 9.2% to $465,000 while sales fell 2.5%.
Keep an eye on housing and real estate in Southern California. Follow me on Twitter at @bytimlogan
---
Inside the homes of the rich and famous.
Glimpse their lives and latest real estate deals in our weekly newsletter.
You may occasionally receive promotional content from the Los Angeles Times.