Supply of new homes for sale remains extremely low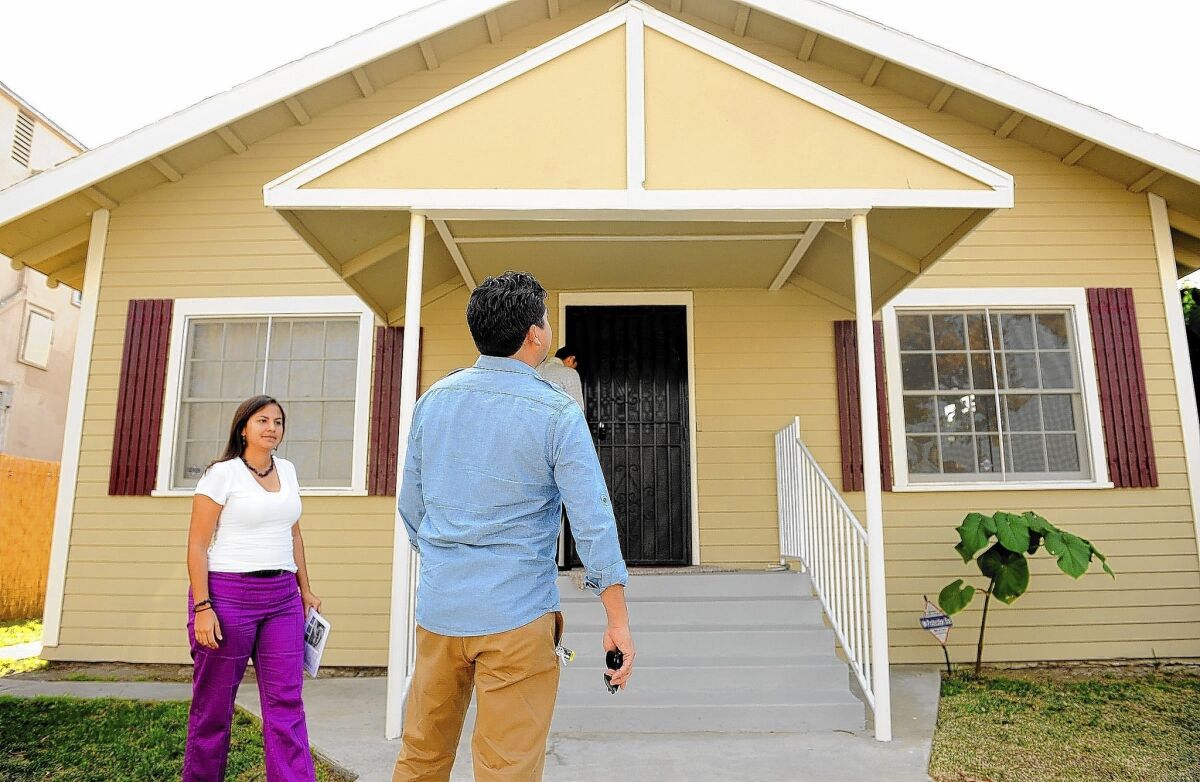 Southern California home building is stuck at historic lows, one of many factors conspiring against middle-class buyers in a recovery marked by high prices and low supply.
Despite explosive price gains last year, builders and their Wall Street financiers remain hesitant to make big bets on the rebound.
The slow construction is among many hurdles facing buyers seeking affordable homes. Cash-rich investors — many of them buying homes to rent out, rather than resell — have eaten into supply, especially at the lower end of the market. Meanwhile, many homeowners still aren't selling because they lost too much equity during the housing crash.
That may seem like an ideal opening for builders to put up new developments. But Southern California's supply of new homes had dwindled to about 2,200 at the end of last year, compared with a peak of about 19,000 in 2006, when the housing market started to collapse, according to the Real Estate Research Council of Southern California at Cal Poly Pomona.
About 15,000 new homes will be sold this year in the six-county region — 58% less than the 20-year average, predicts Pete Reeb, an economist with John Burns Real Estate Consulting in Irvine.
Meanwhile, prices and sales have stalled since the rapid recovery early last year, largely because would-be buyers can't find a home they want at a price they can afford.
Citlali and Israel Gonzales wanted a home in a new development when they started their search a year ago, but found few choices. The homes they did find were too far away from work in Los Angeles, too expensive or built on tiny lots with no yard for the family they planned to raise.
"We decided we'd have to fix up an older house — as long as it didn't require too much work," Israel Gonzales said.
The couple is still looking.
Another factor hurting affordability: Only about 10% of today's new projects are attached condominiums, compared with half in previous expansions, said housing consultant Jeff Meyers, who heads Meyers Research in Beverly Hills. Putting up a few single-family homes is less risky than building condo complexes, he said, and builders and their financial backers remain allergic to risk.
The delayed recovery in home construction owes to a variety of factors. Many smaller builders were wiped out by the housing crash, and those that remain can't get financial backing from institutional investors. The larger, publicly traded builders, meanwhile, are reviving stalled projects. But they remain leery of launching new developments in more affordable areas with open land, such as the Inland Empire, where income and employment remain depressed.
Developers are also struggling with a shortage of ready-to-build lots — those with government approvals, streets and utilities in place. That's because planning for new developments screeched to a halt when the housing market imploded. It will be at least next year before the slowly reviving process makes many new projects feasible, said Randall Lewis, executive vice president of Lewis Group, an Upland development firm with roots going back to 1957.
Some builders are focusing instead on taking over stalled subdivisions that were abandoned by other building during the crash, said Steve Ruffner, regional president for KB Home of Los Angeles.
"We're looking for ready-to-go, finished lots that we can build a home on," he said.
That's a lot more efficient than starting from scratch. It can take years to obtain land, get government approval and install infrastructure for a subdivision in densely populated Southern California.
The construction rebound is moving a bit faster in upscale areas.
"We're in the second inning of the recovery," Meyers said, "at least in the Inland Empire. Orange County may be in the third or fourth inning."
The decline is most pronounced in San Bernardino County, off 73% from its 20-year average for for-sale developments. San Diego County is down 66%, Riverside County 62% and Los Angeles County 55%. Orange County (down 49%) and Ventura County (down 45%) are less affected, though they are still markedly off their historical averages.
By comparison, sales of previously owned homes are down only slightly from historical norms, with Reeb projecting 239,000 sales this year, about 4% below the 20-year average.
KB's focus is largely on "infill" development, building in previously developed areas, rather than in exurbs with affordable open space. It has such projects in San Diego, Orange and Los Angeles counties, including Playa Vista on L.A.'s Westside.
"We just purchased an infill project in Van Nuys, and we're looking at a lot of infill around L.A.'s core," Ruffner said.
The company has also taken over Antelope Valley projects that were left idle in the housing crash.
With access to the stock and bond markets, big builders like KB Home and Toll Bros. have been able to finance such deals. But smaller private builders have not enjoyed that luxury.
Many former financial partners are defunct or on the sidelines. Much of the money for Inland Empire home building during the boom, especially for smaller builders, came from community banks that failed because of housing-related losses. Many were seized and sold by regulators, including 1st Centennial Bank in Redlands, Vineyard Bank in Corona, PFF Bank & Trust in Pomona and Temecula Valley Bank.
In the past, builders could find financing from other sources as well, but these too were wounded or killed by the financial crisis. Wall Street's Lehman Bros., a big backer of home building, collapsed into bankruptcy in 2008. The giant California Public Employees' Retirement System shifted its emphasis from residential property to office towers in 2011 after its enormous real estate portfolio lost 42% during the recession.
"There used to be a dozen people at CalPERS you could talk to" about deals, consultant Meyers said. "Now there are maybe two."
Meanwhile, private investment funds have focused less on home building and more on buying foreclosed properties to rent out, especially in such lower-priced areas as the Inland Empire. Those cash purchases have made it hard for individual home shoppers to compete.
Some private equity money is available for building in desirable areas of Orange and Los Angeles counties, Reeb said, but those investors remain cautious about financing projects in areas where housing markets were hit hardest.
"There are a lot of Wall Street guys sniffing around Southern California, but they haven't fully committed yet," Reeb said. "They're still only interested in grade A and B markets — and those, for the most part, are fully built out. They're waiting to see if it's really full speed ahead before investing in more marginal areas."
Meanwhile, Israel and Citlali Gonzales continue their house hunt. The couple is currently living in Corona with family, to save money, but looking to move closer to work in Los Angeles.
After giving up on buying a home in a new development, they had hoped to buy an older home in Ontario — 35 miles from their jobs, but with a large lot and space to expand in a basement and attic.
But they canceled the deal when an inspection showed the house needed about $100,000 in repairs, including foundation work.
Israel Gonzales' employer, USC, would provide them $50,000 over seven years to help buy a home near the college's campuses. But the homes within their $310,000 budget in those areas are badly run down and would need $40,000 to $50,000 in refurbishments, he said.
Even the historically affordable Inland Empire presents few bargains these days, he added. Renovated homes there are being offered mainly by house flippers hoping for hefty profits, he said.
"It's starting to get discouraging."
Twitter: @scottreckard
Times staff writer Andrew Khouri contributed to this report.
---
The mansions, the prices, the market.
See inside amazing properties and read the latest news about housing and commercial real estate in our weekly newsletter.
You may occasionally receive promotional content from the Los Angeles Times.