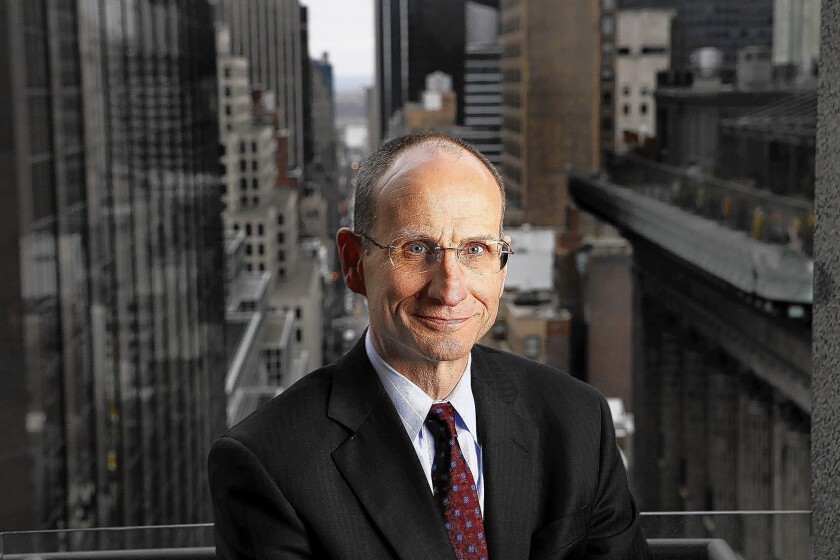 What do Microsoft Corp., the Chinese e-commerce giant Alibaba Group and JPMorgan Chase & Co. have in common?
All turned to CBRE Group Inc., based in Los Angeles, to handle global and U.S. office space needs.
CBRE is the world's largest commercial real estate brokerage. Its vast footprint includes 440 offices in 60 countries, including operations in London, Paris, Hong Kong, Singapore and Sydney, Australia.
"We have $90 billion of assets under management on the investment side of our business," said James R. Groch, CBRE's chief financial officer at an investors conference last month. "And we have about 3.5 billion square feet of property under management for both corporations and investors."
"A decade ago a typical large multinational would have an in-house real estate department maybe of several hundred people around the globe." Now, he said, multinational corporations are outsourcing that real estate business to companies like CBRE, "and that has helped with the industry consolidation that we've benefited from."
The company is in its quiet period before the release of its second-quarter earnings and, as a result, didn't make executives available to be interviewed.
CBRE's income comes from arranging transactions to buy or rent space in offices, warehouses and other commercial properties.
The company traces its roots to the firm of Tucker, Lynch & Coldwell, founded in 1906. It later became known by a much more familiar name in the real estate industry — Coldwell Banker.
Coldwell Banker evolved into CB Commercial. In 1998, the company changed its name to CB Richard Ellis. In 2011, the company became CBRE Group.
CBRE has come back from the damage caused in the global recession, when the company spent two quarters in the red. In 2009, the company's workforce was about 29,000 employees. It has since grown to 44,000 workers.
The latest
CBRE said it agreed last week to acquire U.S. Equities Realty, which leases and manages 17 million square feet of Chicago property, including the Willis Tower. CBRE also bought PKF Consulting USA, a hotel consulting firm.
In June, the company announced that its debt rating had been raised to investment grade BBB-, from BB, by Standard & Poor's Rating Services. CBRE's enterprise rating was also raised to BB+ from BB with a positive outlook.
"The S&P upgrade reflects the success of our strategy," Chief Executive Robert Sulentic told analysts in a conference call. "We have diversified our revenue base and are supporting our growth with prudent investments in our people."
In April, the company reported first-quarter net income of $67.7 million, up 80% from a year earlier. First-quarter revenue rose 26% to $1.9 billion.
Accomplishments
CBRE finished 2013 with record revenue of $7.2 billion.
The company is ranked seventh on the latest Barron's 500 list, which judges businesses on its own proprietary algorithm that is based on sales growth and cash-flow return on investment.
CBRE is the only commercial real estate services company in the S&P 500 and on the Fortune 500 list.
Challenges
It will be tough to maintain its own growth rate in revenue, the company said in a recent statement, and "year-over-year earnings comparisons will be more challenging in the quarters ahead."
In addition, uncertainty over U.S. fiscal and tax policy has led some CBRE clients "to delay or cancel commercial real estate transactions which may affect our revenues," the company said in its most recent annual report.
Analysts
Of the six analysts who regularly follow CBRE, two have it rated as a strong buy. Four others consider it a buy.
Brad Burke, an analyst with Goldman Sachs who rates CBRE as a buy, said in a recent note to clients, "In the near term, we expect CBRE to generate strong cash flows on cyclical growth, and to deploy cash by acquiring smaller competitors within a fragmented industry."
Twitter: @RonWLATimes
---