This investment fund has a social agenda — and high-profile backers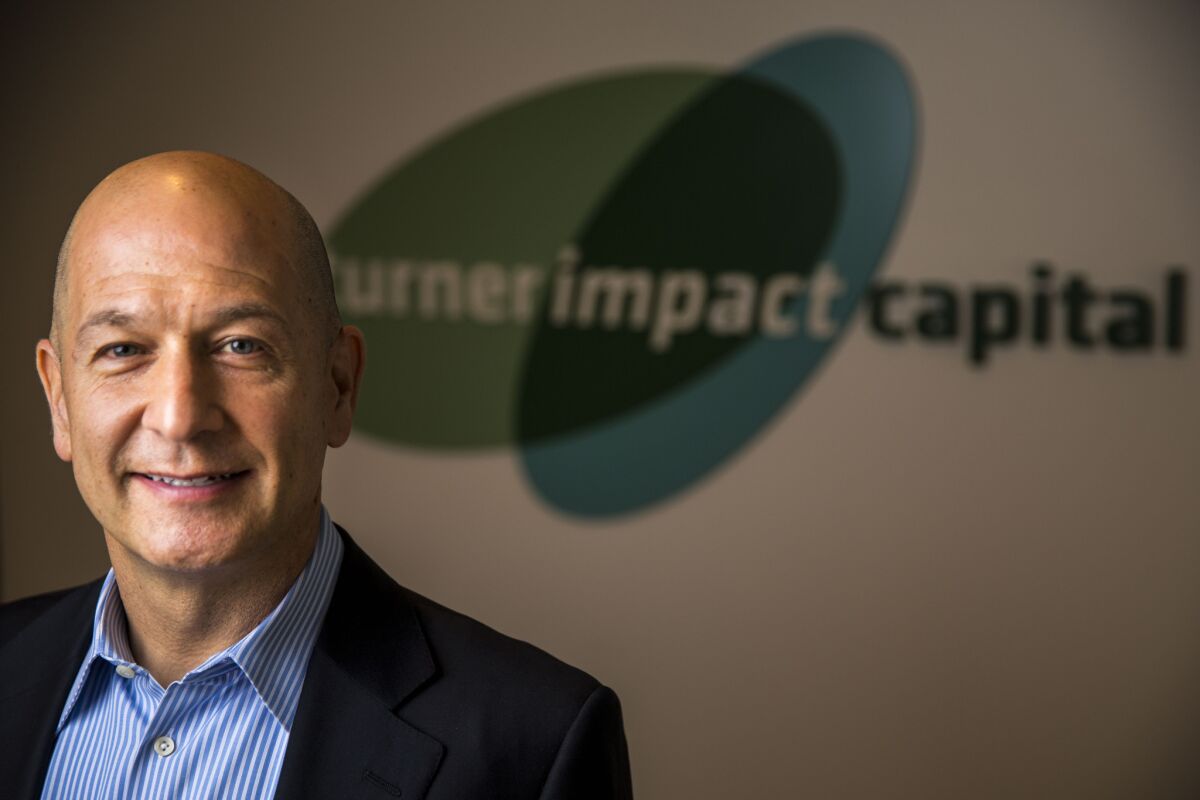 Charity is laudable, Bobby Turner says, but if you really want to raise enough money to improve a thorny social problem you have to introduce the profit motive.
An associate of 1980s junk bond king Michael Milken who made a fortune in real estate, Turner is now turning that personal philosophy into action.
He set up a company last year called Turner Impact Capital that seeks investors to pay for blue-collar housing, promising returns more typical of conventional money-making businesses.
And already some big names are risking capital to invest with Turner, a deeply connected Los Angeles financier who already has a similar fund with former tennis star Andre Agassi to build inner-city charter schools.
The Turner Multifamily Impact Fund launched in June so far has drawn investments from high-profile hedge fund manager Bill Ackman; Citi Community Capital, a division of Citibank that invests in affordable housing; the University of Michigan endowment; and Rockefeller Brothers Fund, a philanthropic organization operated by the Rockefeller family.
The fund recently acquired its first two properties: a 599-unit garden-style apartment community near Washington, D.C., for which it paid $58.5 million in June, and a 405-unit complex near Fort Lauderdale, Fla., that it bought for $45.7 million this month. He's looking for similar properties in Southern California.
Ultimately, Turner, 52, wants to buy and manage $1 billion worth of apartment complexes with 10,000 units in urban centers throughout the country. It's a strategic turnaround for a man who has given millions of dollars to charitable causes but questioned the long-term value of his largess.
"For 30-odd years I was a very successful capitalist," said the former partner at Canyon Partners, a Los Angeles hedge fund that has more than $24 billion in assets under management. "I made great wealth for myself but didn't fulfill my sense of spirituality. I was being reactive and creating legacies of dependency."
A door to a new approach opened in 1996 when Canyon acquired a closed wire factory in Harlem where Turner hoped to build a shopping center. After four years he acknowledged his "profit-only" approach was unable to gain community support or government approvals and he had to sell his firm's interest in the site. But he learned there was a longing for new stores, restaurants and apartments in urban centers — and that developers could succeed if they engaged local residents and built credibility with them.
In Los Angeles, former Lakers star Magic Johnson had that credibility, having surprised real estate experts with the success of an upscale theater complex he opened in economically challenged South Los Angeles. Turner was introduced to Johnson in 1998 and during a Lakers game the two discussed the idea of starting a fund for urban real estate investments.
Turner and Johnson launched the Canyon Johnson Urban Fund in 2001 and raised nearly $2 billon for such developments, including an apartment and retail complex at Sunset and Vine in Hollywood. But much of the development was upscale and didn't address the needs of lower-income residents.
So, two years ago, Turner left Canyon to form his Impact Capital, which he decided would be profitable and different from other low-income housing developers, which are typically nonprofit and rely on government subsidies or tax breaks.
That approach captured the interest of Ackman, the New York hedge fund manager best known in Los Angeles for his attacks on supplement maker Herbalife.
Ackman's Pershing Square Foundation has invested $10 million in Turner's housing fund and a similar amount in his charter schools project.
"I vastly prefer for-profit solutions for problems," he said. "One of the benefits is that there is a lot more capital available."
Other low-income housing builders that make profits for investors, such as Related California, often develop new housing from the ground up, which can be more costly than buying and improving existing stock.
"Not doing new construction is a smart way to support workforce housing," said Con Howe, managing director of CityView, a for-profit developer that builds from the ground up and makes over older buildings. "Renovating existing properties is just going to be more efficient."
Turner's business model is narrow.
He believes his fund can be profitable by buying the same kind of mid-level apartments in gentrifying neighborhoods that other developers also are eyeing. But instead of improving them with granite countertops, upscale appliances and other amenities to raise rents, the plan idea is to improve security and offer social services that will make the buildings attractive to blue-collar and middle-income workers. Renters can make no more than 80% of a neighborhood's annual median income.
"We are focusing on the universe of renters who make too much to qualify for subsidized housing but not enough to buy a house," he said.
That includes teachers, nurses and municipal workers who might otherwise have to commute to central cities from cheaper suburban areas. Such a rental population also allows for innovations such as giving teachers who provide after-school tutoring a break on rents. Resident police officers can help organize security programs and nurses can provide basic healthcare for similar breaks.
"You create a pride in rentership and get longer-term leases by enriching a community," he said.
Another key side benefit is reducing turnover, which can be a killer expense for landlords and eat into profits.
Cory Booker, a U.S. senator from New Jersey who worked with Turner to fund a charter school building in Newark, said the developer has seized on an innovative for-profit approach to a problem eating away at inner-city stability: fewer long-term residents due to a lack of affordable housing.
"If more people followed that model a lot of urban communities would be progressing a lot faster and going a lot further," he said.
Steve Soboroff, former president of the massive Playa Vista residential and commercial development in Los Angeles, said Turner's approach has another benefit.
"Bobby can move much faster than nonprofits," he said. "A lot of grant applications are bureaucratic, cumbersome and slow."
A parallel element to Turner's approach is improving schools.
In 2011, he started the Turner-Agassi Charter School Facilities Fund with Agassi. The for-profit fund has raised or secured commitments for more than $525 million so far, bought land and started 50 schools around the nation, though none in Los Angeles. The plan is to develop nearly 200 schools.
Charter schools can fail but often become financially secure as they get established. The idea is that by the fourth or fifth year of operation they can float tax-exempt, low-interest municipal bonds and buy the school from the fund.
Recently, the fund sold its first school back to its operator, something Turner takes pride in.
"You need to harness market forces to create sustainable solutions — and that means making money," he said.
---
The mansions, the prices, the market.
See inside amazing properties and read the latest news about housing and commercial real estate in our weekly newsletter.
You may occasionally receive promotional content from the Los Angeles Times.