Buoyed by Silicon Beach, Westchester enjoys a housing surge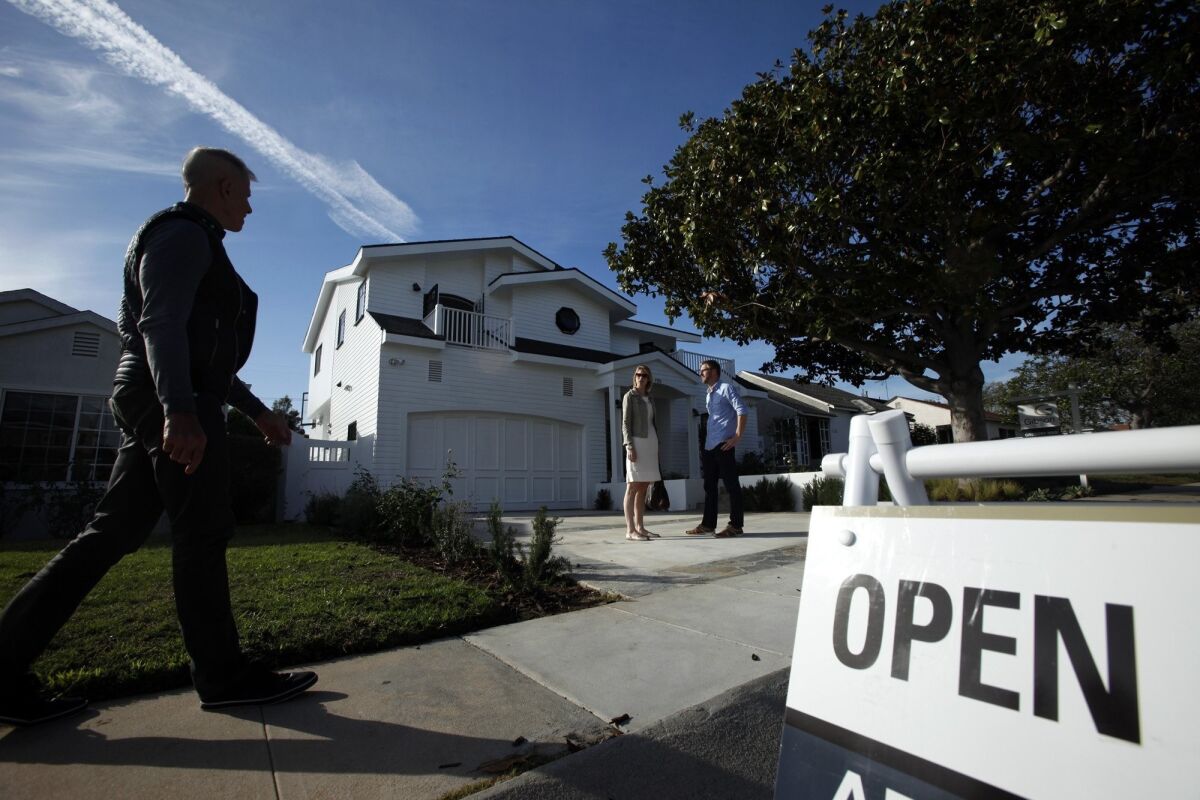 When Regina Freidin first moved to Westchester about 15 years ago, it wasn't exactly her first choice.
Her husband had grown up in the quaint, suburban neighborhood just north of LAX and wanted to move back. She grew up in the San Fernando Valley and had in mind someplace more trendy. They had been renting in Brentwood.
"It's not like there's a stigma," she said. "But you know how if you live in the Palisades or Brentwood or Santa Monica, people are like, 'Ooooh.' Well, Westchester is just Westchester."
But 15 years and three Westchester houses later, Freidin says she wouldn't want to live anywhere else. And she has friends hoping to move there too. Even one from Brentwood.
This often-overlooked patch, known to many as a place they pass through en route to the airport, is having something of a moment.
Westchester's 90045 ZIP Code is one of just a handful of places in the region where house prices have returned to pre-crash levels, with the median price for a single-family home hitting $795,000 in the third quarter, according to CoreLogic DataQuick.
Those prices have climbed 25% in the last two years. A big reason: the southward surge of Silicon Beach.
The tech and real estate phenomenon that has transformed Santa Monica, Venice and Marina del Rey is now lapping at the edges of Westchester. Media and entertainment firms have been scooping up office space in Playa Vista, a master-planned community on the old Hughes Aircraft site just north of Westchester. Last month, tech giant Google bought 12 vacant acres zoned for a massive office complex.
"All these tech and advertising companies have really shifted the dynamics of the marketplace," said Stephanie Younger, a real estate agent with Teles Properties in Playa del Rey.
A wave of rehabs and additions has also driven prices higher. Construction crews are a common sight in Westchester these days, converting the neighborhood's traditional postwar ranch homes — built in the '40s and '50s for returning GIs and aerospace workers — into fully updated two-story affairs.
Since summer, three houses have sold for around $2 million, and several more are on the market north of $1.5 million, especially on the curvy, tree-lined streets of the Kentwood neighborhood near Loyola Marymount University.
One knock on Westchester has always been the airport. The neighborhood wraps around the northern corner of LAX, which means arriving planes make their presence known with regularity. But those planes have gotten quieter over the years, residents and real estate agents say, and in much of the community they can barely be heard at all.
Either way, Younger and other agents point out, with its tree-lined streets and sizable yards, Westchester offers something that's pretty hard to find west of the 405 Freeway: space.
"You can have a lot more house for your money," Younger said. "You can get a single-family home and good-sized yard."
That's the pitch real estate agent Gregory Masi is making on a house he's trying to sell in Kentwood, a 3,500-square-foot four-bedroom with an open floor plan downstairs and four window-filled bedrooms above. From a balcony, you can see the control tower at LAX, but as Masi notes, you can't really hear the planes.
It's on the market for $1.85 million. That's near the high end for Westchester, but as Masi's flier points out, comparably priced houses in towns to the north are half the size and decades old.
"We get a lot of people coming in from Venice, Santa Monica, Brentwood," Masi said. "A lot of young couples in condos, who are looking for more room."
Like a lot of houses at the higher end of the Westchester market, the house Masi is selling isn't quite an original. A growing number of the neighborhood's postwar ranch houses are being torn down and rebuilt, often at twice the size.
Some of them look more like houses you'd find closer to the beach, said Tracy Thrower Conyers, a Venice-based real estate agent who moved to Westchester 12 years ago. And they're often aimed at buyers who've been priced out of those neighborhoods.
"They're looking for something a little more contemporary," she said.
There's been backlash against this "mansionization" in other pockets of the Westside, but not much in Westchester, said Cyndi Hench, president of the Neighborhood Council of Westchester/Playa. At least not yet.
"There've been a few homes that have popped up and they really kind of max out the lot," she said. "But it hasn't gotten bad."
Still, she said, the neighborhood is definitely evolving. Although it remains home to some of the children of the old Hughes engineers who moved there in the '50s, it's drawing more newcomers.
And when some apartment buildings going up on the edges of the neighborhood are done, and when Google opens its Playa Vista development, Hench expects her quiet pocket of town will be right in the middle of the action.
"This is going to be a different place in five years," she said. "Westchester will definitely be on the map then."
Twitter: @bytimlogan
---
The mansions, the prices, the market.
See inside amazing properties and read the latest news about housing and commercial real estate in our weekly newsletter.
You may occasionally receive promotional content from the Los Angeles Times.