History hopes to repeat itself in Highland Park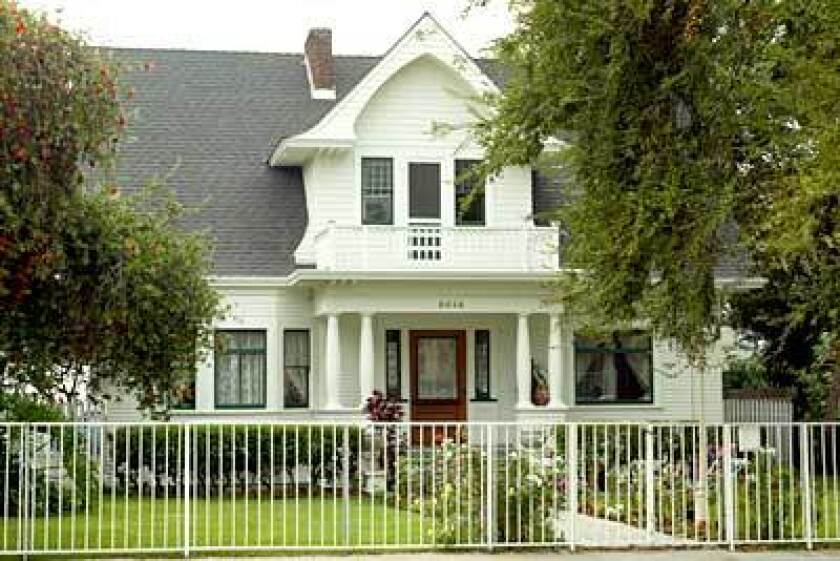 Special to The Times
Art and architecture have flourished in the Highland Park neighborhood of Los Angeles since its beginnings in the 1880s along the Arroyo Seco. The business district developed in the 1920s and '30s, a few decades after the residential area was established. The community is home today to about 66,000.

Wow factor

Highland Park has a diverse collection of historic homes. About 2,800 structures, including more than 50 designated as historic cultural monuments by Los Angeles' Cultural Heritage Commission, make up the Highland Park Historic Preservation Overlay Zone, established in 1994.

Every popular Southern California architectural style from the late 1880s to the 1940s is represented, from Queen Anne Victorian and Craftsman to Mission and Tudor Revival. Highland Park also has many transitional-style homes that blend elements from more than one period.

Back to the future

Figueroa Street, the main commercial route through Highland Park, is experiencing a renaissance. In the late 1950s and '60s, many of the original buildings were renovated to conform to the streamlined look of the future, according to Nicole Possert, past president of the Highland Park Heritage Trust. The organization is working to turn back the clock, stripping away aluminum sheeting to reveal elaborate tiled facades.

Drawing card

Looking for opportunities to get involved? The Arroyo Arts Collective, the Historic Preservation Overlay Zone board, Highland Park Heritage Trust and many Neighborhood Watch groups are among the grass-roots organizations that have had far-reaching effects in the community.

Good news, bad news

Although outsiders may associate Highland Park with gangs, active neighborhood groups and community policing are taking back the streets. Gang activity has dropped significantly over the last five years, according to Det. Bob Lopez, who is on the Los Angeles Police Department's gang unit in Highland Park. When Lopez started his duty in the '90s, he recalls seeing swarms of gang members parading down Figueroa, but today he mainly sees families walking together.

Insider's view

The area has been an artistic and cultural center since its beginning. Fourteen years ago, three Highland Park residents continued the tradition by establishing the Arroyo Arts Collective to "expose all of the hidden artistic talents in our neighborhood, not just the visual arts," according to Hendrik Stooker, one of the co-founders. The group's annual Discovery Tour, the Sunday before Thanksgiving, combines history, art and architecture in self-guided tours through homes and studios in Highland Park, Mount Washington and Eagle Rock.

Highland Park also has more than a dozen eclectic galleries, which showcase art, music and/or performance. The venues range from Rock Rose Gallery, featuring art, music and performing arts, to Pets With Fez, a weaving studio with Kurdish music and fine art exhibits. These newer venues are intermingled with such venerable sites from the turn of the last century as the Judson Stained Glass Studio, the Southwest Museum and the Charles Lummis house.

Report card

Highland Park has eight elementary schools, one middle school and one high school. The elementary schools scored in the 600s out of a possible 1,000 on the 2002 Academic Performance Index, while API scores for the middle school and the high school were in the 500s.

On the market

There were about 38 homes listed for sale in Highland Park in early October. The selection ranged from a 540-square-foot 1922 California bungalow for $149,000 to a 4,264-square-foot home, built in 1963, for $699,000, according to Bob Taylor of Bob Taylor Properties.

Historical values

Single-family detached resales:

Year...Median Price

1990...$161,000

1995...$123,500

2000...$150,000

2002...$210,000

2003*...$254,500

*year to date
---
Sources: DataQuick Information Systems; Bob Taylor, Bob Taylor Properties, https://www.bobtaylor@realtor.com ; Matt Marchand and Hendrik Stooker, Arroyo Arts Collective, https://www.arroyoartscollective.org ; Nicole Possert, Highland Park Heritage Trust; Charlie Fisher, Highland Park Historic Preservation Overlay Zone; https://www.lausd.k12.ca.us ; https://www.greatschools.org .
---
Inside the homes of the rich and famous.
Glimpse their lives and latest real estate deals in our weekly Hot Property newsletter.
You may occasionally receive promotional content from the Los Angeles Times.