Southern California home prices rose only a little in June, and sales slid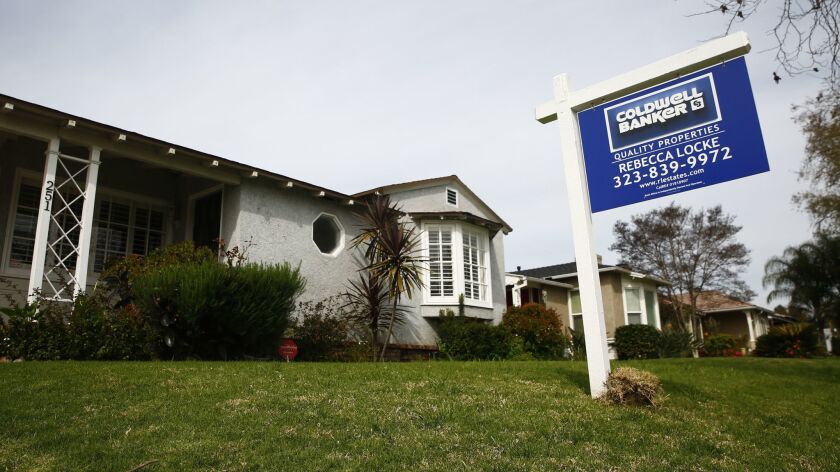 Southern California home prices rose only 1.2% in June from a year earlier, while sales fell 8.8%, reflecting a broad slowdown in the region's pricey housing market.
The six-county region's median price — the point at which half the homes sold for more and half for less — clocked in at $541,250 last month, according to a report Friday from CoreLogic.
Although that price is a record, the modest rise indicates buyers aren't willing or able to aggressively bid up homes after years of sharp price increases that have sparked renewed concerns over the lack of affordable housing in the Golden State.
Economists have blamed the lack of affordability for drastically slowing the housing market toward the end of last year and causing the region's median home price to fall slightly in March from a year earlier — the first decline since 2012.
"Affordability has gotten to the point where there are just a lot of folks priced out," said Jordan Levine, an economist with the California Assn. of Realtors.
Mortgage interest rates have steadily declined this year, however, which real estate agents say has drawn some people back into the market. This week, the average rate on a 30-year fixed mortgage was 3.75%, down from 4.94% in November, according to Freddie Mac. For a $500,000 mortgage, the change would lower a borrower's monthly payment by $280.
But despite those savings, agents say buyers are still pickier than in years past, when bidding wars were furious and homes flew off the market. In Los Angeles County, the median time on the market last month was 46 days, compared with 36 days a year earlier, according to online brokerage Redfin. Time on the market rose in each of the other five counties in the region as well.
Here is a breakdown of prices and sales in each county:
In Los Angeles County, the median price rose 0.5% to $618,000 in June and sales fell 12.1%.
In Orange County, the median price slipped 0.3% to $738,000 and sales fell 9.4%.
In Riverside County, the median price climbed 5.3% to $399,000 and sales fell 4%.
In San Bernardino County, the median price rose 1.5% to $340,000 and sales fell 11.4%.
In Ventura County, the median price dropped 5.7% to $580,000 and sales rose 1.6%.
In San Diego County, the median price rose 2.6% to $590,000 and sales fell 7.4%.
Although the market has slowed, many economists say a crash in values is unlikely. The economy may not be strong enough to support steep price increases, they say, but a low rate of home building and continued job growth mean enough people will probably be willing to buy a home at, or at least near, today's prices.
The California Assn. of Realtors recently revised its 2019 sales forecast, in large part because of falling mortgage rates. It still predicts the smallest annual price appreciation of the current real estate upswing, but the group now forecasts a 4% gain in the statewide median price for a previously owned single-family home. Before, it was predicting a 0.2% decline.
Richard Green, director of the USC Lusk Center for Real Estate, said today's tight lending standards will provide a barrier against a wave of foreclosures similar to the one last decade that helped crash the market.
Still, Green is more bearish than the Realtors. Citing a mismatch between incomes and prices, he expects the Southern California median to remain flat or perhaps decline 5% over the next two years.
"The main thing," he said,"is that prices are too high."
Los Angeles should penalize landlords who keep homes vacant as the city suffers a housing and homelessness crisis, several members of the Los Angeles City Council declared in a proposal unveiled Tuesday.
---
Must-read stories from the L.A. Times
Get the day's top news with our Today's Headlines newsletter, sent every weekday morning.
You may occasionally receive promotional content from the Los Angeles Times.