SpaceX could spin off Starlink satellite business and take it public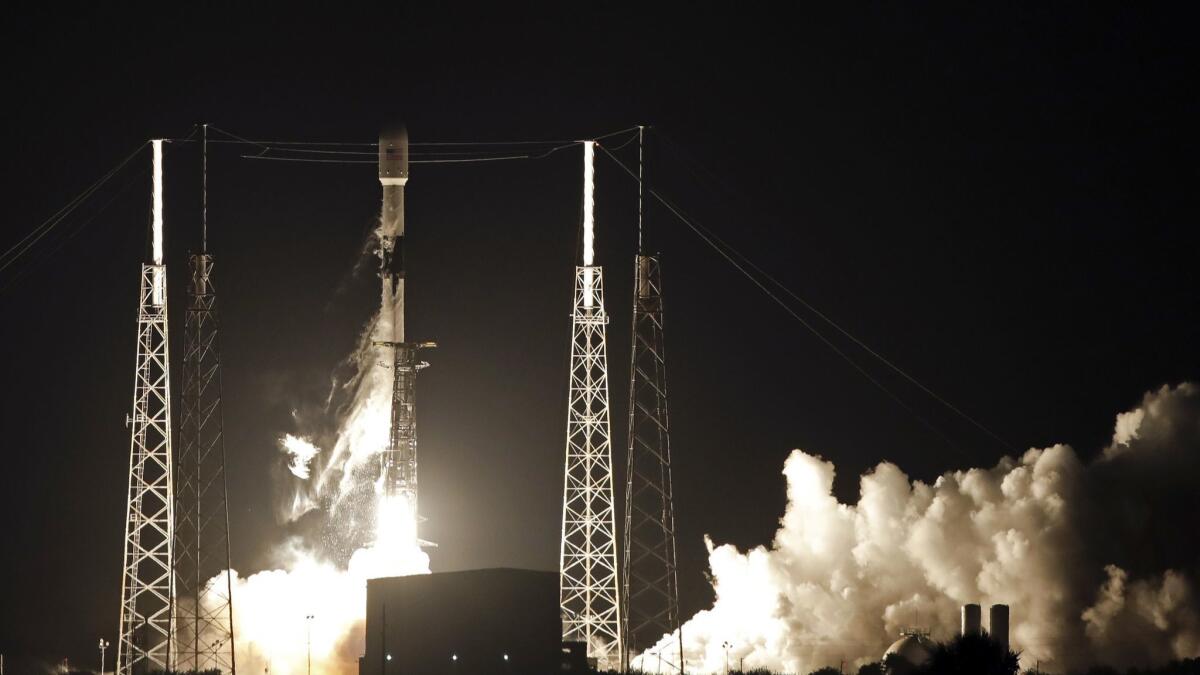 SpaceX said Thursday that it was considering spinning off its Starlink satellite internet business and taking that business public.
SpaceX is a private company and Chief Executive Elon Musk has long said he would not take it public until he was ready to achieve his goal of launching humans to Mars. But the company's satellite business is "the right kind of business that we can go ahead and take public," SpaceX President Gwynne Shotwell told an audience at a private investor event put on in Miami by JPMorgan Chase & Co., according to Bloomberg, which first reported the news.
The company's Starlink internet business hinges on launching a network of thousands of small satellites, being built by SpaceX in Redmond, Wash. SpaceX has launched more than 240 satellites, but it will need about 1,440 to provide full global coverage. Eventually, the network would include as many as 30,000 satellites.
Elon Musk and SpaceX have staked their legacy on a spaceship capable of carrying a hundred passengers to Mars.
SpaceX expects to start offering commercial broadband service later this year. The Air Force is currently testing the satellites' connectivity for use in military plane cockpits.
Shotwell was not conclusive on an initial public offering but said Starlink was an element that SpaceX was "likely to spin out and go public." SpaceX told the Los Angeles Times on Thursday that it could take Starlink public within the next several years.
SpaceX has built a steady launch business with its workhorse Falcon 9 rocket and its Falcon Heavy rocket, amassing a wide variety of customers including commercial satellite operators, NASA and the U.S. government. But at some point, launch revenue hits a peak: Musk estimated last May that SpaceX's share "probably taps out" at about $3 billion a year.
Total revenue from internet connectivity, on the other hand, could be closer to $1 trillion, and SpaceX's Starlink satellites could help the company access 3% or 5% of that, Musk said.
That revenue is crucial for SpaceX's plans to develop a new rocket and spaceship system capable of carrying heavy loads and ferrying people to Mars. SpaceX is currently working on prototypes of this spaceship, known as Starship, and unveiled another one in September.
But SpaceX's plans for Mars are still far off compared with Starlink's more near-term goals, which could be attractive to investors, said Greg Autry, director of the Southern California Commercial Spaceflight Initiative at the USC Marshall School of Business. He said he would buy the stock himself, if the price was right.
"It's hard to bet against Elon," Autry said.
But both Musk and Shotwell have repeatedly stressed the hurdles Starlink faces.
For one, SpaceX already has rivals. London-based OneWeb, backed by British billionaire Richard Branson's Virgin Group and Japan's SoftBank Group Corp., has launched satellites for its own internet-beaming constellation, and Amazon.com Inc. also has announced plans to build a network of small satellites.
Then there's the dubious track record of companies that tried and failed to raise huge constellations for telecommunications services.
"This is probably one of the most challenging, if not the most challenging, project we've undertaken," Shotwell said in 2018 during an onstage conversation at a TED conference. "No one has been successful deploying a huge constellation for internet broadband. I don't think physics is the difficulty here. I think we can come up with the right technology solution, but we need to make a business out of it."
She told reporters in December that SpaceX probably would mature as an internet service provider by 2021 after an expected "bumpy" start. At the time, she said the company still needed to work out aspects of the service, such as the price for consumers. Those kinds of details will be important to judge the success of the business, Autry said.
"It is, I believe, a viable business model, but we don't know enough about it to know exactly how viable," he said. "We need to know what the pricing is going to be to the end users and what the cost model is."