T-Mobile wins court approval for $26.5-billion Sprint deal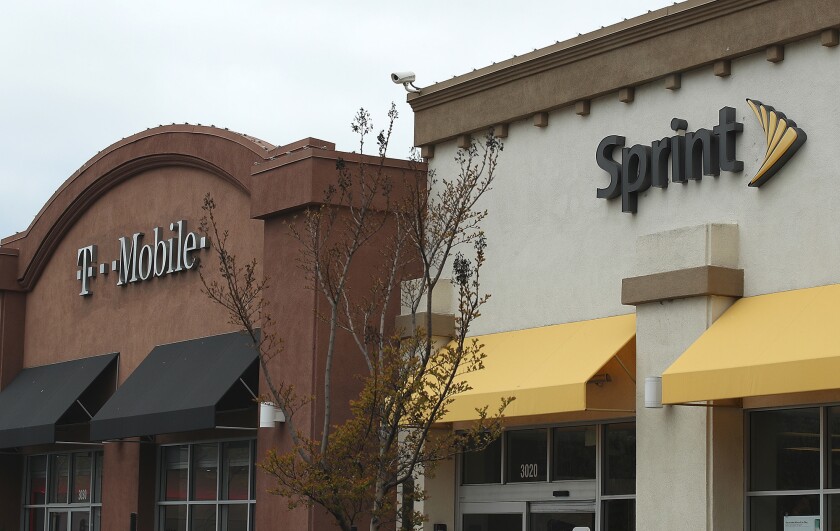 T-Mobile US Inc. is poised to close its long-sought merger with Sprint Corp., a deal that will reshape the U.S. wireless industry, after winning approval from a federal judge who rejected a state lawsuit that opposed the tie-up.
The two companies said Tuesday that they expect to close the $26.5-billion deal as soon as April 1 after U.S. District Judge Victor Marrero in Manhattan said the states failed to convince him a merger of the nation's third- and fourth-biggest wireless carriers would harm consumers.
"Today was a huge victory for this merger," T-Mobile Chief Executive John Legere said in a statement. "We are finally able to focus on the last steps to get this merger done!"
The ruling comes almost two years after the deal was announced. The companies had bet on a favorable reception from the Trump administration, which signed on to the deal last year. In 2014, regulators under then-President Obama rebuffed an earlier merger proposal out of fear that consolidating the market would lead to higher prices.
Now the tie-up will give T-Mobile added heft to take on industry leaders AT&T Inc. and Verizon Communications Inc. The new T-Mobile will overtake AT&T in total number of regular monthly subscribers.
The deal will help T-Mobile's parent company, Germany's Deutsche Telekom, reduce its reliance on Europe. Carriers there are struggling to grow amid fierce competition, and its biggest rival — Vodafone Group — bolstered its position by buying continental cable assets from Liberty Global. T-Mobile's importance for Deutsche Telekom has grown steadily in recent years; the business now accounts for about half of group sales, up from about a third in 2014.
Approval of the deal will come as a huge relief for Sprint parent SoftBank Group Corp. and its chairman, Masayoshi Son, who had faced the prospect of having to bail out Sprint if the deal were blocked. Now the entrepreneur can better promote SoftBank as a technology investment powerhouse, enabling him to focus his energies on the $100-billion Vision Fund.
Sprint shares soared 77.5% Tuesday to $8.52. T-Mobile shares climbed 11.8% to $94.49.
T-Mobile and Sprint haven't renewed the merger agreement since it lapsed Nov. 1. T-Mobile has suggested there could be new terms, including on the price. Before the deal can close, it still needs approvals from California's utility board and from a federal judge in Washington who has yet to sign off on the Justice Department's settlement allowing the deal.
In his decision, Marrero rejected key arguments from the states: that the merged company would raise prices for lower quality service and that Sprint could remain as a viable competitor without the merger.
"T-Mobile has redefined itself over the past decade as a maverick that has spurred the two largest players in its industry to make numerous pro-consumer changes," the judge wrote. "The proposed merger would allow the merged company to continue T-Mobile's undeniably successful business strategy for the foreseeable future."
Consumer advocates blasted the decision, calling it dangerous for wireless subscribers even with a settlement approved by federal regulators that envisions Dish Network Corp. entering the market as a new wireless competitor. With the core satellite-TV business in decline, Charlie Ergen, Dish's co-founder and chairman, has amassed a trove of airwaves to build a state-of-the-art wireless network.
"Going from four established nationwide wireless networks to only three — with the possibility that we might someday, eventually, get some version of a fourth network added back into the mix — will be extremely damaging to competition," said George Slover, senior policy counsel at Consumer Reports.
Marrero's ruling is a major setback for New York Atty. Gen. Letitia James and her California counterpart, Xavier Becerra, who led the litigation for states representing more than 40% of the U.S. population. James said in a statement that her office is considering an appeal.
"From the start, this merger has been about massive corporate profits over all else, and despite the companies' false claims, this deal will endanger wireless subscribers where it hurts most: their wallets," she said.
The states unsuccessfully argued that the merger would lead to billions of dollars in extra costs for consumers, with wireless customers in urban areas hit particularly hard. They also said the deal wouldn't work out as planned because Dish was unlikely to be able to follow through on its commitments to become a viable wireless competitor.
During the two-week trial, Marrero at one point expressed doubt that the new T-Mobile would "be so bold" as to raise prices after the merger without also offering better service. He made that comment while pushing back on testimony by an expert hired by the states who predicted that customers of the four biggest providers could see combined increases of as much as $8.7 billion, with $4.6 billion from T-Mobile alone.
The defense also presented evidence that Sprint couldn't survive without the deal. Legere had testified that Sprint would be "sold for parts" if the merger didn't go through.
The states' lawsuit was the last major hurdle to the deal after it was approved by regulators at the Federal Communications Commission and the Justice Department's antitrust division. The states that sued had urged Marrero after the trial not to give any extra weight to the federal government's decision, calling the government's review of the deal "cursory."
McLaughlin, Moritz and Larson write for Bloomberg.
---
For reporting and exclusive analysis from bureau chief John Myers, get our California Politics newsletter.
You may occasionally receive promotional content from the Los Angeles Times.