At least 12 SpaceX employees are quarantined after 2 confirmed coronavirus cases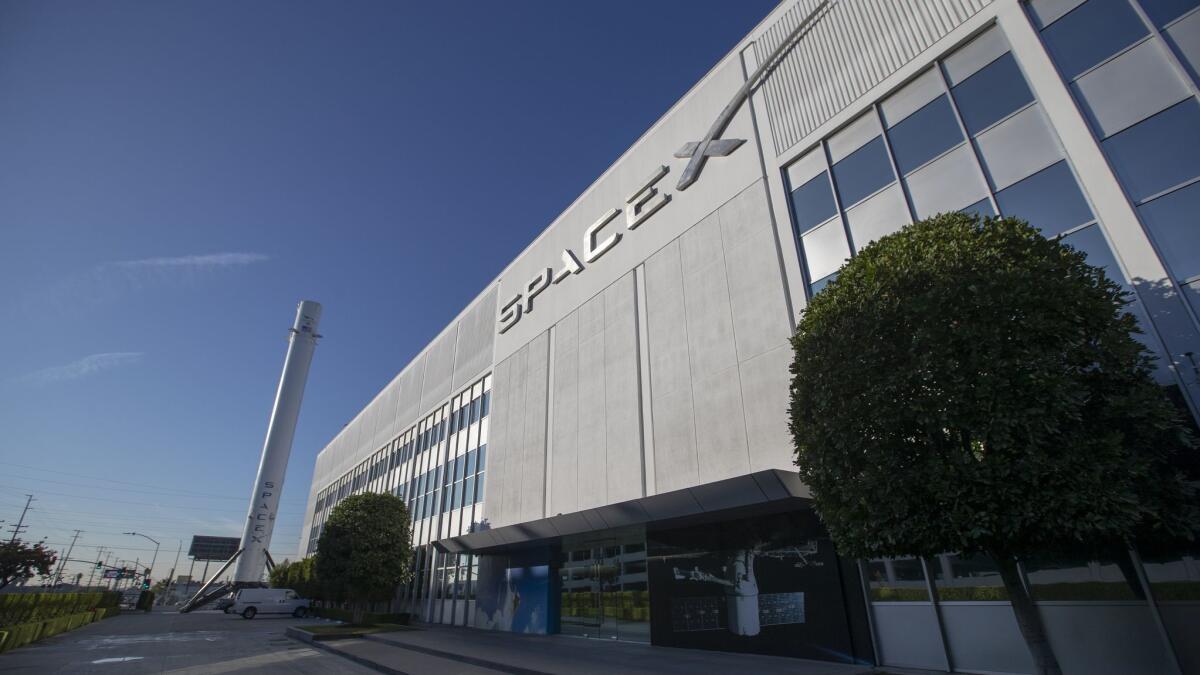 At least 12 SpaceX employees have been sent home to quarantine after two confirmed cases of the novel coronavirus were reported at the company's Hawthorne rocket factory.
One employee who traveled abroad earlier this month was confirmed to have COVID-19, the disease caused by the coronavirus, as well as a healthcare provider at the One Medical SpaceX health center, according to COVID-19 guidelines sent to employees by SpaceX and obtained by The Times.
The company said in the guidelines that it notified workers who were in close contact with the employee to quarantine for 14 days. SpaceX also said it disinfected areas where that employee had been.
At least a dozen employees had contact with the healthcare provider three days before that person felt ill. SpaceX said it was not aware that any of those employees had symptoms, but that they will stay at home until cleared by One Medical and after they finish the quarantine period.
SpaceX did not respond to requests for comment. The Telegraph first reported the news.
The Elon Musk-led company is considered an essential business under the state's stay-at-home order since it is a defense contractor.
SpaceX's main design, manufacturing and engineering work is done at its Hawthorne headquarters. It's where the company works on its Falcon 9 rockets and its Dragon capsules.
The news comes as Musk says SpaceX is working on providing ventilators to aid in the fight against the coronavirus. Musk bought from China more than 1,200 ventilators, which arrived in Los Angeles on Monday night. Healthcare experts have said it can take months to ramp up production of ventilators, especially for manufacturers that don't normally make the machines.
Musk initially resisted county orders to shut down his Tesla electric car factory in Fremont. Later, the company said it would temporarily end production on March 23 to comply with San Francisco Bay Area restrictions related to the coronavirus outbreak.
In Hawthorne, SpaceX has made its own hand sanitizer that complies with CDC guidelines, has more disinfectant wipes available and is increasing the frequency of cleaning, including places that are frequently touched, such as doorknobs and time clocks, the company-issued guidelines said.
Espresso drinks in the company's cafeteria are now served only in disposable cups and employees were encouraged to use provided deli paper to touch milk carafe handles.
The company said in its guidelines that employees older than 65 and those with chronic illnesses were encouraged to work from home if possible, and that those workers should talk to their managers.
If employees cannot work because they are sick, SpaceX will provide up to 10 additional sick days. The additional sick days can also apply to workers who are at high risk for the virus, in regular close contact with someone who is sick or need to take care of children who are at home because of school closures, the guidelines said.
Other employees who are concerned about being in the office and can "productively" work from home can ask for manager approval to do so.
Employees who are concerned about coming into work but cannot work from home and are not sick or directly affected by the coronavirus were told they could use sick or vacation time, or unpaid time off.