PG&E to face manslaughter trial over deadly California fire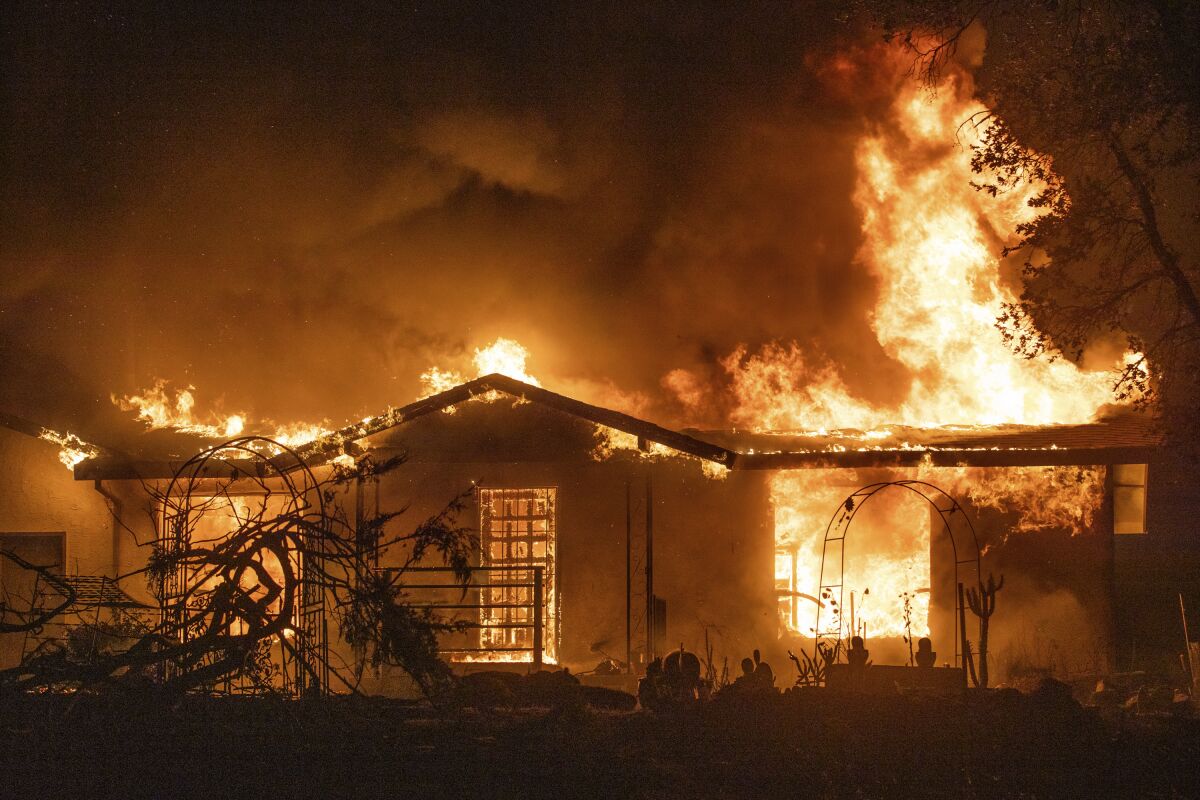 Pacific Gas & Electric Co.. will face trial on manslaughter charges over its role in a 2020 wildfire in Northern California that killed four people, a judge ruled Wednesday.
The judge in Shasta County ruled after a preliminary hearing that there was enough evidence for the nation's largest utility to face trial on 11 felony and misdemeanor charges, including involuntary manslaughter and recklessly starting a fire.
Twenty other charges were dismissed.
The company pleaded not guilty to the charges in June and was scheduled for arraignment on Feb. 15.
The Zogg fire that began in September 2020 tore through the forested county south of the Oregon border. The blaze burned 88 square miles and destroyed more than 200 homes before it was brought under control.
Officials say last year's Zogg fire in Northern California was sparked when tree branches came into contact with Pacific Gas & Electric power lines.
Four people died, including an 8-year-old girl and her mother who were caught by the flames while trying to drive away from their home.
State fire officials said the blaze began when a pine tree fell into a PG&E distribution line. The California Public Utilities Commission last year proposed fining PG&E more than $155 million, saying it had failed to take down the tree, one of two that had been marked for removal.
Company executives do not face criminal charges. The company could be fined and ordered to take corrective measures.
In a statement, PG&E said the loss of life was tragic and, while it accepts the conclusion its equipment caused the blaze, "we believe PG&E did not commit any crimes."
"We continue our work to make it safe and make it right, both by resolving claims from past fires and through our work to make our system safer every day," the utility said.
Former Pacific Gas & Electric executives have reached a settlement agreement in connection with the 2017 North Bay fires and the 2018 Camp fire.
PG&E has an estimated 16 million customers in Central and Northern California. The company has been blamed for starting some of California's worst wildfires through neglect of its aging power grid.
All told, PG&E has been blamed for more than 30 wildfires since 2017 that wiped out more than 23,000 homes and businesses and killed more than 100 people.
Last year, former company executives and directors agreed to pay $117 million to settle a lawsuit over 2017 and 2018 California wildfires, including the 2018 Camp fire, which killed 85 people and destroyed much of the town of Paradise in Butte County.
The complaint was an offshoot of a $13.5-billion settlement that PG&E reached with wildfire victims while the utility was mired in bankruptcy from January 2019 through June 2020.
PG&E pleaded guilty to 84 felony counts of involuntary manslaughter for causing the Camp fire and was fined $4 million, the maximum penalty allowed.
Also last year, PG&E agreed to pay more than $55 million to avoid criminal prosecution in a settlement with prosecutors in six counties ravaged by the 2021 Dixie fire and the 2019 Kincade fire.
The Dixie fire burned more than 1,300 homes and other buildings. The blaze was caused by a tree hitting electrical distribution lines west of a dam in the Sierra Nevada.
Sign up for the California Politics newsletter to get exclusive analysis from our reporters.
You may occasionally receive promotional content from the Los Angeles Times.