Apple's new mobile operating system to include news app with ad blockers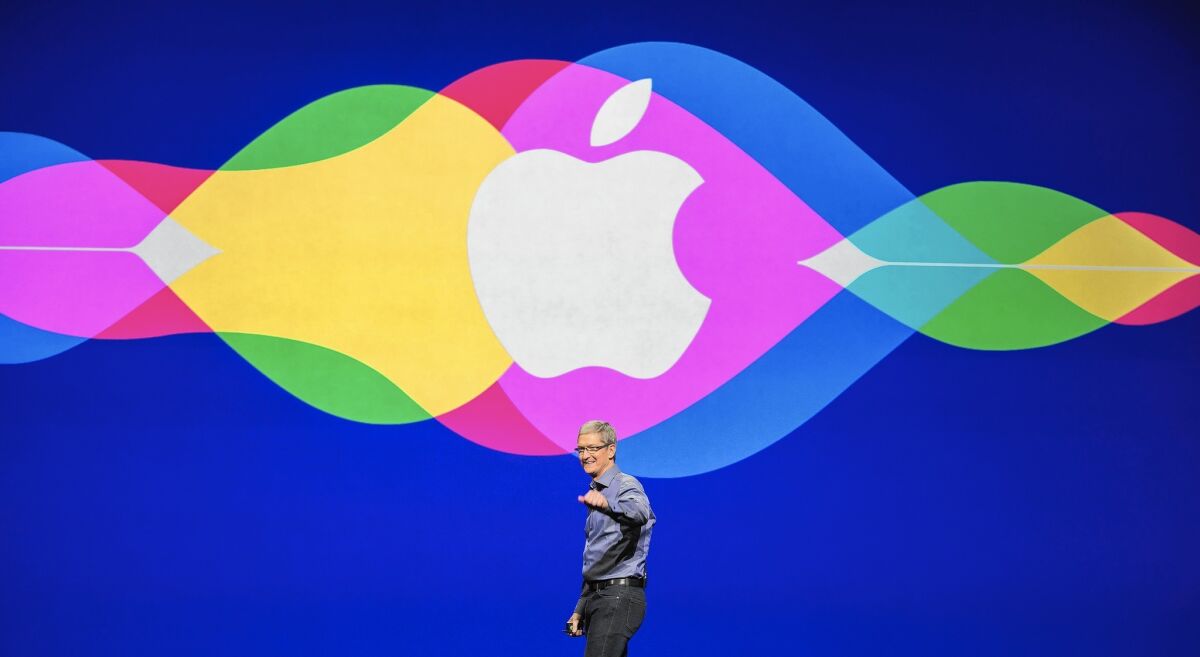 Apple Inc.'s success is built on hardware — primarily the high-margin iPhone, upgraded each year to keep consumers hooked and profits rolling in.
But with the release of its new iOS9 mobile software Wednesday, the technology giant is wading into the business of online news distribution, in direct competition with Facebook, Google, Snapchat and other rivals.
Apple's new mobile operating system automatically includes an app called Apple News, with content from dozens of publishers, including CNN, Time Inc. and Vox Media. The Los Angeles Times also will be available on the app.
The app comes at a time when online news is increasingly consumed on smartphones and tablets rather than desktops, requiring stories to be tailored to mobile platforms to attract a growing share of digital advertising.
Rather than send users to the publisher's website or mobile app, the news app will be hosted on Apple's servers. That's meant to help stories load faster. But more important, it ensures that Apple remains the content's gatekeeper for advertising — and along with it, the valuable user data that a news consumer's interests and predilections will generate.
Apple isn't alone. In the quest to retain ad dollars and data, some of the nation's biggest tech companies have focused on creating platforms to host "native" news content — native, in this case, means that the tech companies control the presentation and distribution, not the news providers.
Facebook does this with its Instant Articles. Snapchat does this with its Discovery feature. And Google and Twitter are rumored to be partnering on a native news product together.
"All these companies are trying to take everything in-house and control it," said James Green, chief executive of Magnetic, a New York-based digital marketing firm. "They don't want anything to be measured outside their own walled gardens."
Apple is giving advertisers another reason to work directly with the Cupertino, Calif., company through its news app: iOS9 will enable users to download ad blockers for its Safari Internet browser.
Although the advertising industry finds ad blockers to be deeply unnerving, Apple says they will make Web surfing faster and cleaner. Ad blockers could also strike a blow against Google, which derives 90% of its revenue from online ads, many of which snare crucial data by tracking users.
"There is low-hanging fruit on the advertising front that Apple is going after on this news app, while the ad-blocking strategy will help spur adoption on this new initiative," said Daniel Ives, an analyst at FBR Capital Markets. "It's a shot across the bow at Google and Facebook in our opinion and speaks to Apple flexing its muscles on the consumer front as it spreads its product wings into tangential areas."
Success can't be taken for granted, however. Analysts say to look no further than Apple Music, the company's much ballyhooed streaming service that has been met with mixed reviews and criticism for its original revenue-sharing plan with artists.
With Apple News, publishers will retain 100% of advertising revenue if they generate the advertising themselves. If publishers use ads generated by Apple, they keep 70% of the revenue and Apple gets 30%.
The revenue splits are the same as those offered by Facebook Instant Articles, which features nine publishing partners, including the New York Times, BuzzFeed and the Atlantic.
The arrangements remain controversial for publishers, who are concerned about giving up control to the tech companies. Although the new distribution channels would attract additional customers and ad revenue, they also could siphon traffic away from publishers' own apps and websites.
"We know the iOS reach is pretty substantial," said Jonathan Hunt, vice president of global marketing and partnerships at Vox Media, which will feature "channels" for its brands SB Nation, the Verge and Vox on the Apple News app. "And so we see this really as an opportunity … to reach more of the right people and turn the channels into a revenue center."
Vox won't include advertising immediately, but plans to wait until it gets a feel for how users respond, Hunt said.
According to some advertising executives, Apple has been predictably strict about how advertising will look on the news app, but has relinquished ground on some points — allowing publishers to include links to their websites, for instance.
"For Apple, it has to look and feel premium and glossy," said Marc Simons, co-founder of Giant Spoon, a marketing agency with offices in Los Angeles and New York. "They roll things out the way they want to roll it out."
Hardware will remain Apple's bread and butter for many years to come. The introduction of products like Apple News gives users more reasons to stick with their gadgets.
But experts say new ad revenue could be significant: Mobile advertising is expected to more than double in value to $42 billion from 2014 to 2016, according to research firm eMarketer.
In that time, mobile's share of all digital advertising is expected to grow to 62% from 38%.
By comparison, print media is expected to command only $28 billion in advertising next year.
Yet Apple remains on the periphery when it comes to mobile ad revenue. Google led all companies last year with $7 billion in sales, followed by Facebook with $3.5 billion, according to eMarketer.
Apple brought in $487 million in mobile ad revenue in 2014.
Green, the CEO of Magnetic, said Apple's news app won't gain significant traction with advertisers until it reaches at least 10 million users.
"If they can get enough people, then advertisers will dive in," he said.
Facebook's Instant Articles, meanwhile, has two distinct advantages: reams of user data to deliver the right news content to the right people, and a news feed that makes the site the No. 1 destination to share content on the Web.
Analysts say Apple is hoping that a lineup of leading publishers is enough to make its app compelling.
"That is very much the DNA of Apple," said Peter Csathy, chief executive of Manatt Digital Media, a consulting and venture capital firm. "They're not known as content creators, so they look to experts like Jimmy Iovine and Dr. Dre like they did for Beats. Apple combines great content with great hardware to drive sales. That's their fundamental business model."
Twitter: @dhpierson