Australian retail giant Cotton On gears up for big California expansion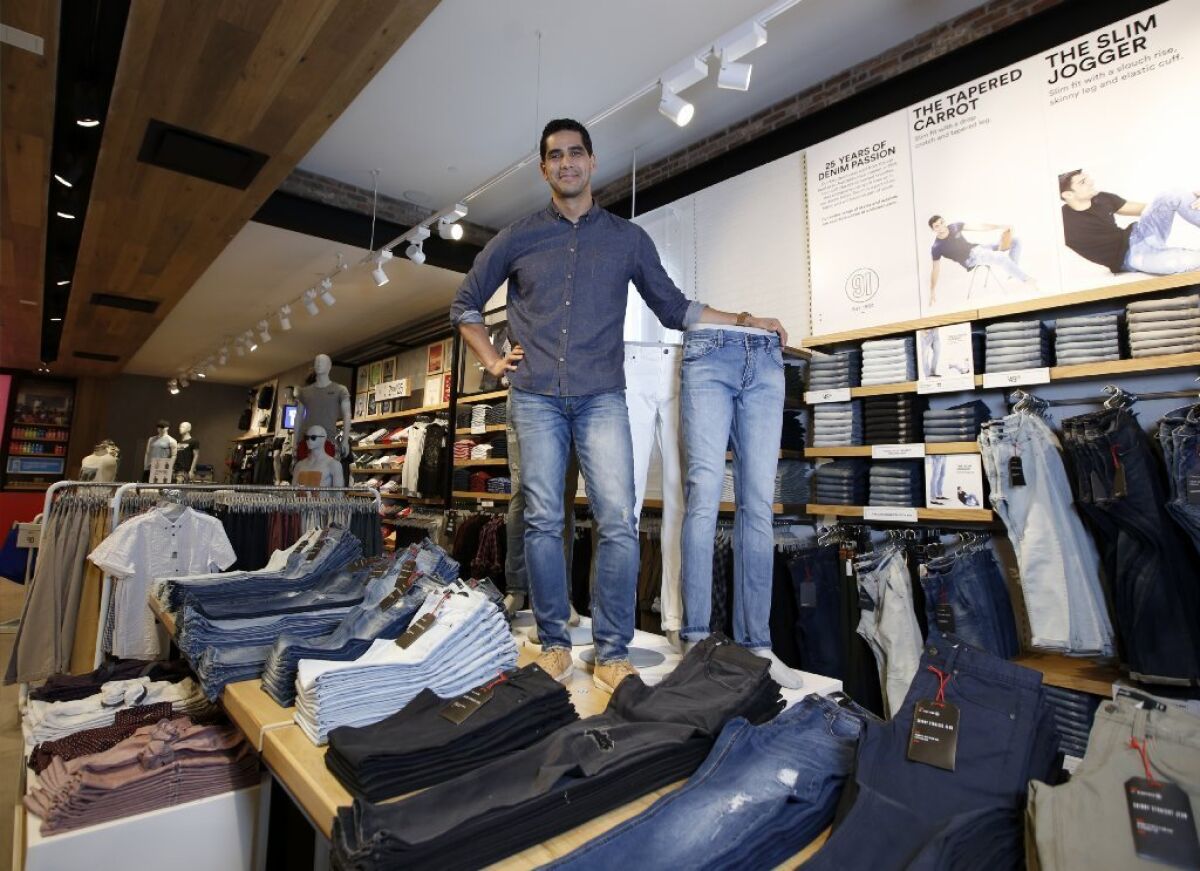 It doesn't advertise, has no celebrity spokespeople and hasn't achieved the brand recognition of competitors Forever 21 and H&M.
In fact, most shoppers probably don't even know that Cotton On already has a few dozen stores in Southern California. The Australian fast-fashion behemoth has been quietly building a presence here -- including stores at the Westside Pavilion, Glendale Galleria and Third Street Promenade -- selling apparel basics like jeans, sweaters and T-shirts for the whole family.
Cotton On has a hefty global presence, with more than 1,400 stores in 18 countries and 22,000 employees. But it only has 121 stores in the U.S., about 40 of them in Southern California.
That will soon change as the company gears up for an expansion that will increase the number of stores in California more than 50% in the next three years.
"Most of our business exists below the Southern Hemisphere," said Mark Pan, the head of Cotton On Group's U.S. operations. "The U.S. represents an enormous growth opportunity for us to not only grow in this market, but as a gateway to the Northern Hemisphere."
Companywide, Cotton On and its seven sister brands -- which includes a gift, home goods and stationery label under the brand Typo, and a lingerie, swim and athletic wear collection under the Cotton On Body label -- will have more than 2,000 stores around the world by mid-2019, nearly 10% of them in the U.S.
Cotton On straddles the line between fast-fashion like Forever 21 and more upscale and pricier brands like J.Crew and Anthropologie.
Pilates trainer Nicole Stuart hadn't heard of Cotton On until she was directed to the brand by a friend, but liked what she found.
"I bought some T-shirts for my husband and they looked great and fit him well, so I got him a bunch more," the Hollywood resident said. "I bought myself a jeans halter tank top, a baby blanket, a onesie. Everything is cool and reasonably priced."
The company was founded in 1991 in Geelong, Australia, by then 18-year-old budding entrepreneur Nigel Austin, who began selling clothing out of his car.
Twenty-five years later, annual sales for 2016 are on track to hit $1.5 billion.
The U.S. represents an enormous growth opportunity for us, to not only grow in this market, but as a gateway to the northern hemisphere.
— Mark Pan, head of Cotton On Group's U.S. operations
The U.S. is an attractive market for international retailers and many overseas brands have found success among American shoppers. They include Zara (Spain), Topshop (Britain), H&M (Sweden) and Uniqlo (Japan).
But there aren't many big-name Australian brands here, said Marlene Morris Towns, teaching professor of marketing at Georgetown University's McDonough School of Business.
"The fact that it is from Australia could be a defining point for the brand," she said.
As it expands, Cotton On will have to win over fickle shoppers and set itself apart from fast-fashion retail chains that are already popular in the U.S.
"If they can do that, then there is a place for them," Morris Towns said. "Otherwise, I tend to caution brands against growing too fast, certainly before they have given people the incentive to go to their retail locations as opposed to a competitor."
Cotton On entered the U.S. at a less-than-ideal time: It was 2009, and consumers were reeling from the recession.
The brand opened its first store in Santa Ana, followed by others in West Covina and Fashion Valley Mall in San Diego.
"Our focus remains on the West Coast. It's the same aesthetic as Australia: casual, effortless, easy dressing," Pan said.
And the attractive price points -- two-thirds of the merchandise is priced under $25 -- for everyday clothing gave Cotton On a foothold.
See more of our top stories on Facebook >>
Shopper Annanlee Chang, 18, hadn't heard of Cotton On before wandering into the Third Street Promenade store recently with a friend. She picked up some leggings and sweatpants, and said she would return for those kinds of colorful basics but not for anything "fancier."
"It's very casual," the Thousand Oaks student said. "I like more fitted clothes, and a lot of their clothing is a little on the boxy side."
Cotton On's U.S. business was initially based out of a modest distribution center in Carson. Four years ago, it moved into a 180,000-square-foot facility in La Mirada.
Later this year, Pan and his team will relocate to an even larger space in the greater Los Angeles area, necessitating 30 new corporate jobs and hundreds more in stores.
The brand's rapid rollout comes at a time where others in similar categories are struggling. American Apparel laid off hundreds of employees in April. Teen retailer Aeropostale filed for bankruptcy protection this month. Sales at Gap, Banana Republic and Old Navy have tanked.
Betty Chen, executive director and senior retail analyst of Mizuho Securities in San Francisco, said those problems can be attributed to two main factors: the lack of dominant fashion trends and the shifting loyalties of consumers.
"We haven't had a big fashion cycle since we saw colored denims in 2012," she said. "Also, that [millennial] customer base can be very fickle."
In particular, many retailers have lost business to fast-fashion stalwarts, which are able to push out on-trend items at blazingly fast speeds.
"Fast fashion has taken the U.S. retail scene by storm over the past six to nine years," Chen said.
Cotton On stores receive new inventory weekly and are replenished daily with the most briskly selling merchandise, such as the $39.95 cuffed Chino joggers. The majority of the products are made in China and Bangladesh.
"What struck me about Cotton On is that it has very much a 360-degree lifestyle appeal in its product assortment," Morris Towns said. "It has something for everyone."
business@latimes.com
ALSO
Cord cutting: A la carte channels looking more likely
Federal suit would take Google's payday lending crackdown one step further
Someone is going to get rich selling cameras for virtual reality. But who?
---