Everything you need to know about San Francisco's Airbnb ballot measure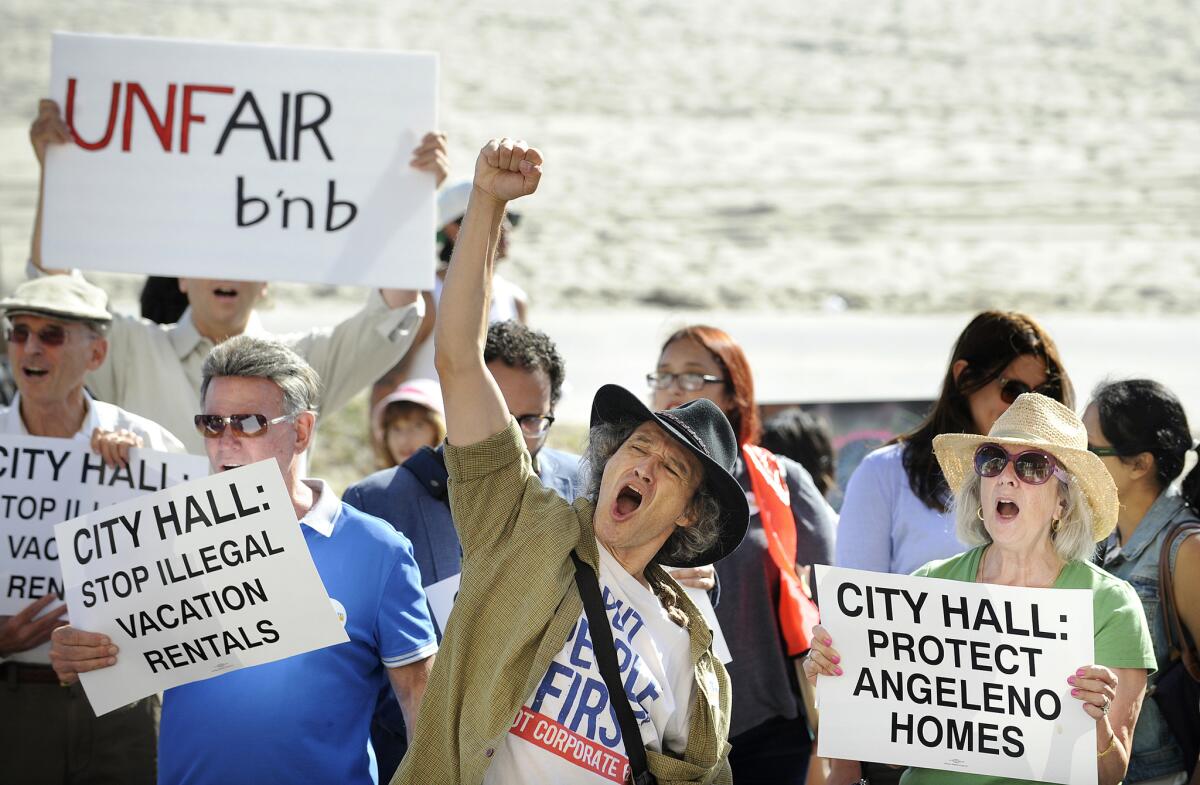 It's not often a technology startup — albeit one with a $25-billion valuation — makes it front and center in a city election. Then again, we are talking about San Francisco.
On Tuesday, San Franciscans will head to the polls to vote on, among other things, Proposition F, casually known as the "Airbnb Initiative."
It's an issue with which Angelenos are no doubt familiar, after the city of Santa Monica passed strict short-term rental rules in May, and the city of Los Angeles announced it is considering similarly tough measures.
See the most-read stories this hour >>
The difference here is our neighbors up north are turning to the ballot.
With ample emotion and fear-mongering on both sides, here's a cheat sheet to get you up to speed on the contentious proposition.
What is Proposition F?
It's a ballot measure that would toughen regulation on the short-term rental of residential apartments and homes.
Airbnb appears to be the main target of Proposition F, but that's largely because it's the biggest player in the market and it's headquartered in San Francisco's backyard. If passed, the proposition also would affect vacation rental "platforms" such as HomeAway, VRBO and Flipkey.
What exactly would 'tougher regulation' entail?
— Maximum days of rental: Right now, San Franciscans are allowed to rent out their unit on platforms such as Airbnb for 90 days in a year if the host isn't present during the stay, and an unlimited number of days if the host is present (i.e. if only a spare room or sofa is being rented out).
Proposition F would put a 75-day limit on all forms of short-term rentals, and platforms would be prohibited from listing a unit if it has exceeded the cap.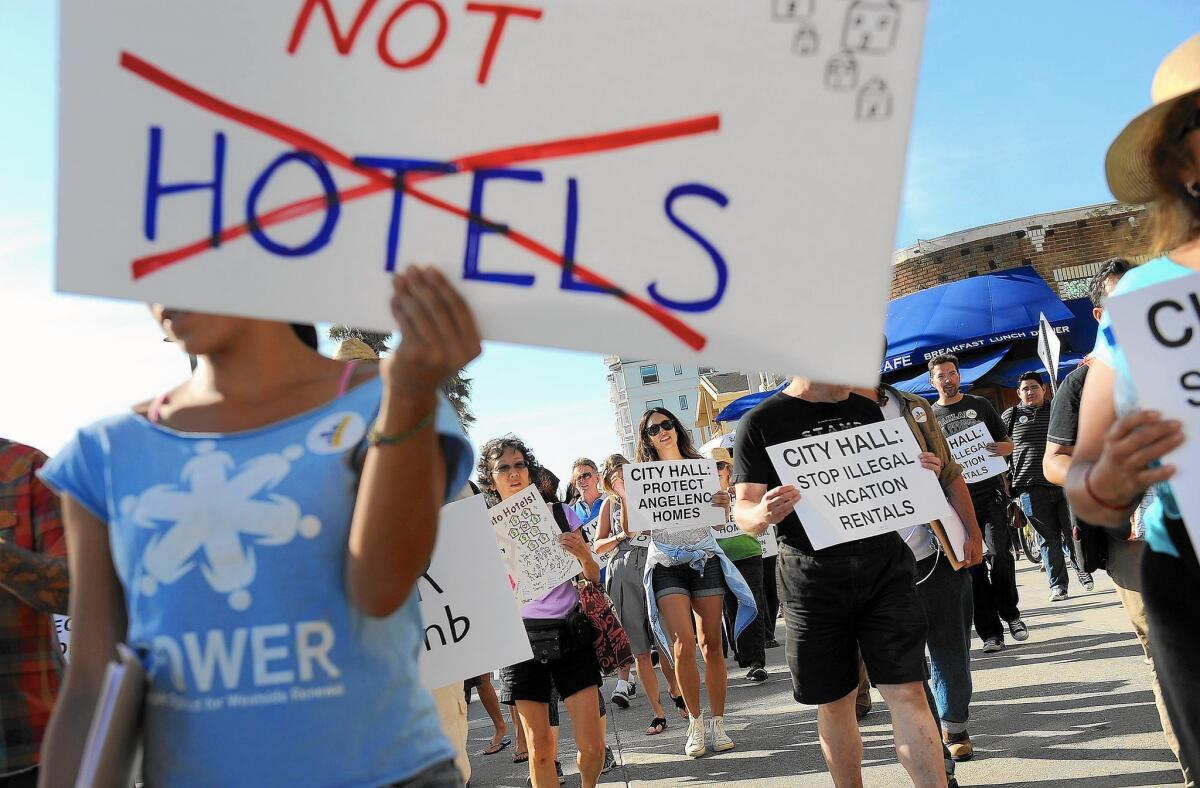 — Data reporting: Proposition F would require hosts and platforms to submit quarterly reports to the San Francisco Planning Department detailing which nights the unit was rented out, and which nights the host occupied the unit. Under current law, hosts don't need to provide the latter bit of information.
— Interested parties with legal standing: This just means permanent residents and nonprofit housing groups will have the right to sue hosts and platforms for violating the rules. While individuals have always been able to sue each other, current law doesn't allow nonprofit housing groups (such as the San Francisco Tenants Union) to file lawsuits against violators or platforms.
If a city investigator has looked into the matter and determined no wrongdoing, Proposition F gives residents who live within 100 feet of the unit legal standing to pursue further action for damages.
— In-law units: Proposition F would ban the use of in-law units for short-term rentals. But here's where it gets tricky: Many of the city's in-law units – dwellings where people have created a new "unit" by adding a bathroom and kitchen to a basement or garage – already are illegal and are, by default, banned from being rented out.
That said, a few districts in the city have passed legislation legalizing in-law units, and other districts are considering it.
So, why do people want Prop. F?
The argument in favor is grounded in the belief that short-term rentals hurt the city's already limited housing supply. If homeowners can make more renting out their units weeks at a time on platforms such as Airbnb and VRBO, why bother with long-term tenants?
By limiting the number of rental days to 75, and arming neighbors and nonprofits with the ability to file legal complaints, proponents of Proposition F hope it will dissuade people from taking units off the housing market and funneling them into short-term rentals.
What do the anti-Prop. F people say?
Opponents argue that short-term rentals provide additional income many San Franciscans need to afford to stay in the city, and the 75-day cap will only hurt residents.
As for alleviating the housing crisis, Proposition F opponents believe that reasoning is baloney.
"[Proposition F] disingenuously asserts it addresses the housing crisis," said Patrick Hannan, campaign manager for "No on Prop. F." "The housing crisis will not go down because of it. Thousands of apartments will not suddenly become available. They're selling a fairy tale."
Opponents also are concerned that the data reporting requirements are an invasion of privacy, and the legal standing provision will encourage neighbors to file frivolous lawsuits against each other.
Well, are they right? Will neighbors start suing each other?
If you ask attorney Joseph Tobener, who represents the San Francisco Tenants Union (which supports Proposition F), the answer is no. "We're only talking about pursuing people who are violating the law," he said. "I just have a better belief in humanity than Airbnb does."
If you ask Hannan, the answer is: "Well, we're in America, and we're in California…"
What do the independent parties say?
Nonprofit urban planning group SPUR released a voter guide that detailed pros and cons of each measure that will appear on the Nov. 3 ballot. It ultimately recommended a "No" vote on Proposition F, if only because any measure passed through a ballot is permanent and can be changed only through another ballot vote.
Wait, what?
Yep, that's how ballot measures work. Where legislation can be amended and changed over time, ballot measures are locked in and can be changed only through another vote.
Twitter: @traceylien
MORE ON PROPOSITION F
Abcarian: Not everyone in San Francisco loves the tech culture
Hiltzik: Airbnb finds a foolproof way to tick off San Francisco voters
Hiltzik: Sen. Dianne Feinstein steps up her war against Airbnb
ALSO
Taxis get a tech update to compete with Uber and Lyft
Review: Apple TV brings iPhone-like apps to the big screen
'The Peanuts Movie' to use Snapchat's ad format that animates selfies with Snoopy and Woodstock