Alibaba IPO becomes world's largest ever
Chinese online retail giant Alibaba CEO Jack Ma, center, arrives at the New York Stock Exchange. Alibaba was poised for a record-breaking stock market debut Friday, with shares priced at $68 in a public offering that could be valued at $25 billion.
(JEWEL SAMAD / AFP/Getty Images)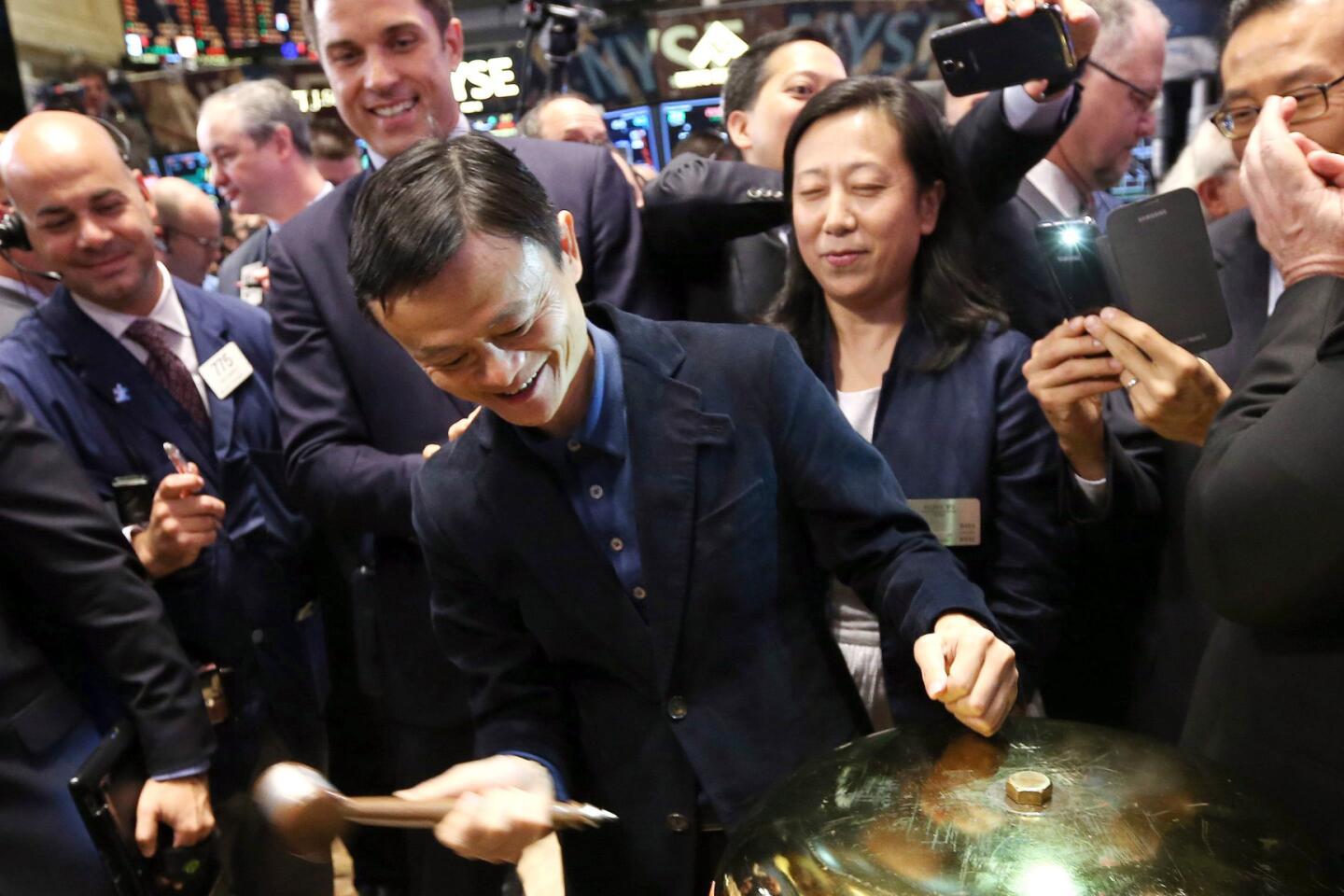 Jack Ma, center, the founder and executive chairman of Alibaba, rings a ceremonial bell on the floor of the New York Stock Exchange during the first trading of shares in the Chinese company's initial public offering in New York.
(JUSTIN LANE / EPA)
Arthur Jiang of Beijing poses for a photograph in front of the New York Stock Exchange on the day of Alibaba's initial public offering.
(Jason DeCrow / Associated Press)
A Chinese flag, center, waves over a banner for Alibaba on the New York Stock Exchange.
(Mark Lennihan / Associated Press)
Alibaba Holding Group's IPO officially became the world's largest ever on Monday.
Underwriters who helped make the Chinese e-commerce network a public company exercised an option to sell off some extra shares, bringing the total haul from the IPO to $25.03 billion, from $21.8 billion.
The sum surpasses the $22.1 billion raised by Agricultural Bank of China when it listed on the Hong Kong Stock Exchange in 2010.
The additional sell-off pumps up the windfall for Alibaba founder Jack Ma and nudges Yahoo's haul past $6 billion after taxes.
About 48 million extra shares were sold at the $68 price offered to large investors before the listing debut, Alibaba said in a statement. When shares started publicly trading on the New York Stock Exchange on Friday, the price leaped 38%.
On Monday, Alibaba shares were down 4.26% to $89.89 as the broader S&P 500 Index slumped about 0.8%.
Chat with me on Twitter @peard33