Alphabet is poised to be world's most valuable company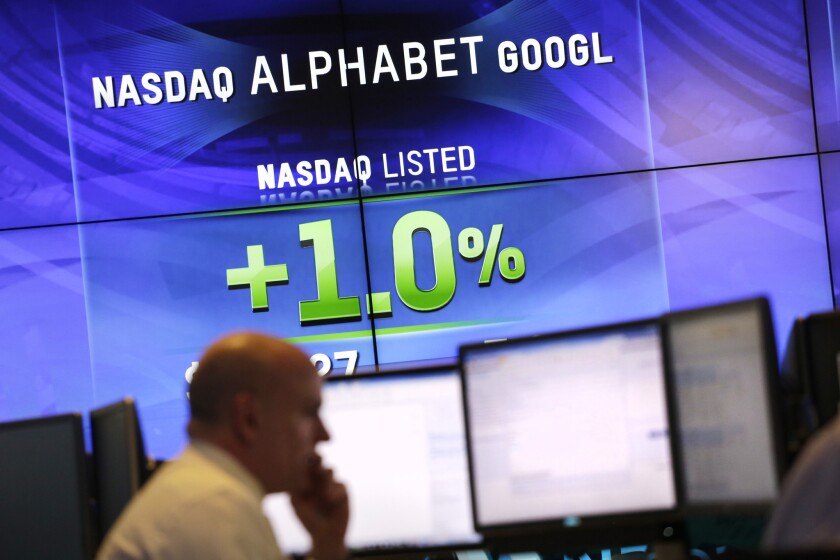 Google got a new name and now is on the brink of a new title: The tech titan looks set to be crowned the most valuable company in the world, toppling fellow Silicon Valley heavyweight Apple Inc.
The Mountain View, Calif., Internet giant on Monday reported earnings for the first time under the banner of its new corporate parent, Alphabet Inc. Its better-than-expected earnings sent the company's stock up more than 8%, to $813, in after-hours trading immediately after the release of its fourth-quarter and full-year results.
At that price, Alphabet's market capitalization would be roughly $559 billion, topping that of Apple, which closed the day with a market cap of $534.7 billion. The last time Google/Alphabet was valued higher than Apple was six years ago, before the first iPad debuted.
Google's recent push to streamline its unwieldy businesses with a new corporate structure and its booming advertising machine have energized investors. It posted double-digit profit growth for the fourth quarter while showing that its spending on moonshot projects such as self-driving cars and healthcare devices wasn't out of control.
For the three months ended Dec. 31, Alphabet reported $4.9 billion in profit, or $7.06 a share, up 5% from the same quarter a year earlier. It posted $21.3 billion in revenue, up 18% from a year earlier and better than the $16.9 billion that analysts had been expecting.
Increased usage of YouTube, machine-purchased ads and Google search on mobile devices helped drive the strong results, the company said.
Google began shuffling into the Alphabet structure last summer to separate its behemoth search-and-ad-driven businesses from its wide-ranging ventures in drones, investments, healthcare, self-driving cars and more.
Under Alphabet, the company led by co-founder Larry Page aims to better organize those businesses by operating as a collection of separate entities with different business models.
The largest is Google, which contains core businesses including search, ads, maps, YouTube and Android. It's managed separately from investment arms GV and Google Capital and projects such as Fiber, Nest, X, Calico and Verily (formerly life sciences).
Individual units gain the flexibility to set their own budgets, but Alphabet expects to keep a tight watch over spending.
Though analysts desired a financial breakdown for each business, Alphabet Chief Financial Officer Ruth Porat offered analysts little guidance on revenues and expenses at specific units, including YouTube within Google and smart-thermostat maker Nest within Alphabet.
"We remain on a journey and it still remains early days," she said of the newer businesses.
The company posted a $3.6-billion loss in 2015 on those "Other Bets," as Alphabet calls them, but they "were in the range that we thought they'd be," said Michael Nathanson, an analyst at MoffettNathanson. Meanwhile, revenue for Google's core businesses exceeded estimates, adding up to "pretty impressive results," he said.
Investors have lifted shares of Google/Alphabet more than 40% over the
last year. They've been encouraged by the company's progress in diversifying and hope that new businesses can grow rapidly as the
ad business stays robust. Google's Class A shares closed at $770.77 in regular trading Monday, up 1.2%, or $9.42.
A few Other Bets ventures — led by Nest and Google's high-speed Fiber Internet service that's available in a handful of cities — generated $448 million in revenue last year.
And the division is growing quickly: Fourth-quarter revenue from Other Bets was more than double its revenue in the second quarter.
The momentum at Alphabet contrasts with concerns at Apple. The iPhone-maker's reliance on its flagship iPhone for most of its profit has come under scrutiny as sales have slowed in recent months. Shares have moved downward since November, bringing its market capitalization closer to Alphabet's value.
Alphabet sprinkled more good news throughout an analyst call Monday.
Google Chief Executive Sundar Pichai said email service Gmail had topped 1 billion users and that the Play app store continued to see revenue growth in emerging markets such as Brazil and India. He also noted that the number of small- and medium-sized businesses advertising on YouTube doubled last year and that corporate giants such as Target credited new types of Google ads for an increase in foot traffic during the holidays.
Advertising on YouTube has remained a force despite new video ad offerings from Facebook, Twitter, Snapchat and other social media apps.
Paul Verna, an advertising industry analyst at research firm EMarketer, said YouTube's edge is that advertisers know the brand well and that it continues to hold "a massive, massive audience."
Yet YouTube is still trying to find its footing with things such as skippable ads that are attractive to users but frustrating for some advertisers. And Porat acknowledged that YouTube is spending more to license videos and produce higher-quality videos that could help develop a more loyal viewership.
"That's been tricky for them, and they continue to work at it," Verna said.
Financial analysts are bullish, saying Alphabet shares will keep rising as its new structure increases transparency.
Annual revenue rose nearly 14% to $75 billion,
and profit for the year jumped nearly 16% to $16.3 billion.
Alphabet added more than 8,200 employees in 2015, bringing its workforce to more than 61,800 at year's end.
paresh.dave@latimes.com
Twitter: @peard33
---