In healthcare, Amazon eyes yet another sector to upend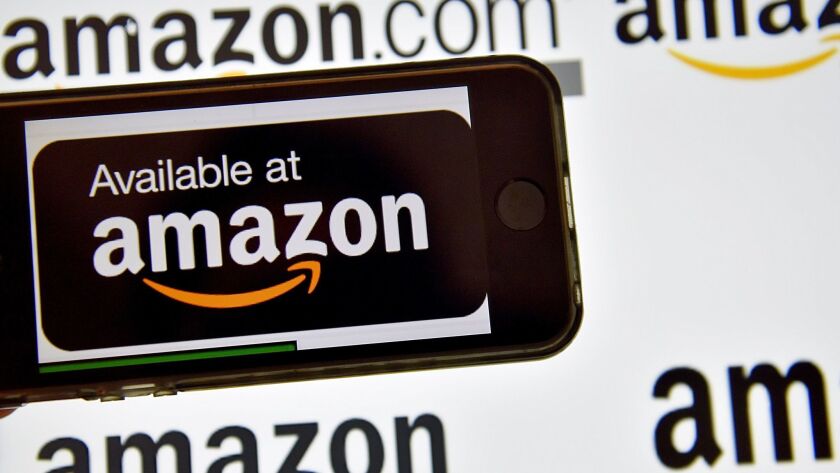 Reporting from San Francisco —
From its humble beginnings as an online bookseller, Amazon.com Inc. has morphed into the world's largest online retailer, a major book publisher, a film and television producer, a hardware manufacturer, a leading provider of cloud server space, an auction house, a marketing platform and a logistics network.
So it came as little surprise to analysts and business experts Tuesday when the Seattle conglomerate targeted another industry to upend: healthcare.
The e-commerce giant announced Tuesday a partnership with Berkshire Hathaway and JPMorgan Chase & Co. to address healthcare for their U.S. employees. The focus, according to a statement issued by the three companies, will be on "technology solutions" that provide employees with "simplified, high-quality and transparent healthcare at a reasonable cost."
Amazon declined to comment on its plans, leaving open questions about what form the strategy will take.
Some analysts and business experts were on Tuesday willing to bet that the employee-targeted initiative is probably the start of something much bigger.
"We know from Amazon's history that they're willing to go into areas with potential and take a long time arriving at it," said Paul Ginsburg, the chair in health policy studies at the Brookings Institution.
Which, Ginsburg said, raises the question: Beyond what it plans to do for its employees, what kind of long-term business opportunity does it have in mind?
Amazon has never been one to shy away from ambitious plans. It has grown so large, with tentacles in so many lines of business, that "Amazon's rivals are also its customers," Lina Khan, director of legal policy at the Open Markets Institute, wrote last year in a note titled "Amazon's Antitrust Paradox."
"Critically, not only has Amazon integrated across select lines of business, but it has emerged as central infrastructure for the internet economy," Khan wrote. "Reports suggest this was part of [Jeff] Bezos' vision from the start."
Amazon was last year rumored to be working on initiatives in the pharmaceutical industry. The company never confirmed a potential foray, but rumors of its plans to sell pharmaceuticals pummeled the stocks of rival stores and pharmaceutical middlemen known as pharmaceutical-benefit managers.
Analysts at Barclays were unsure of the consortium approach that Amazon announced with Berkshire and JPMorgan, "but we are never dismissive of anything disruptive that Amazon is involved in," they wrote Tuesday in a note to investors. "Amazon arguably has the best technical abilities of any company we cover, hence this deal is a development we will be watching closely."
Fueling some of the confidence in Amazon's ability to shake up the healthcare industry is the company's patient shareholders, who have continued to push up the company's stock price even though it has a tendency to spend more than it makes. It suggests that investors take a long-term view on Amazon, said Lars Perner, a professor at USC's Marshall School of Business. It also means that "Amazon could be quite patient and willing to invest in these systems, [which could] make it a formidable force in the industry," Perner said.
It's true that Amazon's investors have given the company an incredibly long leash, said Charlie O'Shea, a retail analyst at Moody's who covers Amazon. But it's also true that Amazon functions somewhat like a laboratory, with the company investing across multiple categories to see what sticks. When projects flop like the Amazon Fire Phone, the company has been known to take it in stride and push on with experimentation.
"My read on it is the three of them are comparing notes on how they can better provide healthcare to their employees," O'Shea said of Amazon, Berkshire and JPMorgan. "I think we need to move slowly here and think about what's next."
Business experts who were willing to speculate focused on the "technology solutions" part of Amazon's announcement. It's unlikely the consortium will open its own medical clinics, said Perner, but perhaps the three companies could use technology to help their employees shop for healthcare in a more efficient way. Or, given Amazon's experience with collecting user data and making recommendations, it could analyze a patient's medical history and help them compare healthcare plans.
Any foray into the healthcare industry will probably face regulatory hurdles, but a growing number of technology companies are figuring out how to navigate complex regulation, said Kate McCarthy, a senior analyst with Forrester Research.
"Health organizations and leaders have felt like they're a sacred cow for a long time because they think it's an industry too difficult for outsiders, and that's just not the case anymore," McCarthy said.
She described Amazon's announcement as a "warning shot" for the healthcare industry: "If they're not prepared to radically innovate, they should expect to be replaced."
Twitter: @traceylien
---
UPDATES:
2:50 p.m.: This article was updated to include comment from Paul Ginsburg, chair in health policy studies at the Brookings Institution.
This article was originally published at 1:30 p.m.
---
Your guide to our new economic reality.
Get our free business newsletter for insights and tips for getting by.
You may occasionally receive promotional content from the Los Angeles Times.