Palmer Luckey's new defense technology start-up Anduril draws execs from Palantir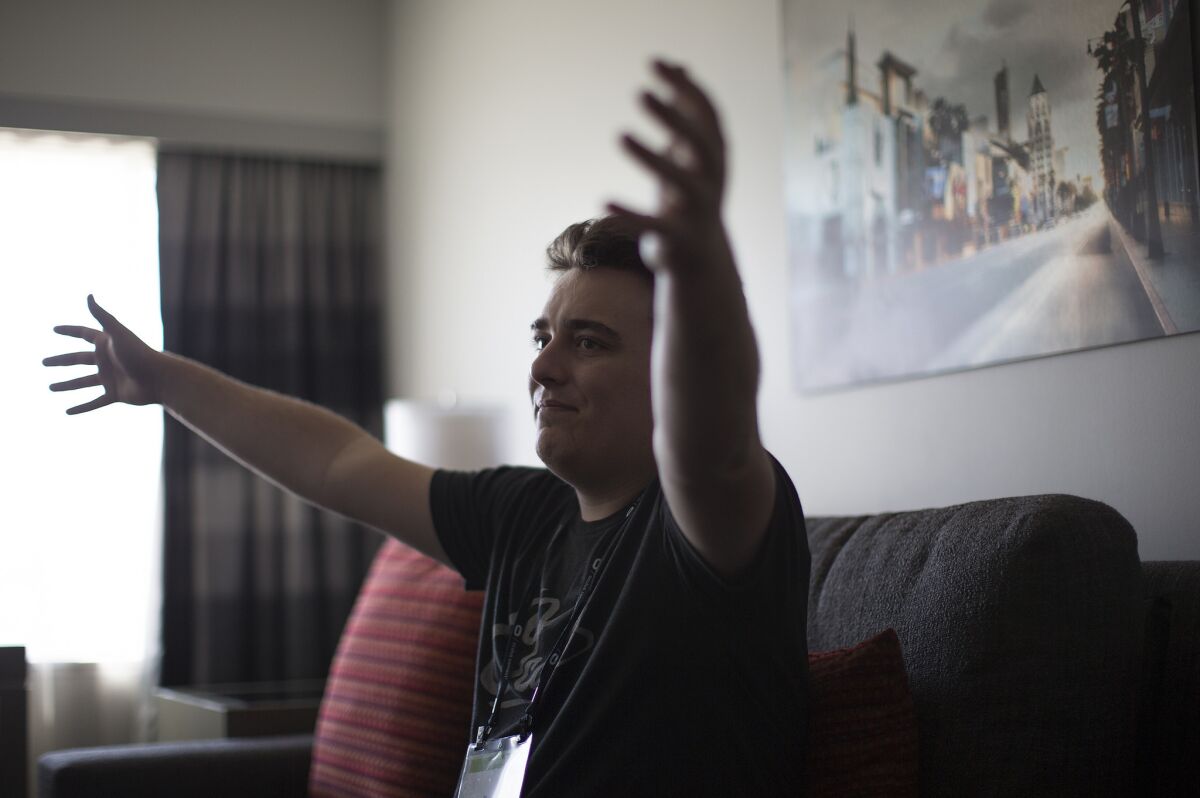 Two former Palantir Technologies engineers appear to be in charge of Palmer Luckey's new defense technology start-up Anduril Industries, according to newly reviewed regulatory filings.
Luckey, a Long Beach native acclaimed for catalyzing the nascent virtual reality technology industry by founding Oculus VR, has said his new venture could do the same for the defense industry.
"We are spending more than ever on defense technology, yet the pace of innovation has been slowing for decades," he told the New York Times in a brief statement in early June.
Beyond that, Luckey has said little publicly about Anduril's makeup or ambitions since its founding April 20. He left Facebook's Oculus division in late March for unspecified reasons.
His role at Anduril is unclear. But registration documents filed with California in late June list Brian W. Schimpf as chief executive and Matthew M. Grimm as chief operating officer. The documents also point to a small office at an Irvine business park as the company's headquarters, though the Times found only a mail service firm there.
LinkedIn profiles for Schimpf and Grimm show they spent at least years six together at Palantir, where they described their job as tweaking the company's data analysis software to meet client desires. Palantir's clients include law enforcement agencies and corporations that want to search through multiple sets of information with ease. The sensitive nature of the work has made Palantir one of Silicon Valley's most secretive and highly valued companies.
Both Schimpf and Grimm note that they have bachelor's degrees from Cornell University. They were both on a Cornell team that competed — unsuccessfully — in the Defense Department's annual competition to develop an autonomous vehicle that can race across rough desert terrain.
That Luckey would connect with people with ties to Palantir isn't surprising. Palantir was kickstarted with funding from Peter Thiel, whose Founders Fund venture capital firm was set to invest in Luckey's new firm, according to the New York Times report.
The Thiel connection is evident in Anduril's name too. Thiel investment funds and companies, including Palantir, are known for borrowing from the fantasy book series "Lord of the Rings." Anduril, as fans of the books know, was the sword referred to as the flame of the West, forged from the remains of the weapon that cut the ring of power from Sauron's finger. The freshly cast weapon became a symbol of the one true king.
Incorporation documents for Anduril don't designate a price for the 20 million authorized shares of the start-up, suggesting that if Founders Fund has already invested, it has probably been in the form of a loan that could later be converted into stock.
Anduril and Thiel didn't respond to requests for comment. The company's name came to light last week when CNN and other media outlets reported that U.S. Rep. Will Hurd, a Texas Republican, had used data from Anduril as a foundation for proposed legislation. A bill that Hurd and other lawmakers introduced last week calls for the Department of Homeland Security to research a "smart" wall along the U.S.-Mexico border before erecting a traditional one.
Citing Luckey, Hurd said a high-tech wall would run about 2% of the cost of standard proposals. The pair visited the Texas-Mexico border together in June, according to the San Antonio Express-News.
Anduril's jobs website says the company is seeking engineers with expertise in sensors, cameras, radars, robotics and flying objects. A combination of such technologies deployed along a border could allow a computer to automatically detect activity, alert law enforcement and track further movement.
Luckey, 24, left Facebook under a cloud of controversy. Oculus has repeatedly reduced the price for its year-old virtual reality headset, which points to weaker-than-predicted demand.
He was implicated in a trademark misuse lawsuit that left Oculus on the hook for hundreds of millions of dollars after a jury verdict in February. And consumers and Oculus business partners had decried Luckey's donations to a conservative political organization during last year's presidential election.
Thiel has President Trump's ear. Trump made fortifying the border a key part of his presidential platform. The venture capitalist's former chief of staff is a top technology advisor at the White House, and Thiel has played a role in bringing together tech executives to meet with Trump and other White House leaders.
Twitter: @peard33
Times staff writers Christina Bellantoni, Alexa D'Angelo and Mary McNamara contributed to this report.
---
UPDATES:
5:30 p.m.: This article was updated with additional information about Anduril Industries' executives and offices.
This article was originally published at 3:00 a.m.