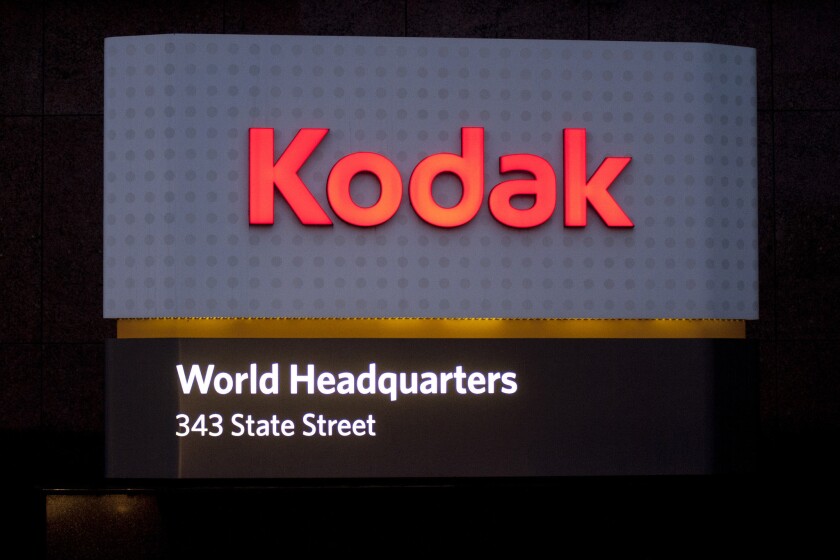 Apple wants to file a patent suit against Eastman Kodak, and has asked the judge in the consumer photo pioneer's bankruptcy case for permission to do so.
If given clearance to file its complaint, Apple plans to sue Kodak alleging that Kodak digital cameras, digital photo frames and printers infringe on patents owned by Apple, according to a Bloomberg report.
Last week, Kodak, the company that invented the digital camera in 1975, announced that it was going to stop producing digital cameras, digital photo frames and pocket-sized video cameras and instead focus on its printing and photo development businesses.
Kodak said it would explore possibly licensing its brand name to other hardware makers for use on cameras and other devices.
In a filing with a U.S. Bankruptcy Court in New York, Apple said it would issue a complaint against Kodak to the International Trade Commission and file a lawsuit in a Manhattan U.S. District Court on the patent infringement claims as well, Bloomberg said. Kodak filed for bankruptcy protection on Jan. 19.
Apple technically doesn't need the Bankruptcy Court's permission to sue Kodak, but the company said in its filing that it's asking permission before suing "out of an abundance of caution," the report said.
The patent dispute at the center of the planned lawsuit relates to the QuickTake 100 and 150 digital cameras that Kodak manufactured for Apple in the mid 1990s.
The trade commission ruled in May 2011 that Apple and Research In Motion had not violated Kodak-owned patents pertaining to the way preview photos were displayed on digital devices. Last month, Kodak sued Apple and mobile phone maker HTC over claims that the two companies violate its patents in the way that their respective smartphones preview and then share photos shot.
Apple argues that it actually has rights to the patent because the technology behind the patent was developed when Kodak and Apple were collaborating on the QuickTake. Kodak, as Bloomberg noted, has denied Apple's claims.
RELATED:
Kodak files for long-expected bankruptcy
Kodak to stop making cameras, digital photo frames
Follow Nathan Olivarez-Giles on Google+, Facebook or Twitter
---