Apple execs: 'Beats Music is first subscription music service done right'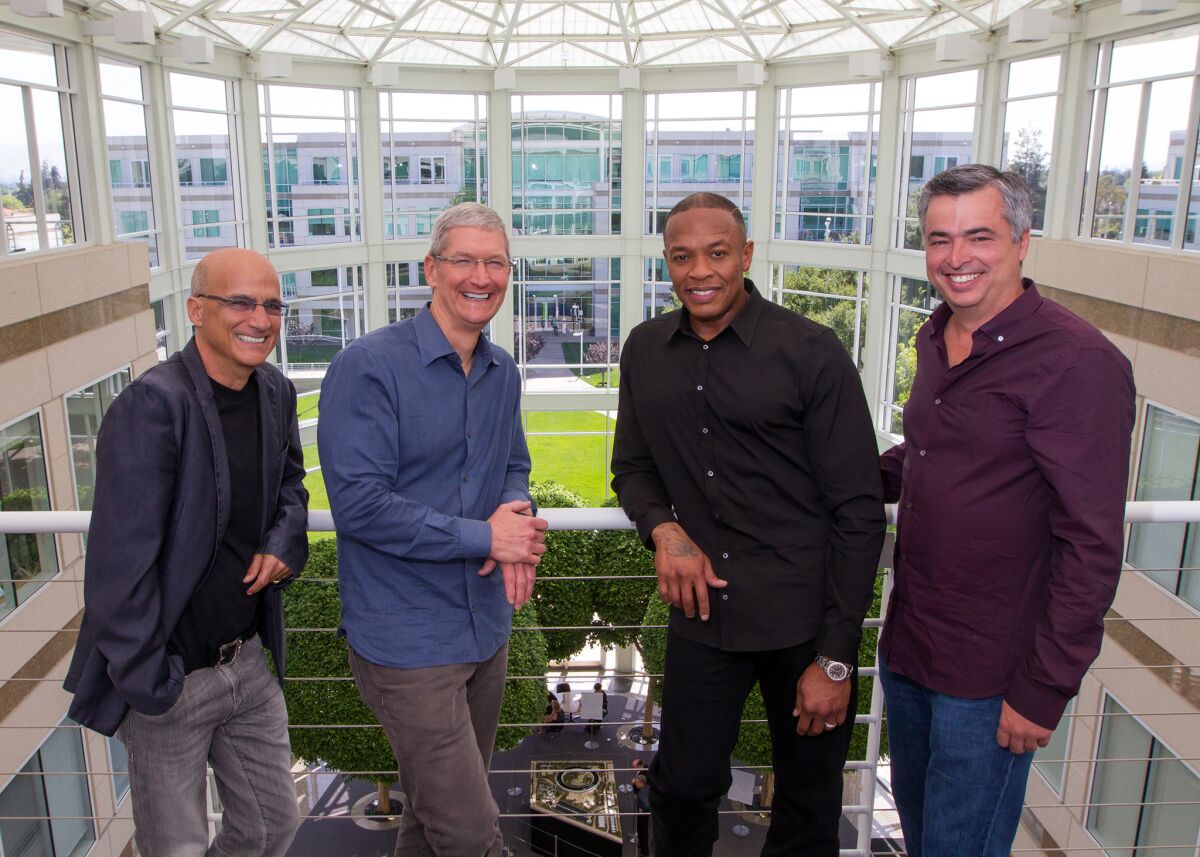 Some might see Beats Music as getting off to a disappointing start. Despite a big marketing push, the streaming music service has only 250,000 subscribers since it launched in January.
But, apparently, Apple really likes what it sees, enough to pony up $3 billion for Beats Music and Beats Electronics, maker of headphones and speakers.
"Beats Music was built with deep respect for both artists and fans," Apple Chief Executive Tim Cook said in a memo to employees obtained by 9to5mac.com. "We think it's the first subscription service to really get it right. Both Apple and Beats believe that a great music service requires a strong editorial and curation team, and we will continue to expand what we do in those areas."
Those comments were echoed a few hours later by Apple executive Eddy Cue at the first Code Conference in Rancho Palos Verdes on Wednesday night.
When asked why Apple couldn't just make its own headphones or streaming applications, Cue said: "Beats Music is the first subscription music service done right."
But couldn't Apple makes its own headphones and streaming music service?
"We don't do everything," Cue said, according to Recode. "We try to do a few things. We think Beats' talent can accelerate us. It was a no-brainer. This isn't something that just happened overnight. Jimmy [Iovine] and I have talked about working together for a decade."
Iovine, the co-founder of Beats, at times had the tech crowd energized with his wit and less scripted responses. The music mogul said, without naming names, that current music streaming services weren't very good because they relied too much on data rather than people.
"We think that streaming services need curation," Iovine said, according to Recode. "The album is going away. We all know that. The sequencing of an album used to be important. You need an hour's worth of music. Some of the other services are just based on algorithms. That doesn't work. Kids listen to programmed radio, and it doesn't work. We wanted to fix that."
It's true that Pandora uses algorithms to serve up music. Spotify, however, contains thousands of playlists created by users that it recommends to other users based on their listening habits.
Overall, numerous music industry reports have indicated that the digital download business that Apple pioneered is declining, while consumers are flocking to streaming services. In a nod to that trend, Apple launched iTunes Radio last year, which Cue said now has 40 million listeners.
While Cue insisted that Apple's iTunes business is healthier than many seem to believe, he also acknowledged that the number of new releases on iTunes this year is hitting an all-time low.
Apple hopes that Beats, which will be available on Apple and Android products, will give it a jump-start into music streaming. However, since the Beats acquisition won't close until September, Apple won't get that jump-start for several more months.
Once that happens, Iovine and rapper Dr. Dre, Beats' other co-founder, will become Apple executives with unspecified roles. From Iovine's remarks, it appears that Dre will have less of a role as he continues with his other music-related activities. Iovine will have an office at the Apple campus, though he doesn't plan to move to Cupertino.
In a more hopeful note for Apple fans, Cue insisted that the company's outlook has never been better.
"Late this year we've got the best product pipeline I've seen in my 25 years here," Cue said, according to Fortune.
---