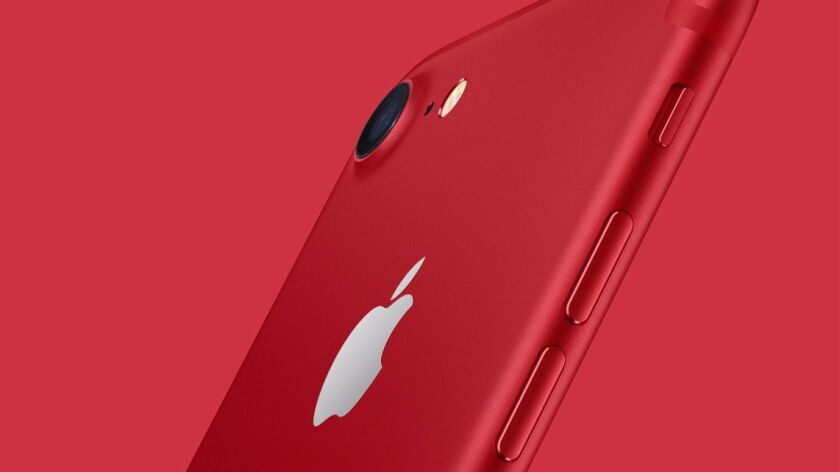 Apple Inc. announced a new, cheaper iPad and Product Red special editions of its iPhone 7 and iPhone 7 Plus early Tuesday. All three products will be available to order online and in stores beginning Friday, it said.
Apple's new iPad, a refresh of its iPad Air 2, boasts a 9.7-inch Retina display, a more powerful (A9) computer chip and a 10-hour battery life. The starting price for a 32-gigabyte model with Wi-Fi is $329, down from $399. An option with cellular service is available for $459.
The new iPad may be part of the Cupertino, Calif., tech giant's gambit to resurrect tablet sales. At about 24% market share last year, Apple is still the largest player in the tablet game, according to International Data Corp. However, the overall tablet market has been shrinking, with shipments declining 15.6% in 2016 from 2015, according to IDC.
"IPad as a category hasn't been growing," said Timothy Arcuri, managing director at financial services firm Cowen & Co. "They're trying to arrest the multiyear downward trend."
Arcuri said that as smartphones, including Apple's, have grown bigger and more powerful, people have increasingly consumed media and entertainment content on them, obviating the need for an iPad. "Unless you can offer it at a super compelling price, there's not a super compelling use case for it," Arcuri said. (He pointed out that the iPad Pro, by contrast, offers users a tool for creating content, which they can't get elsewhere.)
In the smartphone market, Apple continues to do well, with a 10th-anniversary launch of a feature-rich phone expected this fall.
The iPhone 7 and iPhone 7 Plus Product Red special editions may be one way to drum up excitement about the iPhone in general, Arcuri said — especially in China, where red is considered a lucky color. In that country, Arcuri predicted, the next generation of iPhones will "sell like hotcakes."
Sporting a bright matte finish, the red iPhones mark 10 years of Apple's partnership with Red, a branding campaign that works to raise money and awareness about HIV and AIDS.
"The introduction of this special edition iPhone in a gorgeous red finish is our biggest [Product Red] offering to date," Apple Chief Executive Tim Cook said in a news release. "We can't wait to get it into customers' hands."
The Red campaign works as follows: Brands partner to create Red products and pledge a percentage of sales revenue directly to the Global Fund to Fight AIDS, Tuberculosis and Malaria, a public-private financing body that supports prevention, treatment and care of these diseases in more than 100 countries. The Global Fund spends 100% of revenue from Red products on HIV/AIDS programs.
The red iPhones are a special edition of Apple's existing iPhone 7 and iPhone 7 Plus. The regular iPhone 7 has a 4.7-inch screen; its lowest-priced option has 32 gigabytes of memory and costs $649. The lowest-priced red version has 128 gigabytes and costs $749.
Apple would not comment on what share of revenue it contributes to the Global Fund from its Red products, but said it has donated $130 million since its partnership with Red began 10 years ago.
Apple is the biggest corporate contributor to the Global Fund, although private-sector contributions, including those from Red, corporate donations and nonprofits amount to only 5% of its revenue, said Seth Faison, head of communications for the Global Fund.
Arcuri said he didn't expect the red phones to affect Apple's bottom line. "The big picture is that Apple is positioning itself as the good guy" in terms of social responsibility, he said. "They already won the high-end smartphone war against Samsung's Galaxy, they're ahead of a really big launch.… They're continuing to try to burnish their image."
Twitter: @AgrawalNina
---
UPDATES:
3:15 p.m.: This article was updated with comments from Timothy Arcuri.
This article was originally published at 10 a.m.
---