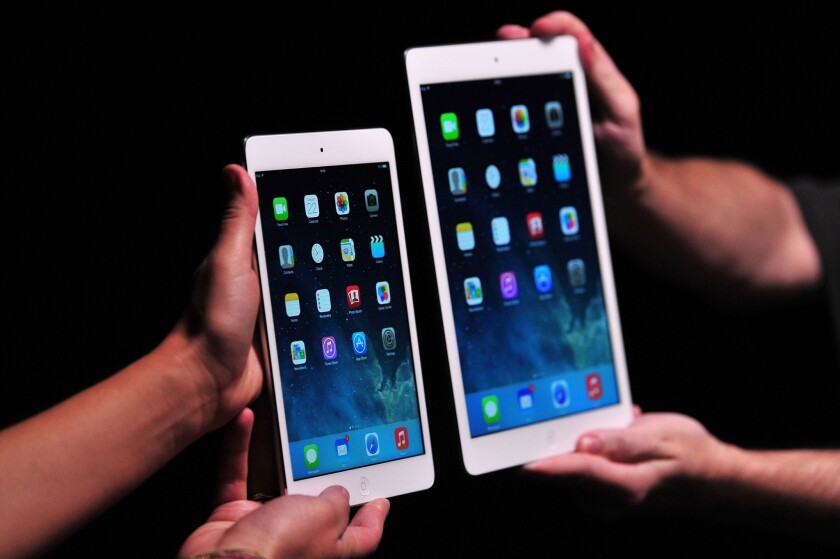 Apple fans woke up Friday to discover that the first-edition iPad mini had vanished from the company's online store.
It was an unceremonious goodbye to the device that was released in 2012 as a smaller, less-expensive alternative to the iPad, Apple's groundbreaking tablet. More recent versions of the mini are still available.
Its departure, confirmed by an Apple spokesman, means the gadget maker will only manufacture its latest-model iOS devices – iPad Air, iPhones, iPod Touch and Apple Watch -- with the high-resolution screens it calls Retina displays.
Apple introduced Retina several years ago, giving its phones, tablets and computers a super-sharp screen that made individual pixels virtually impossible to distinguish.
The iPad mini had started selling at $399, but dropped to $249, according to Apple. Its newer sister, the iPad mini 2, sells for $229 and has a Retina screen. The iPad mini 3 is $399.
"At more than two and a half years old, the original iPad mini is hardly worth recommending at this point anyway," wrote Jared Newman for Macworld. Some Apple observers are wondering if the discontinued line means a new iPad mini model could be on the way.
Twitter: @dainabethcita
ALSO:
Samsung says it's fixing Galaxy software that hackers could breach
YouTube launches Newswire to curate newsworthy videos
Honda confirms first California death from faulty Takata air bag
---