Apple breaks sales record, but iPhone 5c still available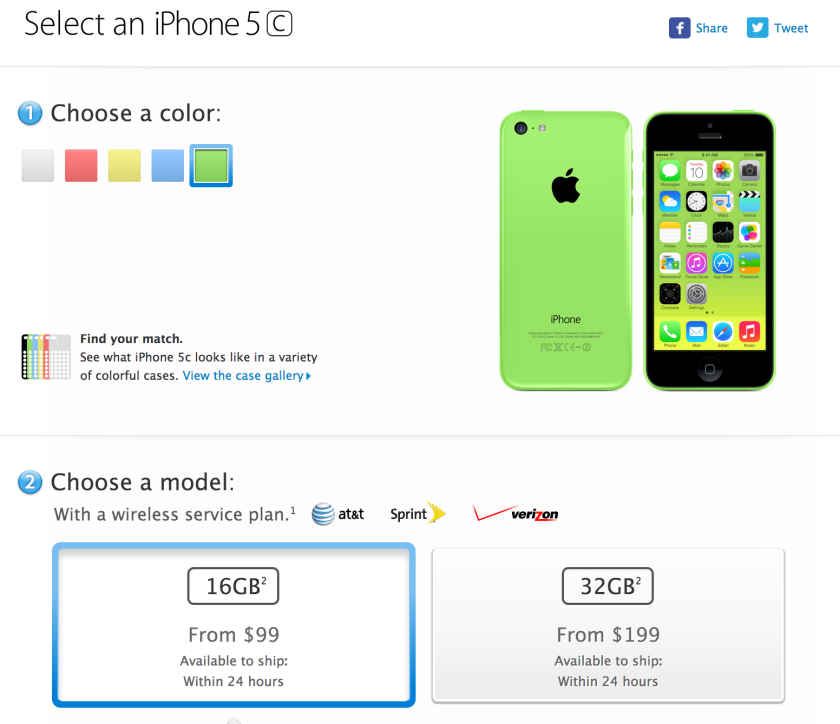 Apple this weekend shattered its record for iPhone sales, but customers looking for the iPhone 5c are in luck: There are still plenty of devices available for purchase.
The Cupertino, Calif.-based tech company announced Monday morning that it sold more than 9 million new iPhones around the world, breaking the mark it set last year and blowing past the expectations of many analysts.
Sure enough, all those sales led to some units selling out.
The gold version of the iPhone 5s, for example, quickly sold out at various locations across the country early Friday morning, and since then, all versions of the iPhone 5s have been harder to find.
VIDEO CHAT: Unboxing the iPhone 5s
Apple lists all of its iPhone 5s units as not available to ship until next month. AT&T, meanwhile, says the iPhone 5s will take one to two weeks to ship, or in the case of the gold iPhone 5s, it could take 28 to 42 days.
But customers who are interested in the lower-priced ($99) iPhone 5c won't have to face those shipping delays, or at least not yet.
The iPhone 5c has the same features as last year's iPhone 5, but it comes in five colors and in a plastic case. Apple's website says there are no shipping delays for the iPhone 5c, regardless of color, carrier or storage capacity. The device can ship "within 24 hours," the website says.
Websites for wireless carriers also say they have units available, although shipping times vary. For AT&T, the only version of the iPhone 5c that has any kind of delay is the 32-gigabyte version, which will take one to two weeks to ship.
A report Monday says Apple sold three times as many iPhone 5s units as iPhone 5c devices. But this could be a result of more Apple fans showing up during the opening weekend than regular customers, more of whom could be interested in the iPhone 5c.
ALSO:
Apple users are upgrading to iOS 7 at a record pace
Apple sells 9 million new iPhones, setting first-weekend record
What the iPhone 5s and 5c launch taught us about Tim Cook and Apple
---