Apple stock down more than 5% in morning trading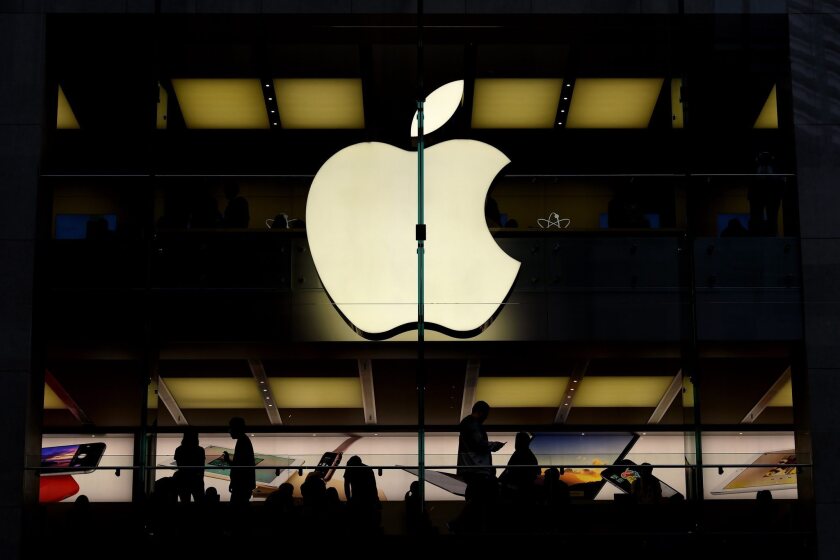 On the heels of a good-but-not-great earnings report as well as concerns about demand in China and iPhone growth prospects, investors are sending Apple stock sharply down in Wednesday morning trading on Wall Street.
As of 7 a.m. PDT, the Cupertino, Calif.-based company's stock had fallen $6.56, or slightly more than 5%, to $124.19.
That comes after investors pushed Apple stock down more than 7% in after-hours trading on Tuesday, shortly after the company posted its fiscal third-quarter earnings report in the afternoon.
It actually was a solid quarter overall for Apple, which beat Wall Street expectations by reporting profit of $10.7 billion on revenue of $49.6 billion for the three months ended June 27.
That outpaced its results from a year earlier, when profit was $7.7 billion on revenue of $37.4 billion.
But the company's outlook for the next three months was softer than analysts had expected. Many expressed concerns about the iPhone's ability to continue delivering robust sales, and are worried about demand in China.
On Wednesday, Cowen & Co. analyst Timothy Arcuri downgraded his rating on the company to market perform, from outperform, and reduced the price target from $140 to $130.
Chief Executive Tim Cook sought to downplay many of the iPhone-related concerns raised by industry analysts during a conference call after earnings were released.
"We think the phone has a lot of legs to it -- many, many years," he said. "There's tons of innovation left in the phone. I think we're in the early innings of it."
Apple sold 47.5 million iPhones last quarter. Revenue from iPhones totaled $31.37 billion, up 59% year over year.
Twitter: @byandreachang

---