Apple lets appmakers use Siri — within limits — amid 'gigantic' batch of iPhone updates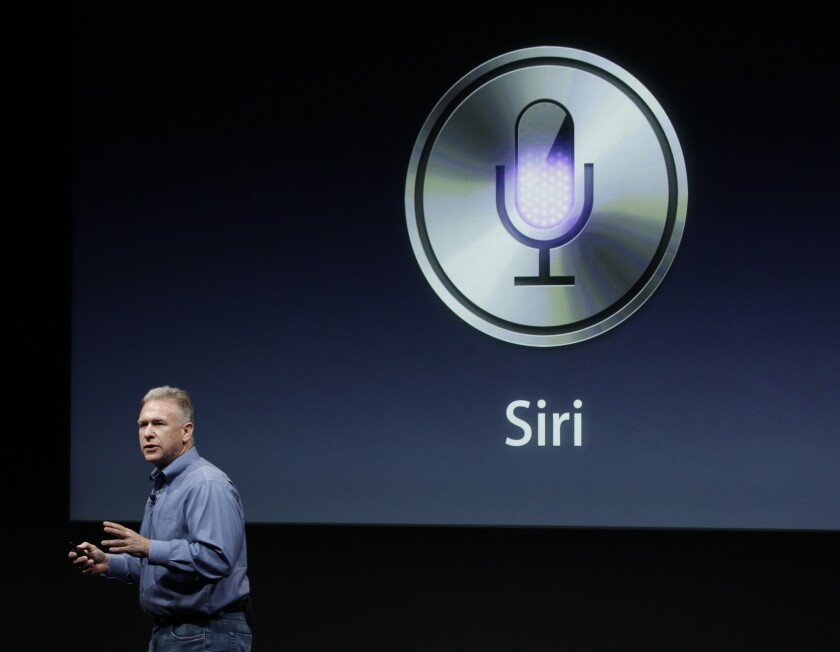 Despite the increasing amount of time people spend on their smartphones, the app market is in a lull.
Facebook, Snapchat, Uber and other big-name apps get heaps of downloads. But most everyone else is seeing demand level off.
That's why app-makers raved about Apple's announcement at its Worldwide Developer's Conference on Monday that apps may integrate with virtual assistant Siri, Apple Maps and iMessage. This would allow developers to build software that lets iPhone users, say, talk to Siri to send a friend $20 through Venmo, book a ride on Lyft directly on Maps and select and send Dropbox files without leaving iMessage.
Cool, new connections between apps could lift downloads and spur new business models. The move carries extra weight as Siri, added to Apple TV last year, arrives on Mac computers this fall.
See more of our top stories on Facebook »
But Apple, which rarely goes all-out with new tools for developers, placed restrictions on the types of apps that can connect with Siri and on the actions users can take by voice. Siri starts with only support for ride-hailing, messaging, photo, payments, calling and workout apps. Meanwhile, Maps only handles ride-hailing and reservations. Only iMessage is wide open.
Tight control over functionality at the outset lets Apple avoid tying up users in unpleasant experiences, whether it's overpowered apps draining batteries or invasive software demanding too much access to a user's personal files.
Though the reins loosen over time, there are short-term consequences.
Expectations about last year's launch of the Apple Watch soured after software developers realized that the company's restrictions would render many of the first apps for the smartwatch sluggish and unsophisticated. Just 20 of the top 100 free iPhone apps and 11 of the top 100 paid apps have a Watch version, according to data from tracking firm Sensor Tower.
"We thought we would see more uptake from developers," said Paul Kopacki, chief marketing officer for Realm, which provides storage technology to 100,000 developers. "But Apple is rubbing against the limits of its first-generation hardware — battery, screen size — and one of their responses has been to limit what developers can do with it."
Uncertainty about how to turn smartwatch apps into significant revenue generators hasn't given developers the incentive to prioritize Watch apps.
SIGN UP for the free California Inc. business newsletter »
"I get the impression that some users find watch apps nice to have as an extra, but it's not a significant driver of sales," said James Thomson, who develops the PCalc app.
Apple ended up with poor early reviews for Watch apps, which may have curtailed sales of the device.
"The Watch hasn't saturated like the hot device on the market usually does," Kopacki said.
Siri accepting voice commands for apps should generate less severe concerns for Apple compared with the challenges raised by the initial Watch model. Siri launched in 2011, and users are accustomed to interacting with it.
Issues may arise, though, if people have two apps with similar functionality, said Charles Teague, chief executive of Boston start-up FitNow. His company's app, Lose It, helps hundreds of thousands of subscribers track their workouts and diet. Should a user with several fitness apps say to Siri, "I just had a ham sandwich," each of those apps could seek to do something with the statement. The activity could overburden the device or confuse the user — problems that justify Apple erecting barriers such as requiring users to name the app they want to activate.
But the tensions also leave some apps out of the Siri frenzy for a while.
"It can be frustrating for developers, but I can understand why Apple does it their way," Teague said.
Though Apple didn't release the Siri floodgates, at least opening them somewhat alongside iMessage provide the strongest sign yet that the company senses itself being squeezed by rivals Google and Facebook. The competitors also want to boost their own virtual assistants and messaging apps by luring programmers – and they aren't known for putting tight restrictions on developers.
"Every major area of iOS is open to developers," said Craig Federighi, Apple's senior VP of software engineering.
Apple's desire to compete with Google and Facebook shined through in other announcements Monday too. Starting this fall, facial recognition software in the Photos app should improve searching. And artificial intelligence software is expected to suggest replies to messages and automatically convert words to emojis. Rivals already boast some similar features.
Apple's event Monday in San Francisco also introduced other elements of what Chief Executive Tim Cook described as a "gigantic" update scheduled to arrive this fall across the company's products.
Among them, iMessage users will be able to emphasize remarks by changing the size of text or pixelating it until the recipient waves their hand across the screen. Additionally, artists may submit digital stickers for public use in iMessages.
An SOS tool for the Apple Watch automatically rings the local emergency number, pings a user's emergency contacts and displays medical information for first responders.
Mac and Macbook users are expected to gain the ability to shop on websites using Apple Pay and have online videos stay on the screen as they switch to a different program.
It's the new tools for Siri and iMessage that provide developers the most inspiration though.
Apple regularly adjusts its policies to remain appmakers' preferred distribution partner. Last week, Apple announced several changes intended to appease programmers. Getting an app — or a new version of it — on the App Store should be faster. Attracting users could become more cost-effective because the App Store will now have spots for ads, giving appmakers an alternative to the standard path of marketing on Facebook or Google. And Apple introduced the ability for more appmakers to sell apps as a subscription rather than just a one-time fee.
Teague saw news about the subscriptions and immediately crunched numbers. After a subscriber's first year, Apple will charge developers a fee of only 15% of revenue, versus the 30% it siphons from paid apps today.
"It's a big a deal," Teague said. "You think about people who stick with us for more than a year, it's plus 15% on all of them."
Apple is of such importance to developers because iPhone apps are more lucrative than Android complements. The more expansive role of iMessages and particularly Siri on the device could be crucial to keeping the app market humming.
"Opening up the platform for developers was long overdue," said Daniel Ives, a financial analyst who followed the company until recently joining mobile software company Synchronoss Technologies. "I view this as a major step in the right direction for Apple to get developers behind Siri and help fend off competition."
ALSO
Facebook a bigger player at this year's VidCon
Walgreens severs ties with blood-testing startup Theranos
Electronic Arts gets into e-sports, with $1-million 'Madden' championship
Twitter: @peard33
---
UPDATES:
2:37 p.m.: This article was updated with additional details and reporting following announcements at Apple's developers conference.
This article was originally published at 6:00 a.m.
---
Your guide to our new economic reality.
Get our free business newsletter for insights and tips for getting by.
You may occasionally receive promotional content from the Los Angeles Times.