Bill Gates plays Secret Santa to unsuspecting Reddit user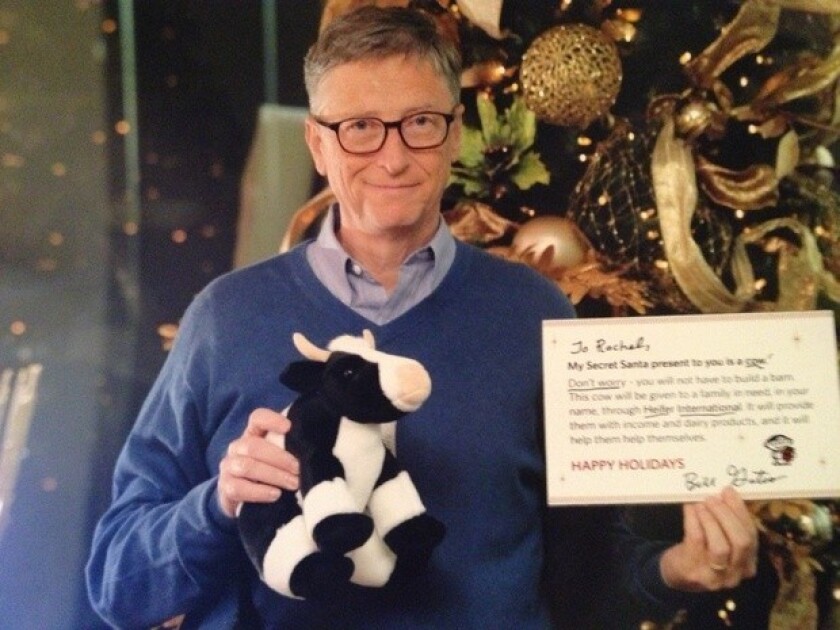 Who knew Bill Gates was such a nifty Reddit user?
The billionaire philanthropist and Microsoft co-founder took to Reddit recently to partake in the online community's Secret Santa Exchange. Gates was matched up with Reddit user NY1227, otherwise known as Rachel, who he then proceeded to give a memorable gift.
Gates shipped the unsuspecting Reddit user a seven-pound box filled with a travel book, a stuffed cow, a card indicating a donation to Heifer International in Rachel's name, a signed holiday card, and a picture of himself holding the card and the cow in front of a Christmas tree.
Rachel said she didn't realize who the gift was from initially, assuming the man named "Bill" who signed her card was just some unfortunate lad who got stuck trying to figure out what gift to send her from her wish list that included makeup, nail polish and an iPad.
VIDEO: Last-minute tech gadget gift ideas
"To me, From Bill. I opened this and it's a man holding a sign. Oh....wait," Rachel wrote on Reddit. "And then it finally hit me. All the presents I just tore open, the charity, then everything -- was from Bill GATES."
As you might expect, Rachel said she couldn't be happier with the gift.
"I want to start by giving a HUGE THANK YOU to Mr. Bill Gates for an amazing gift and secret santa experience," she wrote. "Bill- you ROCK (can I call you Bill?! I feel like we're friends now!)."
Rachel said she does not know how much Gates donated to Heifer International, which gives families in need tools, training and animals so that they can improve their lives and their communities. A spokesman for Gates -- who partook in a Reddit Ask Me Anything Q&A earlier this year -- told GeekWire that he participated in the Secret Santa Exchange to draw attention to Heifer International.
"By the way, in case anyone was being nosy it does not say how much he donated to my behalf, but I can only imagine it was QUITE a bit," Rachel wrote.
Rachel gave Gates a 10 out of 10 score for his gift-giving skills and wrote him a hilarious postscript.
"Ps: Sorry for the apple ipad on my wishlist, that was really awkward," Rachel said.
ALSO:
Facebook's Mark Zuckerberg donates nearly $1 billion to charity
Watch the Lego car built out of 500,000 blocks hit the road [Video]
Woof! Indiegogo project aims to translate dogs' thoughts into words
---
Your guide to our new economic reality.
Get our free business newsletter for insights and tips for getting by.
You may occasionally receive promotional content from the Los Angeles Times.