Broadcom will move back to U.S. — and bring tax money with it, Trump announces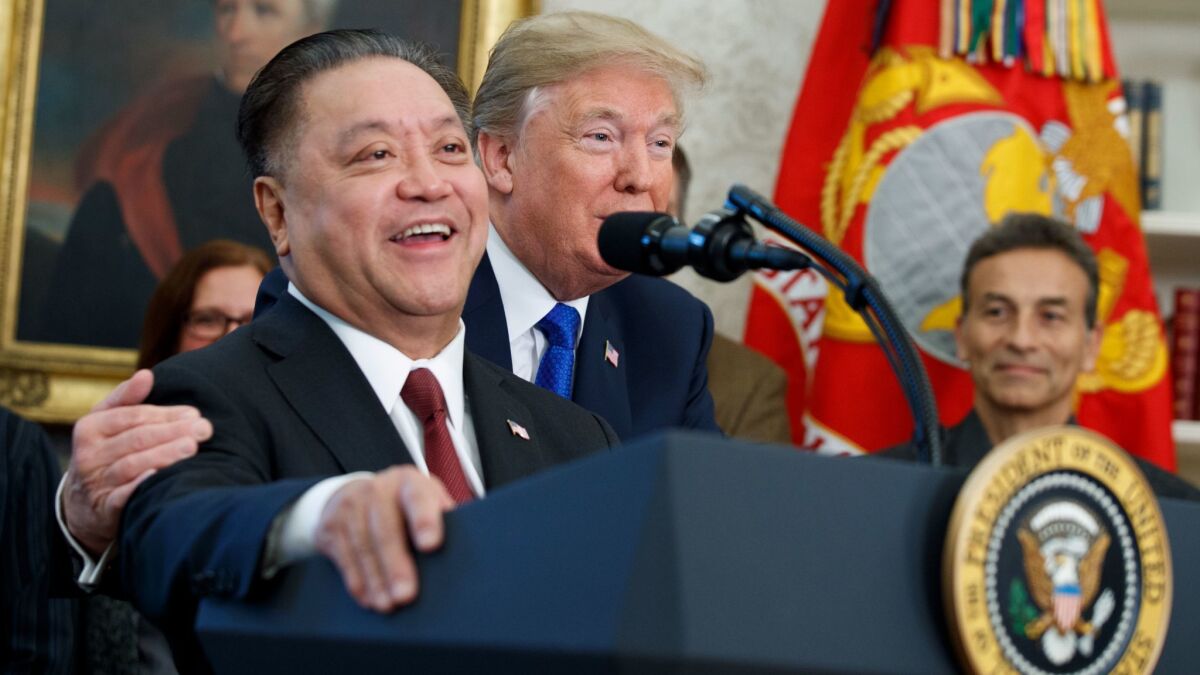 Broadcom Ltd., a $100-billion semiconductor company legally based in Singapore, will relocate its home address to the United States, President Trump announced Thursday.
The company, which manufactures communications chips around the world, said it would relocate its legal address to Delaware once shareholders approve the move, bringing $20 billion in annual revenue back to the U.S. Its corporate headquarters will remain in San Jose.
The move would enable Broadcom to avoid a cumbersome federal review process.
The Oval Office announcement was tied to the release of congressional Republicans' tax reform proposal, which would drastically reduce corporate rates and make it easier for companies to deduct foreign taxes. The company credits the GOP plan with making it easier to do business in the U.S. — but said it will move to the U.S. regardless of whether the plan passes.
A year ago, Broadcom entered into a $5.5-billion agreement to merge with San Jose network provider Brocade Communications Systems Inc., but that has been delayed while the deal is scrutinized by the Committee on Foreign Investment in the United States. The high-level government committee, known as CFIUS, investigates proposed acquisitions of U.S. companies by foreign buyers on national security and intellectual property grounds.
By becoming a U.S.-based company, Broadcom would avoid the CFIUS process.
The company makes semiconductor chips used for a variety of products, including cable set-top boxes, smartphones and other wireless devices.
It's rooted in one of the largest tech industry acquisitions, when Singapore-based Avago Technologies Ltd. bought Broadcom Corp. for $37 billion last year. The deal made Broadcom Ltd. the parent company of both Broadcom Corp. and Avago Technologies. By joining forces, the rival chipmakers hoped to make a bigger dent in the rapidly growing market for wireless devices.
Nearly 20% of its revenue in the most recent fiscal quarter came from sales to Apple Inc. and contractors that manufacture Apple products, such as Foxconn Technology Group.
About half of its revenue comes from China-based distributors and manufacturers, though the end products are used around the world.
The Singapore Economic Development Board has awarded the company with tax breaks for having a major presence there, but the company said in a recent regulatory filing that one of those benefits ends in 2021, four years earlier than expected.
About 39% of Broadcom's employees are in Asia.
Broadcom said it has 7,500 U.S. employees across 24 states. It has manufacturing facilities in Colorado and Pennsylvania and engineering offices in California.
"Our move would domicile our $20-billion annual revenue in the United States," Broadcom Chief Executive Hock Tan said in a statement. "From our base here, each year we will invest $3 billion in research and engineering and $6 billion in manufacturing, resulting in more high-paying tech jobs."
Broadcom shares edged up 0.1% on Thursday to $259.50. Brocade shares jumped 7.2% to $12.58.
---
UPDATES:
1:50 p.m.: This article was updated with Broadcom's and Brocade's stock prices.
11 a.m.: This article was updated with additional details about Broadcom's history, products, workforce and finances.
This article was originally published at 10:10 a.m.