Chinese tech execs side with Apple -- or maybe just against the FBI
Reporting from Beijing —
Chinese technology executives are weighing in on the standoff between Apple Inc. and the FBI — and they're taking Apple's side.
Chinese Internet companies operate in one of the world's most restrictive online environments, in which bowing to official censorship and surveillance demands is a necessity of doing business. Services that don't comply, including Facebook, Twitter, YouTube, Google and Instagram, are summarily blocked.
So it might seem counterintuitive that this week two prominent chief executives of Chinese technology firms threw their support behind Apple Chief Executive Tim Cook's refusal to create software that would help the U.S. government break into the encrypted iPhone used by one of the shooters in the deadly San Bernardino terrorist attack.
But these public statements may have less to do with potential business advantages than they do with global politics, said James Lewis, senior fellow at the Center for Strategic and International Studies in Washington.
"China has decided, as a matter of policy, to become very critical of the United States," he said. "We don't know what [the executives'] motives are … but since you see this whole spate of Chinese articles saying the U.S. is corrupt and its democracy is flawed, this is another example of that."
Yu Chengdong of Huawei Technologies Consumer Business Group, speaking at the Mobile World Conference in Barcelona, Spain, on Monday, said he strongly supported Cook's decision.
"Tim Cook attached great importance to privacy protection," Yu said, according to Chinese state-owned news website the Paper. "It's also very important to Huawei."
That same day, Jia Yueting, CEO of streaming video giant LeTV, reblogged a post about the Apple-FBI standoff on Sina Weibo, China's most popular microblogging service, adding: "We should support every [business] decision that's based on customer benefits."
The CEOs' statements also let their companies project a positive image to their customers in China and beyond, said Guobin Yang, associate professor of communication and sociology at the University of Pennsylvania. He said Huawei in particular has been aiming at a global market.
"There are principles they want to follow," Yang said. "Whether or not those principles or laws or regulations will actually be followed can be a very different matter."
That Apple is the company embroiled in this controversy also makes it more attractive for the Chinese executives to speak out.
Apple products are extremely popular in China, where people regard them as a status symbol and a bulwark against cybercrime. In April, the country surpassed Europe to become Apple's second-largest market after the United States.
It hasn't come easy. Apple had to overcome a massive Chinese black market for its products. It failed, until a few years ago, to partner with China Mobile, a service provider that commands about two-thirds of China's cellphone market.
When National Security Agency contractor Edward Snowden famously leaked U.S. intelligence reports in 2013, Apple had to overcome accusations that its hardware was a threat to Chinese national security.
The company agreed to store encrypted user data on servers belonging to the state-owned company China Telecom. The company said it did this to improve the speed in which users could get their data.
Apple also pledged to Chinese regulators that it would never construct a backdoor for any government as a condition in allowing the iPhone 6 into the China market.
"Chinese are pretty sensible — they know Apple is here to make money and will do whatever they have to do to make money," said Charlie Smith, a co-founder of GreatFire.org, a website that tracks Chinese censorship.
"But," he added, "it would only take one negative incident — some user getting stuff monitored on his phone and turned in to the authorities, for example … to turn the tide against Apple. If Apple does not want to cooperate with the authorities, then the authorities can publicly damage the Apple brand so nobody buys anymore."
MORE: Get our best stories in your Facebook feed >>
On Tuesday, a group of researchers at the Canada-based Citizen Lab found that scores of applications developed by China's biggest search company, Baidu — including its mobile and Windows browsers — transmit "personal user data to Baidu servers without encryption and with easily decryptable encryption," leaving users' personal data vulnerable to hackers.
"It's either shoddy design or it's surveillance by design," Citizen Lab director Ron Deibert told Reuters.
At the Apple store in Beijing's Sanlitun district, a hub of glitzy shops and restaurants, several customers bemoaned Chinese companies' inability to follow Apple's lead.
"[It's] Apple's responsibility to protect every customer's privacy," said Shi Luofei, 25, a banker.
"It would be so intrusive to have anyone have full access to your cellphone," said Cao Yongmei, 30, the owner of a cosmetics store.
"The U.S. Constitution protects people's freedom, so that's what Apple is supposed to do," said Chen Yang, 20, a college student in Beijing. "If the government has access to all information of its citizens, it would be very scary. In China … we don't even have a tech company that is able to encrypt cellphones to the same extent as Apple, let alone … say no to the Chinese government."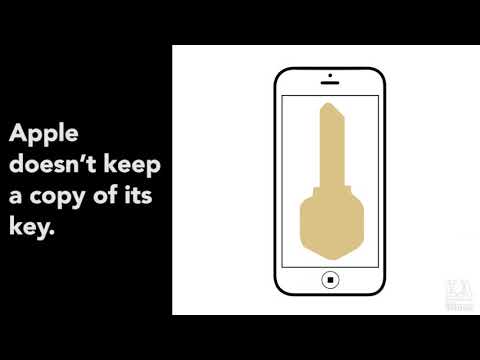 Here's everything you need to know about the fight between Apple and the FBI in two minutes.
Kaiman reported from Beijing and Masunaga from Los Angeles. David Pierson in Los Angeles and Yingzhi Yang and Nicole Liu in The Times' Beijing bureau contributed to this report.
MORE
FBI director calls Apple case 'hardest question' in government
Apple court papers: FBI is seeking 'dangerous power' that violates its constitutional rights
Apple's Tim Cook disappointed with Justice Department's handling of San Bernardino case