FBI director calls Apple case 'hardest question' in government
Reporting from Washington —
The legal fight between the FBI and Apple over unlocking an iPhone in the San Bernardino mass murder case will impact other investigations in which law enforcement is seeking access to encrypted devices, FBI Director James Comey said Thursday.
The FBI has asked Apple for help opening 13 other devices in cases across the country. Since the fall, Apple lawyers have balked at taking additional steps, including writing software, to unlock password-protected phones and tablets.
"This is the hardest question I've ever seen in government," Comey told the House Intelligence Committee at a hearing on national security threats facing the United States.
Join the conversation on Facebook >>
The public needs to debate whether law enforcement should be able to access encrypted communications with a court order, and how to balance that with technological advances designed to protect customers' privacy from hackers and unwarranted government surveillance, he said.
Comey said the central question is "who do we want to be, and how do we want to govern ourselves?"
Apple has refused to comply with a federal magistrate judge's order to build a software program that would circumvent the password protection on the work phone used by Syed Rizwan Farook before the Dec. 2 massacre at the Inland Regional Center that killed 14 people.
U.S. Magistrate Judge Sheri Pym of the U.S. District Court for the Central District of California in Riverside, Calif., has given Apple until Friday to respond to her order.
"Whatever the judge's decision in California, however it ends up, will be instructive for other courts," Comey said.
Privacy advocates and Apple executives argue that agreeing to hack Apple's security features in this case would establish a precedent that federal, state and local law enforcement could use in other investigations.
Meeting the FBI's demand "could expose people to incredible vulnerabilities" and "also set a bad precedent that I think many people in America would be offended by," Apple Chief Executive Tim Cook told ABC's "World News Tonight" on Wednesday.
The FBI cannot unlock the iPhone on its own, Comey said.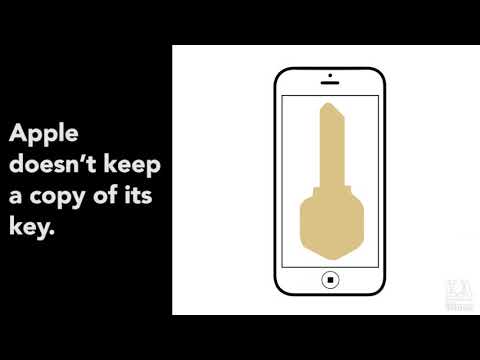 Here's everything you need to know about the fight between Apple and the FBI in two minutes.
"Sometimes we are not as attractive or as technologically talented as we appear on TV," he said.
The FBI "must do a competent investigation" of the mass shooting in San Bernardino, Comey said, and "we will use whatever lawful tools are available to us."
Apple has been "very helpful" in the investigation, Comey said, but the company balked when the FBI asked its technicians to write special software so the FBI could obtain the password to open Farook's iPhone 5c.
In court papers, the FBI has said the device may contain text messages, photographs, location data and other information from Oct. 19, when it was last backed up to the iCloud, until the shooting nearly seven weeks later.
Court documents filed in a separate drug case in Brooklyn, N.Y., show Apple faces federal court orders to access data on at least 13 other locked devices around the country.
Twelve of the devices were listed in a Feb. 17 filing by Apple in the U.S. District Court in the Eastern District of New York. The Justice Department added another device to the list in a letter to the court.
The requests include federal courts in California, Illinois, Massachusetts and New York. Eleven of the devices are iPhones, one is an iPad 2 Wifi, and another device wasn't identified.
The list does not include any devices in local law enforcement investigations. Manhattan Dist. Atty. Cyrus Vance has said that his criminal investigators have possession of 175 Apple devices they are unable to open.
Follow me @ByBrianBennett on Twitter
MORE ON APPLE VS. FBI
Chinese tech execs side with Apple -- or maybe just against the FBI
In the fight to unlock iPhones, the U.S. government has more to lose than Apple
Apple's Tim Cook disappointed with Justice Department's handling of San Bernardino case
Sign up for Essential California for news, features and recommendations from the L.A. Times and beyond in your inbox six days a week.
You may occasionally receive promotional content from the Los Angeles Times.