As colleges embrace e-sports, there are thorny questions about who, if anyone, profits
Duran Parsi headed to Pepperdine's law school three years ago with a mission: By the end, he'd either practice law or commit to his fledgling e-sports business.
With graduation near, Parsi might need to grant himself an extension. Collegiate Star League, the 30-person e-sports operation run from his Studio City apartment, has essentially become the NCAA for video games.
The company organized tournaments that 30,000 college students in the U.S. and Canada participated in this school year. Sponsorship sales tripled from last school year, and enough cash remained for Parsi, 29, to live off his business instead of student loans.
But amateur e-sports trails the professional level in fervor. Parsi doesn't know whether the college sports matches he organizes will rival the profits and appeal of college basketball and football or grow into niche money-suckers such as rugby and field hockey. The company that makes the leading game "League of Legends" expects to land in between, matching the small, but loud fandoms of college baseball.
"College e-sports is a buzzword right now, but there's a big misconception about how big college e-sports is," Parsi said. "We have a lot of players, but the audience is far behind."
Large audiences deliver broadcasting and advertising deals that turn March Madness and bowl games into business bonanzas. But eight livestreams this year of Big Ten Conference e-sports matches drew zero revenue for the league and a combined 2.1 million viewers, or less than a single postseason college basketball game can draw with its rich history and bracket-induced popularity.
Parsi's firm — the top organizer of college e-sports by participants — remains unprofitable.
The venture started in college when UC San Diego roommates pointed Parsi to the tech club's tournament for the intragalactic alien battle game "StarCraft." Parsi, figuring an easy gold, fell to bronze and exited surprised that 60 people showed. Inspired by classmates' skills, he arranged a team and launched it into competition against other California universities.
By the time he earned a master's degree in international relations from George Washington University, Parsi's little league had ballooned into a nationwide spectacle. Collegiate Star League started featuring several games in addition to "StarCraft." Landing the perennial contract to run the technology and logistics behind Riot Games' university competition for "League of Legends" boosted the company's credibility.
The league introduced multiple divisions of play, separating schools by skill level, with separate champions crowned in each game for each division. Prizes escalated from mice and keyboards in 2012 to $200,000 this year. Because NCAA rules don't apply to e-sports, cash prizes are fair game. But prizes might be phased out as more schools offer scholarships, bringing e-sports in line with the norms of traditional college athletics.
Keeping pace with player interest required Parsi to acquire sponsors and more employees. He got the capital by selling majority ownership of Collegiate Star League in 2015 to WorldGaming. The division of Canadian movie theater chain Cineplex Inc. has high expectations for diversifying its revenue.
"We want to be the de facto provider for collegiate e-sports," said Wim Stocks, WorldGaming's chief executive.
But Collegiate Star League is hobbled. Much like college baseball, many top players turn pro before attending college. That contributes to reduced popularity because fans aren't tuning in to track up-and-comers. Some players return to college as part of "retirement," but Parsi expects a ban on such crossover in the interest of fairness.
"Star personalities is the No. 1 issue we face," Parsi said.
No stars, no fans. No fans, no sponsors.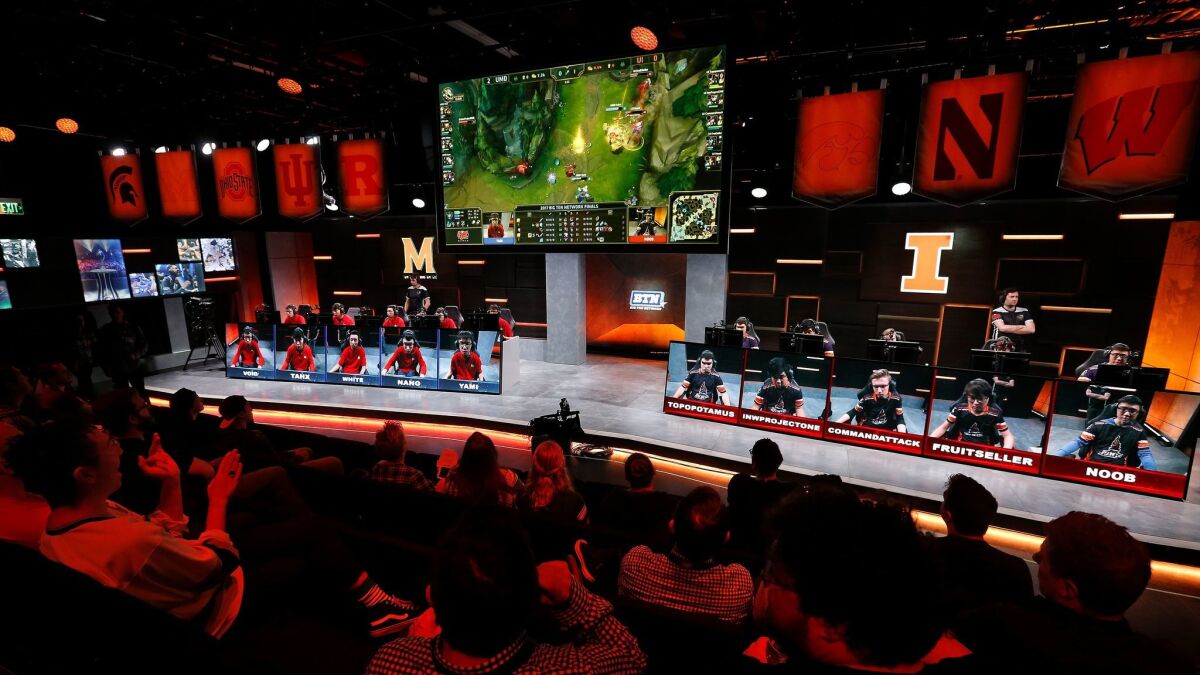 Parsi is eyeing international competitions, hoping a global audience is sizable enough to pique advertisers. "League of Legends" creator Riot Games is pursuing licensing and broadcasting partnerships with U.S. collegiate conferences, such as the Big Ten and Pac-12, in hopes that emphasizing regional rivalries such as USC-UCLA draws fans.
Promotion from gamemakers or streaming services improves viewership. But turning to developers could backfire for Parsi if they spot efficiencies in internally operating the entire league.
For instance, Valve, the cantankerous maker of popular "Dota" and "Counter-Strike" games, hasn't raised concerns with Collegiate Star League using them in leagues. But a sudden turnabout is possible. Case in point: Blizzard Entertainment, which owns collegiate events arm Tespa, stopped Parsi from hosting a league for "Hearthstone" this school year, he said.
Parsi insists emerging games continually will fill gaps. The harder part, he says, is convincing school administrators to get on board.
Robert Morris University in downtown Chicago was the trailblazer. The school has 65 gamers on school-funded athletic scholarships that cover up to 70% of college costs, said Kurt Melcher, who's gone from women's soccer coach to executive director of e-sports.
Schools' support leads to perks such as priority registration, so players' classes don't conflict with practices. They can get a dedicated space to gather — no more getting kicked out of the library for playing games. Parsi imagines schools absorbing his major expense: flying players in for championships.
UC Irvine students scrounged up $250,000 from computer makers and other companies to turn a billiards lounge into a gaming enclave near the campus center. A dozen gaming stations are reserved for the school's academic-scholarship "League of Legends" players. About 50 computers are playable for $4 an hour, with students crowding in on weekdays and teenagers and their moms popping by on weekends.
Riot Games prefers e-sports teams fall under athletics departments, which enables them to tap existing fundraising, marketing and compliance officials. They already have know-how for everything from monitoring players academic and behavioral performance to fostering hype through rallies and online trash-talking.
"'League of Legends' is a sport, and it needs all these structures around of it," said Michael Sherman, Riot Games' college e-sports lead.
School and conference officials say e-sports give a slice of students something bigger to care about than academics. They also bring more programming to conference TV channels.
But many aren't yet ready to invest in e-sports. Scholarships don't yet pay off, whether from ticket sales or attracting applicants. Constant operational changes from game developers leave administrators and students feeling raw.
"Not having information about what you're investing into is the worst thing you can do," said Jesse Wang, UC Irvine's e-sports coordinator.
Among players' latest criticism is the uncertain rules for rare circumstances when a college player is drafted mid-season by a pro team. Other frustrations include the lack of opportunities to sell merchandise and tickets.
In recent months, companies have promised increased predictability. For instance, Riot Games has sent a clear message that it will be the one to establish e-sports rules for its games that Parsi and anyone else it works with would have to abide by.
Riot is open to official sanctioning from the NCAA, which already works with outside organizations to oversee sports such as shooting and rowing. Collegiate Star League would welcome an NCAA partnership, if it's in the best interest of players, Parsi said.
Treating e-sports like traditional college sports would add significant regulation. But following NCAA rules governing gender balance in competition and compensation, for instance, would ultimately benefit e-sports, organizers say.
"In an ideal world, the competition wouldn't be about winning money, but the competition would be the reward itself," Parsi said.
By rough estimates, about 20 in 1,000 college students participate in traditional college athletics, while 2 in 1,000 compete in video games.
As law school graduation looms, Parsi expects he'll find enough reason to believe those figures will inch closer and Collegiate Star League will thrive. He might even splurge this summer to get formal offices in Los Angeles.
"I'm not saying for sure it's going to be NCAA basketball and not collegiate rugby," he said of e-sports. "There's signs that we can become 'like basketball,' and that's encouraging."
Twitter: @peard33
ALSO
Uber accused of using a secret program called Hell to track Lyft drivers
Luminar thinks its lidar for driverless cars can leave Waymo's and Uber's in the dust
Snapchat maker unseals former employee's lawsuit: 'Snap has nothing to hide'
---