Critics react to Obama's proposed surveillance reforms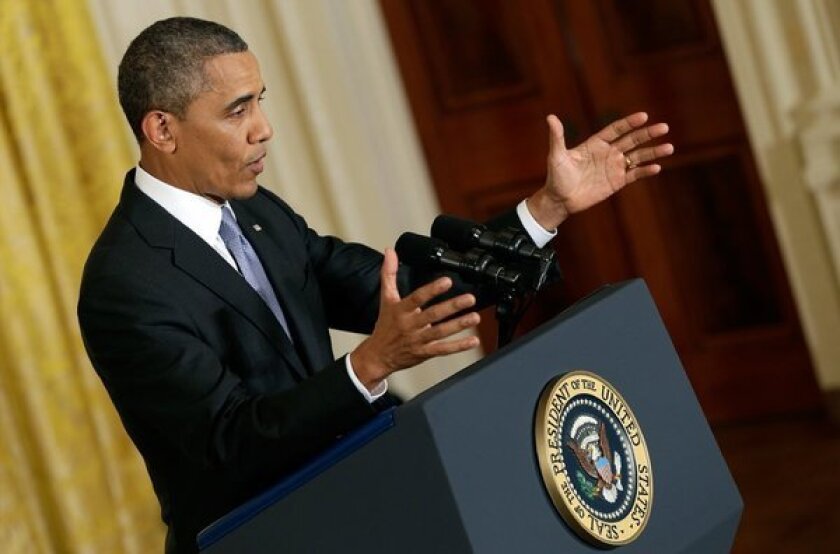 Critics offered cautious praise Friday following President Obama's hourlong press conference to unveil proposed changes and responses to a much-criticized government surveillance program.
But they also made it clear that more needed to be done to reform a system that has generated widespread controversy in recent weeks.
This week, Obama held two meetings with technology executives, privacy advocates and industry trade groups to discuss issues raised by leaks from former National Security Agency contractor Edward Snowden. Reports on those leaks raised questions about whether the NSA was monitoring the online actions of U.S. citizens.
PHOTOS: Google Street View from 22,000 feet
Among those attending a meeting Thursday were Apple Chief Executive Tim Cook, Google's chief Internet evangelist Vint Cerf, and Gigi Sohn, president and CEO of Public Knowledge.
"Apple has always placed a priority on protecting our customers' personal data, and Tim was happy to accept the president's invitation" to the meeting, Apple spokeswoman Kristin Huguet said in a statement. "We strongly advocate greater transparency around the demands we get from government agencies."
In an interview, Sohn said she was optimistic about the announcements that apparently resulted from those meetings. In particular, she praised the creation of a privacy advocate within the NSA and the move toward some more transparency about how these programs work.
"Taken as a package, it seems like a good start," Sohn said. "It's not everything privacy advocates have asked for. But it's a recognition that there's an issue and a problem."
Sohn also was glad to hear Obama talk about changing Section 215 of the Patriot Act, which authorizes the NSA to conduct surveillance.
She hopes the president also will address requests by Silicon Valley companies and others to release more details on the data requests the government is making and what arguments the U.S. Department of Justice is using to obtain surveillance warrants.
"I understand you don't want to announce the technical details of how the government is conducting surveillance," Sohn said. "But it seems there's got to be a middle ground between letting people know everything and letting people know what's being done in their name."
Marc Rotenberg, executive director of the Electronic Privacy Information Center, said he attended a meeting with Obama on Tuesday.
Although Rotenberg also said he was glad to see Obama address the issue, he noted that EPIC still has pending litigation challenging the legality of the Section 215 programs. He said it's important for Congress to take up the issue and limit its scope.
"We're pleased that the president has responded to growing public concerns about the NSA's domestic surveillance program," Rotenberg said. "It's very significant that the president made this announcement. But we need legislative change."
In a statement, the Center for Democracy & Technology expressed similar sentiments:
"The president has taken a vital first step toward having a long overdue democratic dialogue about our surveillance capabilities and laws. Transparency, additional oversight, and a voice for privacy at the FISA Court are all important. An outside, expert committee that assesses surveillance authorities and technologies must look critically at the global human rights implications and the future of the open Internet, as well as engage in a searching review of current law," said Leslie Harris, president and CEO of the group. "However, Congress should not wait and should act to end the bulk collection of Americans' phone records."
ALSO:

Look, up in the sky! Is that a Google Wi-Fi balloon?
Google Maps app updated, but no new features -- just redesigned ads
Roku updates, trying to keep up with Apple TV and Google Chromecast
---
Your guide to our new economic reality.
Get our free business newsletter for insights and tips for getting by.
You may occasionally receive promotional content from the Los Angeles Times.