How a potato chip entrepreneur in Lebanon became a big supporter of L.A. tech start-ups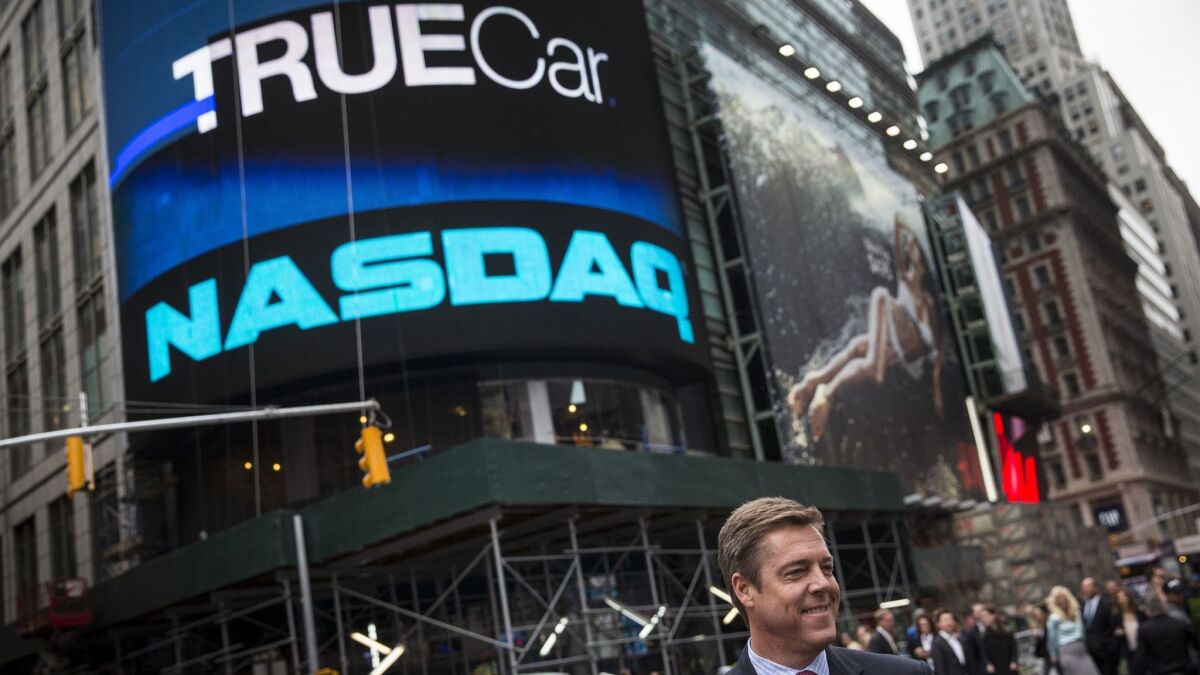 Michel Daher was running a fast-growing potato chip company in Lebanon when he got caught up in the euphoria of the late-1990s Silicon Valley tech boom.
He bought shares in a block of tech companies that went public at the time, and he sold some stock before online business models fizzled and the market tanked.
But more important for Los Angeles, the hoopla around tech got Daher to meet with Yves Sisteron and Steven Deitz through a mutual connection. Sisteron and Dietz were partners at the venture capital firm now known as Upfront Ventures, and they needed cash for their second fund to invest in start-ups. Daher obliged.
Since his first check in 2000, Daher, 56, and his son, Mark, 27, have continued to invest not only in subsequent Upfront Ventures funds but also in several other Southern California investment funds and start-ups. Though their efforts haven't been well publicized, the Dahers have become among the biggest supporters of Los Angeles tech companies behind the scenes.
"They are fantastic because they bring both a global perspective and true operating experience because they are entrepreneurs themselves," Mark Suster, managing partner at Upfront Ventures, said in an email.
Some of Daher Capital's three dozen investments include mobile games start-up Seriously, media company Mitu, advertising software firm Steelhouse, bedsheet seller Parachute Home and online marketplace for clothing Tradesy. Each of the companies is in the Los Angeles area.
Earlier holdings have made Daher Capital money. It had investments through and alongside Upfront Ventures in area companies that went public or sold in deals valued at hundreds of millions of dollars, such as Maker Studios and TrueCar.
Mark Daher said his family has taken a step back from directly investing in start-ups as they focus on increasing efficiency at Daher Foods. The Lebanese company is known for Master potato chips, Pops nuts and crackers and Sitos tortilla chips. They're distributed across 18 countries in the Middle East, with Dahers owning the entire process from farming to processing to distribution.
The elder Daher started the company in the early 1990s. He had returned to his hometown after working abroad, saying that he wanted to bring jobs to the region, which had been known for its potato farms.
After the U.S. stock market crash following the tech run-up around 2000, Daher was unfazed, his son said.
"He believed the ideas were not necessarily wrong," Mark Daher said. "They were just early."
But getting meetings or agreeing to investment terms with Silicon Valley venture capitalists was difficult. That's about the time when the Los Angeles opportunity came up. Daher's bet that Los Angeles would become an important market for technology companies has proved right in recent years.
Rincon Venture Partners and Double M Capital have raised cash from the Dahers. And regulatory filings show that Jim Andelman and Mark Mullen, partners at the firms, recently teamed up to launch Bonfire Ventures, a new investment company that has Daher Capital's backing.
"Daher Capital has been an incredible long term partner and co-investor with us in Los Angeles," Double M's Mullen said in an email.
Mark Daher says he and his father are known for moving fast when getting an offer to invest and for being accommodating toward entrepreneurs. He credits his father's boldness for making their efforts work.
"I don't know if a lot of family investment offices have the same risk appetite as we do," said Mark Daher. "He built himself from the ground up, and usually people like him have a high appetite for risk-taking."
The younger Daher started learning how to develop software on his own as a child. He said he bought a discussion board for coders, Linux Forums, for $5,000 during his teenage years and sold it for around $1 million a few years later to a media company. He started to focus on Daher Capital and the venture capital portfolio in 2009.
The Dahers lend help when asked. For example, they've provided insights about setting up international operations, they said. They've learned the hard way to reject investment terms that seem too expensive and thus are unlikely to produce sizable returns.
They've taken their Los Angeles strategy to India in recent years. Daher Capital invested with a couple of venture capital firms — Lightbox and Kalaari Capital — in hopes that the relationships lead to opportunities to invest directly in companies. The elder Daher continues to invest in publicly traded companies across sectors such as tech, finance, commodities and food.
Not being located in Los Angeles or India has been a limiting factor, Mark Daher acknowledges. But it's something that he has no immediate plans to address.
The hope is to cut through increased competition and return to normal investing flow in Los Angeles by this time next year, Mark Daher said.
"We will continue to be very long L.A. and put our money where our mouth is," he said. "We think L.A. has massive potential still to go."
Lexus partners with Vntana for augmented-reality marketing
Los Angeles start-up Vntana's original plan was to allow those unable to attend a concert to instead watch life-size holograms perform in front of them.
Vntana had developed technology to record scenes, stream the video and play it back in a way that resembles 3-D. But the company realized that for now, the people willing to pay would be advertisers looking for new ways to market.
That's how a small booth ended up at the Lexus Club at Dodger Stadium. Similar displays have appeared at Staples Center, Petco Park in San Diego and elsewhere.
At Dodger Stadium, fans step up to a display, see their virtual self on the screen and move their arms to catch baseballs flung at their digital avatar. Participants get an email with a video recapping their hologram experience.
The setup is sponsored by Lexus.
More than 1,400 people have tried it this season, more than double the number that participated in previous Lexus booths each of the last two years at Dodger Stadium. The prior installations were a baseball swing analyzer and green-screen-based experience. The hologram display also has drawn more interest than Lexus driving videos in virtual reality headsets.
"When you put on googles, it's a fun but stagnant experience" for fans, said Diana Davis, assistant general manager for Lexus' Western area. With Vntana, "we can send the experience back to them via email. It lasts longer. It's the shelf life."
The company uses collected email addresses for marketing purposes if consumers provide permission.
"Hopefully we'll be able to integrate this at many more venues and hopefully at the dealerships," Davis said.
She suggested that the next technology challenge could be going from catching baseballs to feeling as if you're driving a Lexus vehicle in different settings.
"The more you can personalize experience to what consumers are interested in, the more relevant consumer data you can capture," Davis said.
Elsewhere on the Web
In case you missed it
Coming up
TechDay L.A. is expected to bring together 12,000 people at the Reef in downtown Los Angeles on Sept. 14 for a free job fair, networking opportunities and demos of new start-up projects.
This weekly L.A. Tech report is going on hiatus. Until it resumes, please send any tips to ben.muessig@latimes.com.
Twitter: @peard33
ALSO
South Korean court rejects Qualcomm's antitrust challenge
Your face may become your iPhone password
Roku, streaming TV box maker, files for an IPO
---
UPDATES:
FOR THE RECORD
An earlier version of this article misspelled the name of investor Michel Daher as Michael.
---