Start-up spotlight: Dog Vacay, a home for Fido when you're away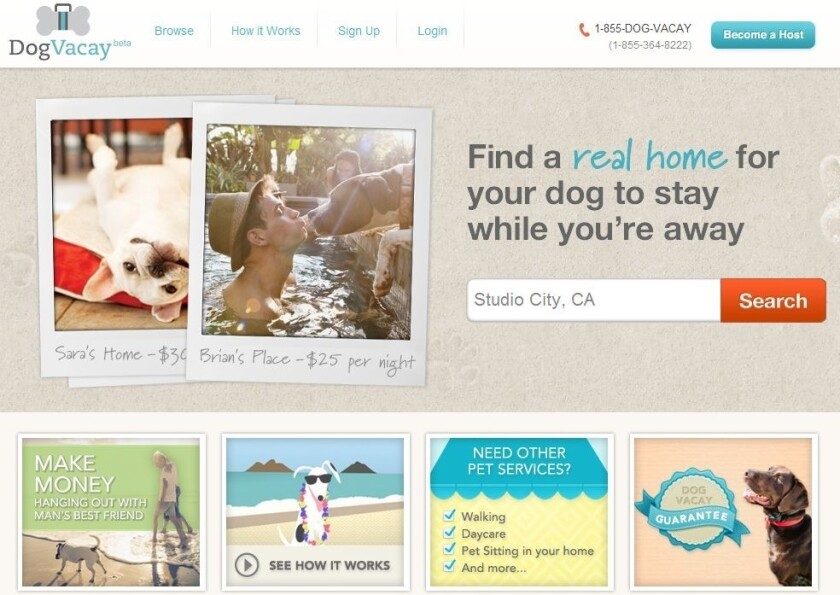 The next time you're out of town, you don't have to leave Fido with a pricey professional pet-sitter, your slacker brother or at a kennel where he'll be cooped up in a cage all day.
With start-up Dog Vacay -- think Airbnb for dogs -- you can drop off your pooch at the home of a fellow dog lover. Hosts watch your pet while you're away and set their own rates (usually $15 to $80 a day).
It's free to become a member, and more than 400 hosts have already joined in the Los Angeles and San Francisco areas, co-founder and Chief Executive Aaron Hirschhorn said.
Hosts share information about themselves and their experience with animals on the site; they're encouraged to post photo updates of your dog that you can check while on vacation and are encouraged to review the pets they've watched. Pet owners also leave reviews of their experiences after they pick up their dogs.
"It's better than a kennel where Spot will be stuck in a cage all day," Dog Vacay says on its website. "Home boarding gives your dog individual attention, fun with a small number of well-socialized dogs, and supervision from a responsible pet owner -- at a price that doesn't add up to more than your vacation."
Hirschhorn co-founded Santa Monica-based Dog Vacay with his wife, Karine Nissim, after they had trouble finding a place for their dogs, Rocky and Rambo, to stay.
To ensure safety, Hirschhorn said the company called hosts and checked social media networks such as Facebook and LinkedIn to verify their identities; Dog Vacay also offers training with an instructional video. Insurance plans are available, and hosts can rent GPS-enabled dog collars to track their pets.
"We ask about people's motivations," he said. "If they were truly a bad person who was trying to game the system, we think that comes out pretty quickly and we could take care of that."
Dog Vacay launched out of beta Thursday and is the latest start-up from Science, a tech accelerator founded by former Myspace CEO Mike Jones. The company is also angel funded.
The company currently has five full-time employees and takes a service fee of between 3% to 10% from each transaction. Hosts that have better reviews and are booked more frequently are charged a lower service fee.
Hirschhorn said the company planned to quickly expand to other metropolitan cities and would roll out iPhone and Android apps in the next few months. Down the line, Dog Vacay might also include other animals; Hirschhorn said he already owns the domain names for PetVacay.com and CatVacay.com.
"I think it'll be a very natural evolution, but I do know that cat boarding is not such a big issue," he said. "But it's very easy for us to build those into the platform."
RELATED:
Start-up spotlight: Gifting on the go with Karma
Start-up spotlight: Jessica Alba creates e-commerce brand Honest
Start-up spotlight: LuxeYard brings social aspect to flash sales

---
Your guide to our new economic reality.
Get our free business newsletter for insights and tips for getting by.
You may occasionally receive promotional content from the Los Angeles Times.