EveryBlock founder advises Twitter not to hire NBC News digital chief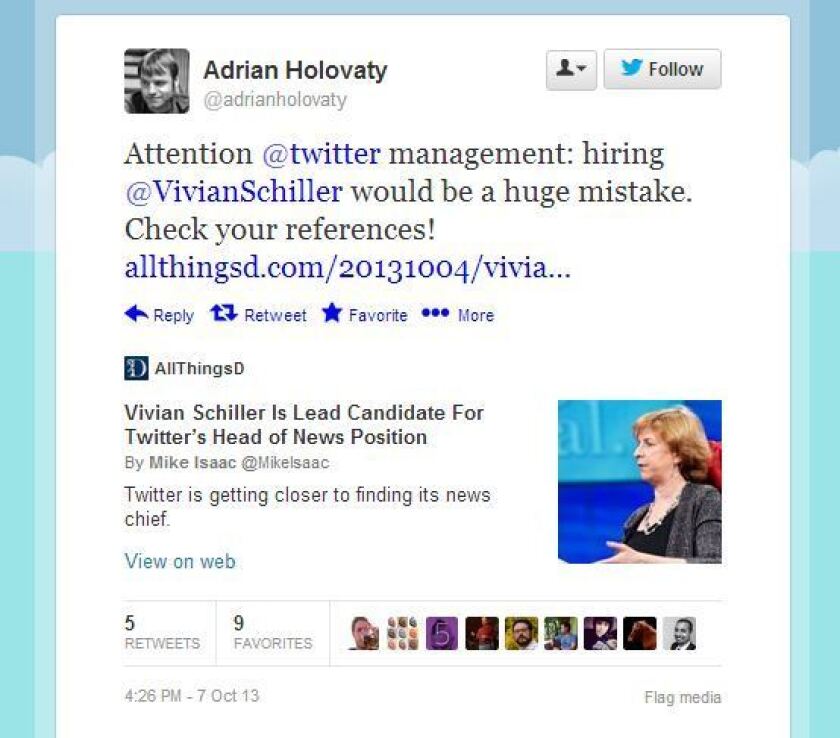 It seems there are still sore feelings about the closing of hyper-local news start-up EveryBlock. And of course, the drama started on Twitter.
EveryBlock founder Adrian Holovaty slammed NBC News Chief Digital Officer Vivian Schiller, the person who shut down his start-up, by advising Twitter not to hire her for its Head of News opening. The tweet comes shortly after a report by AllThingsD that said Schiller is believed to be the top candidate for the position.
Attention @twitter management: hiring @VivianSchiller would be a huge mistake. Check your references! https://t.co/VVgcIe1jSo— Adrian Holovaty (@adrianholovaty) October 7, 2013
"It's clear by how she mishandled EveryBlock that she's not the type of person who should be in a leadership position at Twitter," Holovaty told The Times.
PHOTOS: Top 11 hidden, cool features in Apple's iOS 7
EveryBlock was a news website that presented stories on a map. The stories were displayed based on the geographical location of their content. But despite EveryBlock's innovative approach to story presentation, it was suddenly shut down by NBC News this year.
After news first broke of the EveryBlock closure, Holovaty called out Schiller, saying she had not done enough to salvage EveryBlock by trying to sell it.
"I understand if a corporate giant doesn't want to have a neighborhood news site, that's totally cool," Holovaty told Poynter in February. "It's how it was done that's the problem."
Schiller responded to Holovaty's tweet Monday, saying she still has "tremendous respect" for him even though he may still be upset about how EveryBlock was closed.
"I understand that he is upset that we closed Everyblock last year, a company he founded. Unfortunately, it was not a viable business in the context of the NBCU News Group," Schiller told The Times.
Schiller said she has no comment regarding the Twitter speculation. Twitter could not be reached for comment.
ALSO:
Three things we want from Instagram on its 3rd birthday
Samsung plays up famous TV smartwatches to promote Galaxy Gear
South Korea scorches China in computer game battle at Staples Center
---