Facebook's new policy: Advertisers pushing political issues must verify their identities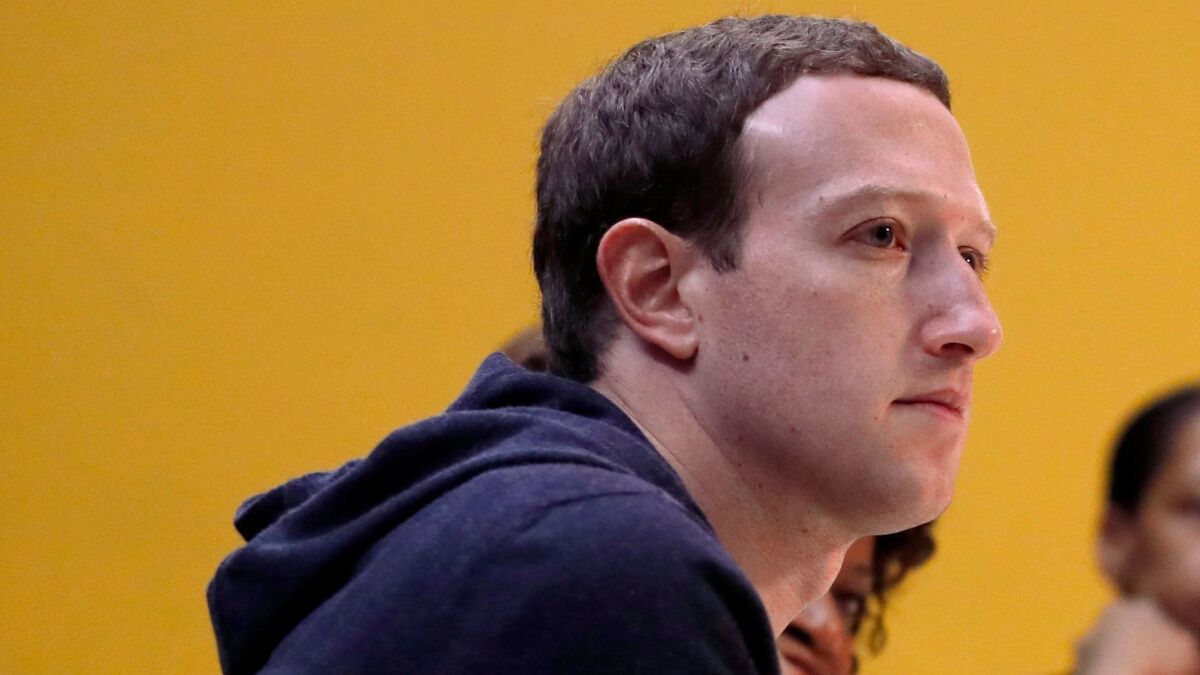 Facebook Inc., aiming to seize the high ground before Chief Executive Mark Zuckerberg faces Congress next week, announced changes to its advertising policies that the social media giant says will make it harder for rogue operatives to set up fake accounts and push divisive points of view.
Advertisers touting social or political issues will need to verify their identity and location, Zuckerberg said Friday in a Facebook post. "This will make it much harder for people to run pages using fake accounts, or to grow virally and spread misinformation or divisive content that way," he said.
Critics have pilloried the company for letting Russian operatives spread misinformation during the 2016 presidential campaign, and the new policy was welcomed in Washington, where lawmakers have been working on legislation that would force social media companies to be more transparent about who is buying certain kinds of ads.
The announcement caps a week of high drama for Facebook, which has dispatched senior executives to reassure users, advertisers and lawmakers that it's stepping up efforts to protect privacy and owning up to instances where it failed to safeguard people's data. The company said it's shutting down a feature that left at risk the personal information of most of its 2 billion users, and it conceded that as many as 87 million users could have been affected by Cambridge Analytica's mishandling of data. Facebook shares, having taken a beating amid the nonstop revelations, have recovered somewhat since Zuckerberg and Chief Operating Officer Sheryl Sandberg embarked on the public-relations offensive. They are now down about 11% so far this year.
Facebook's data crackdown has two winners, and one of them is Facebook »
Facebook will hire more people to enforce the new advertising policy before the 2018 midterm elections. The company also said it would require managers of popular Facebook pages to have their identity verified.
In an example distributed by Facebook, a mock-up ad with a picture of a candidate carries the words, "Political Ad - Paid for by XYZ State Party Committee."
Facebook has grown into a colossus in campaign spending, serving up a rich bounty of intimate data that is used to target potential voters from among its online audience of more than 200 million monthly users in the U.S. Campaign spending on Facebook and other digital media will rise to an estimated $600 million this year, compared with about $250 million in 2014, the last midterm election year, according to an estimate by Kantar Media/CMAG.
Zuckerberg is scheduled for two hearings before Congress, where he will be questioned by lawmakers who have expressed dismay at Russian use of Facebook during the 2016 election and at the exposure of data to Cambridge Analytica, a company that worked on President Trump's campaign.
"There are a lot of questions that Mark Zuckerberg needs to answer and I intend to ask what he is doing to protect the privacy of Americans," Sen. Amy Klobuchar, a Minnesota Democrat pushing legislation for more online ad transparency, said Wednesday in a news release.
Zuckerberg and Sandberg have engaged in a recent string of media interviews. Zuckerberg said he made "a huge mistake" for not assuming greater responsibility to protect against abuses. Sandberg said some advertisers have curtailed spending and acknowledged that more work is needed to reassure wary customers.
Facebook is facing pressure on several fronts in Washington. The Federal Trade Commission is investigating whether the company breached a 2011 consent agreement to safeguard users' personal information — a probe that could bring hundreds of millions of dollars in fines.
Congress has been examining how Russians used social media platforms to influence the 2016 election, and Klobuchar's legislation would require disclosure of who is paying for political ads on social media networks including Facebook, Twitter Inc. and Google, a division of Alphabet Inc. Zuckerberg said Friday that Facebook supports the measure.
"Election interference is a problem that's bigger than any one platform, and that's why we support the Honest Ads Act," Zuckerberg said. "This will help raise the bar for all political advertising online."
Not everyone was convinced Facebook's new policies were sufficiently robust.
"These proposals don't go far enough," said Jeff Chester, executive director of the Center for Digital Democracy, a Washington-based privacy group. "Facebook must stop using our political and personal data information in order to target us with election-related advertising. Disclosure is insufficient as a safeguard with digital political ads which, unlike a TV spot, can follow us everywhere we go online."
Also on Friday, Facebook said it plans to introduce a feature letting users of its Messenger app retract messages after a report that Zuckerberg used an early version of the feature without telling anyone.
Techcrunch reported late Thursday that multiple people saw Messenger missives from Zuckerberg disappear. Facebook said the feature was developed after the Sony Corp. data hack in 2014, which exposed a trove of sensitive internal communications. So Facebook created a capability that let its executives expunge their app messages after a period of time.
"We will now be making a broader delete message feature available. This may take some time," a Facebook spokeswoman said in an email Friday. "Until this feature is ready, we will no longer be deleting any executives' messages. We should have done this sooner — and we're sorry that we did not."
---