Forever 21's first venture investment goes to Los Angeles style subscription start-up DailyLook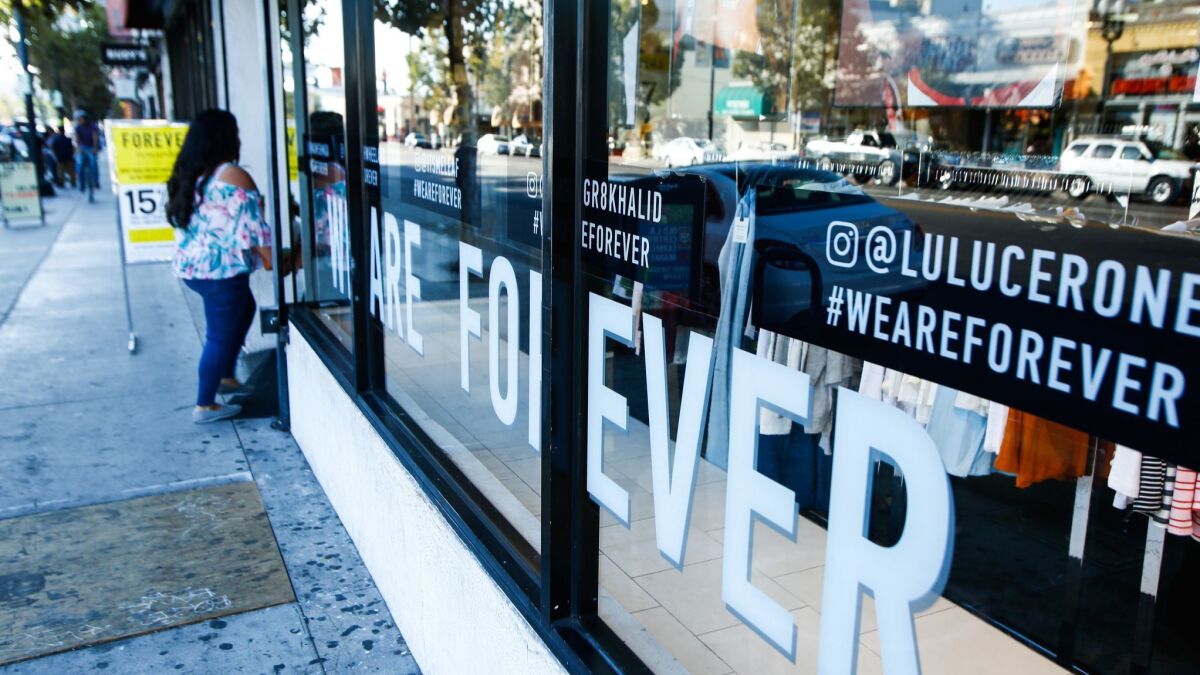 For the first time in its 34-year history, Los Angeles' homegrown fast-fashion giant Forever 21 is investing in a start-up.
Along with local venture capital fund Upfront, Forever 21 is leading an $8-million investment in DailyLook, a fashion subscription service in downtown L.A.
As part of the deal, Alex Ok, Forever 21's president, will join DailyLook's board. The companies declined to provide further financial details on the transaction. Forever 21 declined to comment on the deal entirely, but confirmed its involvement through a representative.
Forever 21 has built its business on rock-bottom prices, while DailyLook relies on more up-market retail. But both have something to gain from the deal, said Michael Carney, the lead partner on the deal at Upfront.
"This is a two-way street," said Carney, whose firm also invested in DailyLook's 2013 seed round. "DailyLook now has a chance to accelerate its growth, and Forever 21 is a behemoth who can help with scaling its supply chain and fulfillment process. And for traditional retailers looking to build data-driven relationships with their customers, partnering with proven start-ups who live and breathe this model can clearly help."
Founded by husband and wife Do Won and Jin Sook Chang as a single storefront on Figueroa Avenue in Highland Park in 1984, Forever 21 has grown to one of the largest private companies in Los Angeles. In 2016, Forbes estimated that the retail chain had 30,000 employees in 600 stores worldwide and brought in $4 billion in revenue.
DailyLook founder Brian Ree, who grew up in La Cañada Flintridge, started the business in 2011 as an e-commerce operation where customers could buy entire daily looks (hence the name) presented by the company's styling team. In response to flagging sales and a poor financial outlook in 2013, however, the company changed its business model to a subscription box service.
Now, for a $40 fee, DailyLook staff stylists assemble a personalized box of seven to 12 items and ships them to a customer's home. Customers can pick and choose which pieces to send back and which pieces to keep — with the fee counting toward the final tab.
The subscription box business model has proved something of a mixed bag. Some have had huge success, such as Stitch Fix, which went public in November and has since seen its stock price nearly triple in value. Others, such as LootCrate and BirchBox, have struggled.
DailyLook has positioned itself as a premium alternative to the major player in the fashion box market, Stitch Fix. Its base fee is twice that of Stitch Fix, but its clothes come from higher-end brands such as Rag and Bone.
DailyLook has revenue in the tens of millions — small compared with Stitch Fix's nearly $1 billion in sales so far in the 2018 fiscal year. But for the last three years, the 115-employee company says it has accomplished a rare feat for venture-backed start-ups: posting 100% year-over-year growth while also turning a profit.
To date, DailyLook has raised $10.5 million in venture funding.
Lily Varon, an analyst at Forrester Research, says the problem with subscription retail is customer retention.
"Even the leaders in the space struggle to maintain relevancy after the novelty of the initial subscription wears off," Varon said. "But to the extent that they can become consumer insight businesses and really personalize that offering, they can be valuable for creating a recurring customer relationship."
And Ree says that DailyLook has built its business on precisely that kind of personalization.
"When we started the subscription model, a box put together with a stylist would get a 50% conversion rate, which we thought was pretty good," Ree said. "Now, with a stylist using our personalization algorithms, we see 80% — we didn't think we'd get there, but we just kept at it."
A bricks-and-mortar retailer has no way to know why a customer chooses one dress out of the five in the fitting room, and online customers have little incentive to accurately answer surveys or share why they returned a certain item.
"We make it very clear to our customers: It's a little bit of work, but the more feedback people give us and the more they engage, the better and more accurate styling we're able to get them," Ree said. "It's all about the ongoing relationship, which leads to higher retention."
Follow me on Twitter: @samaugustdean
---