GM and Ford lean on Lyft and Pivotal for help in developing self-driving cars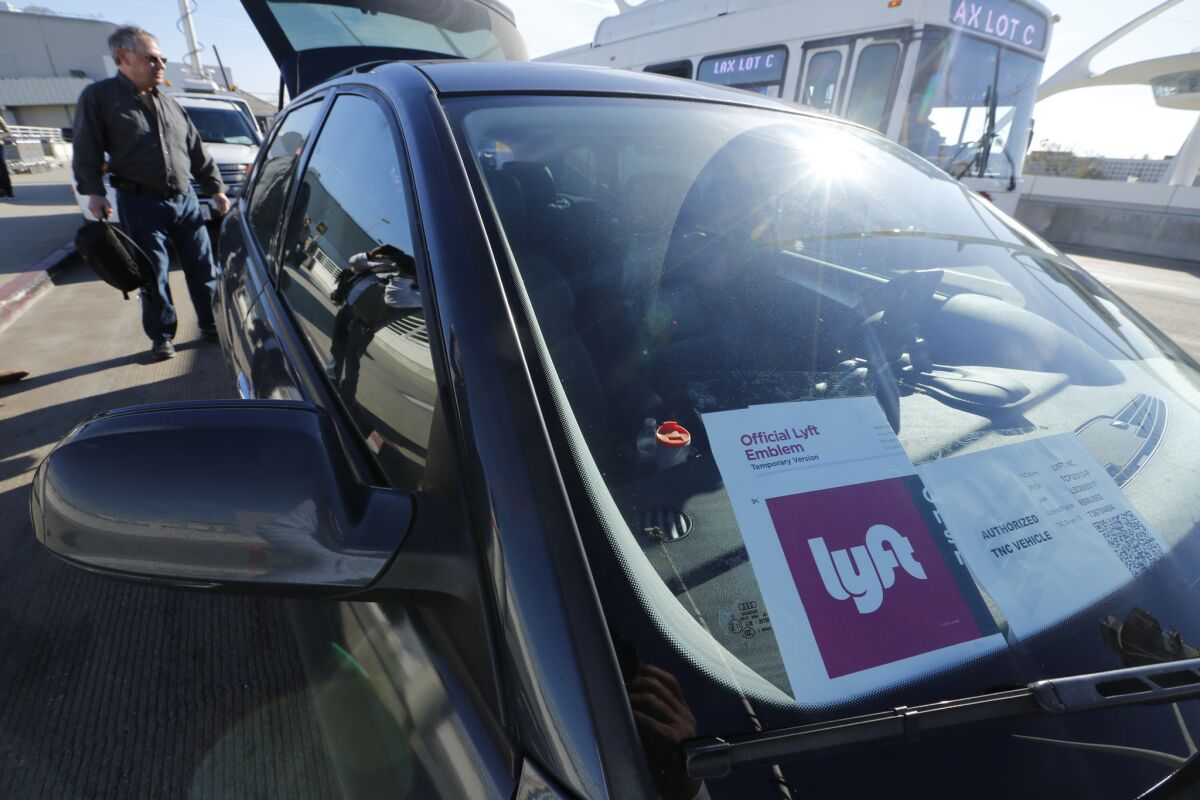 Two miles apart in Palo Alto, workers from Ford Motor Co. and General Motors Co. are hustling to establish a role for their companies in a future where consumers don't own cars and the vehicles steer themselves.
On Thursday, it became ever more clear that the Michigan automakers and their West Coast outposts won't be going at it alone. They'll be depending big time on software-developing neighbors in Silicon Valley and San Francisco.
Ford announced an $182.2-million investment in Pivotal Software Inc., a San Francisco company whose programs are already used by the likes of Lockheed Martin and Allstate Corp., to quickly develop their own computer applications.
"Expanding our business to be both an auto and mobility company requires leading-edge software expertise," Ford Chief Executive Mark Fields said in a statement.
And officials at General Motors and ride-hailing app Lyft Inc. said they had made significant progress toward developing self-driving Chevrolet Volt cabs for use at the automaker's Warren, Mich., campus by the end of the year. That could put Lyft on a faster course than larger rival Uber Technologies Inc., which hopes to bring self-driving cars to passengers by 2020.
The internal test would be a major step before Lyft, which received a $500-million investment from General Motors in January, offers self-driving cabs to everyday passengers on public roads. The public testing could come within a year and involve the upcoming, all-electric Chevrolet Bolt EV, the Wall Street Journal reported Thursday, citing an interview with a Lyft executive, Taggart Matthiesen.
Lyft and General Motors spokespeople said, in fact, no timetable has been set for introducing self-driving vehicles to the San Francisco start-up's customers. But the Bolt -- with its spacious backseat and tech-friendly interior that includes multiple USB ports -- is a strong candidate to become an automated cab, officials and analysts said.
"We believe electrification blends perfectly with autonomy when it comes to technology integration," General Motors said in a statement.
The major investments Ford and General Motors are making in California technology are being fueled by surging profits. Ford and GM both recently reported that earnings doubled in this year's first quarter compared with the same period in 2015, as cheap fuel prices led to soaring sales of trucks and sport utility vehicles in North America.
The spending is sorely needed, concerned analysts and shareholders have said. Many of them saw last year as peak for car-buying in America. The self-driving cars and ride apps could cut into consumer sales.
There's also heightening competition from Tesla Motors, which recently began taking pre-orders for its most affordable vehicle yet from several Chinese automakers and potentially iPhone-maker Apple Inc. Automakers' traditional rivals worldwide are making similar multi-million dollar technology investments in companies developing digital maps and apps for purchasing or renting cars.
Earlier this week, Fiat Chrysler Automobiles said it would work with Alphabet Inc.'s Google division to develop 100 self-driving minivans. Terms of the agreement were not disclosed, but Fiat Chief Executive Sergio Marchionne said at an event Thursday that the deal allows his company to partner with others, too.
All the partnering up suggests traditional car companies are becoming more agile as the concept of commuting changes, said Jeremy Carlson, senior analyst at research firm IHS Automotive.
"A lot of these companies, including Ford and GM, are playing around, trying their experiments and making sure they keep moving forward," he said. "It's certainly interesting, but we'll see how agile they really are."
General Motors has been able to accelerate its development of self-driving technology since agreeing to purchase San Francisco start-up Cruise Automation for an estimated $1 billion in March. The deal hasn't closed, but the two companies are collaborating.
Cruise originally created technology to bring autopilot capabilities to conventional cars before shifting to fully autonomous driving technology. It's one of the few firms that has a permit from the California Department of Motor Vehicles to test self-driving vehicles on public roads.
Those regulations still require a driver who can take control of the vehicle, and it's unlikely any cars would be "driver-less" anytime before the 2020s because of safety concerns, technology consultant Rob Enderle said.
"We're not at the point where we can take the driver all the way out of the car," he said.
The Lyft and Pivotal deals complement internal efforts, the automakers say.
For example, General Motors is testing a carpooling app among its employees in Shanghai. It's also trialing a car-sharing app similar to Zipcar for employees shuttling between its Detroit headquarters and its Warren office.
In March, Ford announced the creation of Ford Smart Mobility, a subsidiary focused on designing, building and investing in such things as connected vehicles and autonomous technology. At the time, Ford said the subsidiary would function as a start-up and would have operations in Palo Alto and Dearborn, Mich.
Ford and Pivotal previously partnered on FordPass, an app that enables drivers to book shared rides and reserve parking. Now, Ford Chief Information Officer Marcy Klevorn is to join Pivotal's board of directors, and the two companies plan to open new software labs in "strategic locations" nationwide. A Ford spokeswoman said details would be released later.
Three-year-old Pivotal is picking up another $72 million from Microsoft Corp., General Electric, cloud computing and data company EMC Corp. and software company VMware.
Ford shares were down a penny, or 0.1%, to $13.32 in Thursday's trading in New York as General Motors shares fell a nickel, or 0.2%, to $30.54.
---