Second Google barge sighted: What could they be?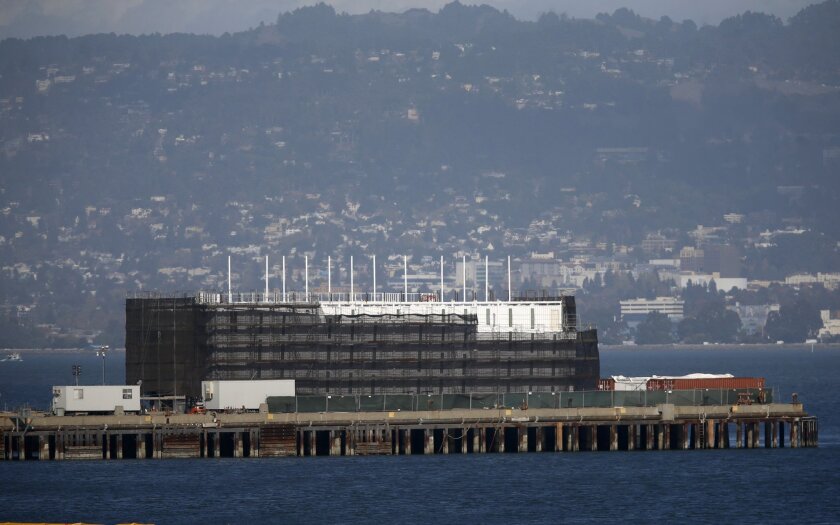 Not one but two secret floating barges have now been tied to Google, but what could they be?
In the past week, the Mountain View, Calif., tech giant was linked to a company that has leased out a hangar in the middle of San Francisco Bay where it is building a mysterious structure behind tight security.
That same company is building a similar floating structure in Portland, Maine, that is also "shrouded by the same high security and mystery" as the barge in San Francisco, according to a Monday report by the Christian Science Monitor.
PHOTOS: Top 10 Apple Mavericks OS X features to check out
Google has yet to comment on the matter, which adds to the belief that the Silicon Valley company is involved with mysterious structures.
It isn't obvious what the structure may be, but there are a few theories out there for what Google could be building. Here's a list of what has been reported as well as our own far-out predictions for what Google could have in store.
A floating data center
CNET was first to uncover Google's connection to the floating barge, so it was also the first to throw out a theory. The tech news website believes Google could be building a floating data center. The reasoning for that is because in 2009 Google was granted a patent for exactly that kind of project.
Google is known for thinking outside the box -- it's working on self-driving cars and Wi-Fi balloons -- so this wouldn't be the craziest idea ever.
A Google Glass retail store
Google has been said to be working on retail stores to promote its Google Glass devices when they go on sale to the public, which will likely happen next year. According to CBS San Francisco, these barges are the Google Glass stores.
It seems like an insane idea, but if Google wants to one-up Apple's retail stores, then floating retail stores would be one way to do it
A super-secret laboratory
Google Glass, Wi-Fi balloons, self-driving cars. These are all things that have come from Google's super-secret X Lab, which is known for working on "moon shot" experiments. But the world of tech is a competitive one, and surely, Google's rivals are hoping to find out what Google is planning next.
Perhaps the barges would allow Google's X Lab team to sail out to sea and have even more secrecy for their revolutionary ideas.
A doomsday flotilla
Google is ready for all things, but at this point, could Google survive a zombie or nuclear apocalypse? Probably not.
The floating barges could be Google's answer to these end-of-the-world scenarios. While the rest of the world scrambles to survive "Walking Dead"-style, Google and its employees could hop on these modern-day bomb shelters to keep humanity going.
A floating paintball arena for Google's co-founders
Sure, Google is the "do no evil" tech company that always strives to push the world forward when it comes to finding information. But at the end of the day, it's run by billionaires, and surely they must like spending their money. Perhaps the barges are simply Larry Page's and Sergey Brin's very own private paintball arenas.
If life at Google gets a little stressful, Page and Brin could hop on their barges, release stress by gunning each other down with colorful bullets and make it back to Mountain View in time for their next product announcement.
ALSO:
Google now letting Glass users invite others to buy device
Motorola to push build-your-own-phone concept with Project Ara
Is the mysterious barge in S.F. Bay a secret Google data center?
---
Your guide to our new economic reality.
Get our free business newsletter for insights and tips for getting by.
You may occasionally receive promotional content from the Los Angeles Times.