Google wants to fit an entire camera into a contact lens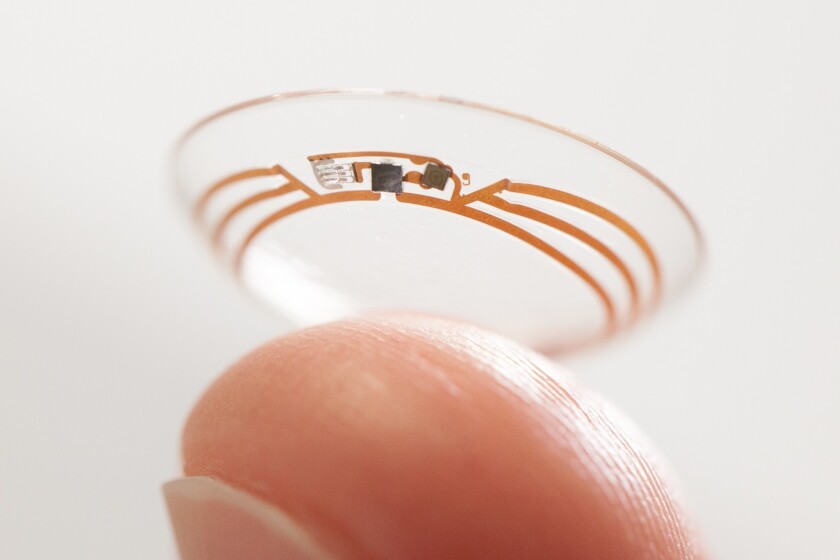 Google has applied for a patent that details a way to fit a camera into a contact lens.
The patent has to do with the tech giant's smart contact lens project, which was first announced earlier this year. By fitting a camera into a contact lens, users could process all kinds of data that could then be relayed to a connected smartphone.
The patent, which was reported by Patent Bolt, outlines a way that Google could fit a camera into a contact lens without drastically increasing its thickness. A camera on a contact lens could be used to collect data from users' surroundings, including light, colors, objects, faces and motion, according to the report.
PHOTOS: Top 5 tech acquisitions of 2014 so far
That data could be quickly processed and used to provide users with information on a display within the contact lens. For example, a moving vehicle or the face of a nearby user could be highlighted by the smart contact lens -- think "Terminator" vision.
The camera could also expand users' eyesight. Patent Bolt said the camera could give users a wider view or also be used to zoom in, like a pair of binoculars.
For users with no eyesight, the smart contact lens with a camera could also be used. The camera could capture imagery and data that would then be relayed to a connected smartphone. That smartphone could process the data and give the blind user any relevant information. For example, if he or she walked toward an intersection, the phone could sound off an audible alert after the contact lens' camera detected the upcoming road.
Google applied for the patent in late 2012, and it was published by the U.S. Patent and Trademark Office earlier this month, according to Patent Bolt.
Companies file for patents left and right, and often, the technology detailed in the patents does not make it into final products that are sold to consumers. But every now and then, some of it does go on sale.
Google could not be reached for comment.
ALSO:
Samsung Galaxy S5 finds success in simplicity
Google Glass: How to buy one, today only, without an invitation
Google buys drone maker Titan Aerospace; Facebook had shown interest
---