Immigrant tech workers struggle to get H-1B visas under Trump: 'I've never felt so helpless'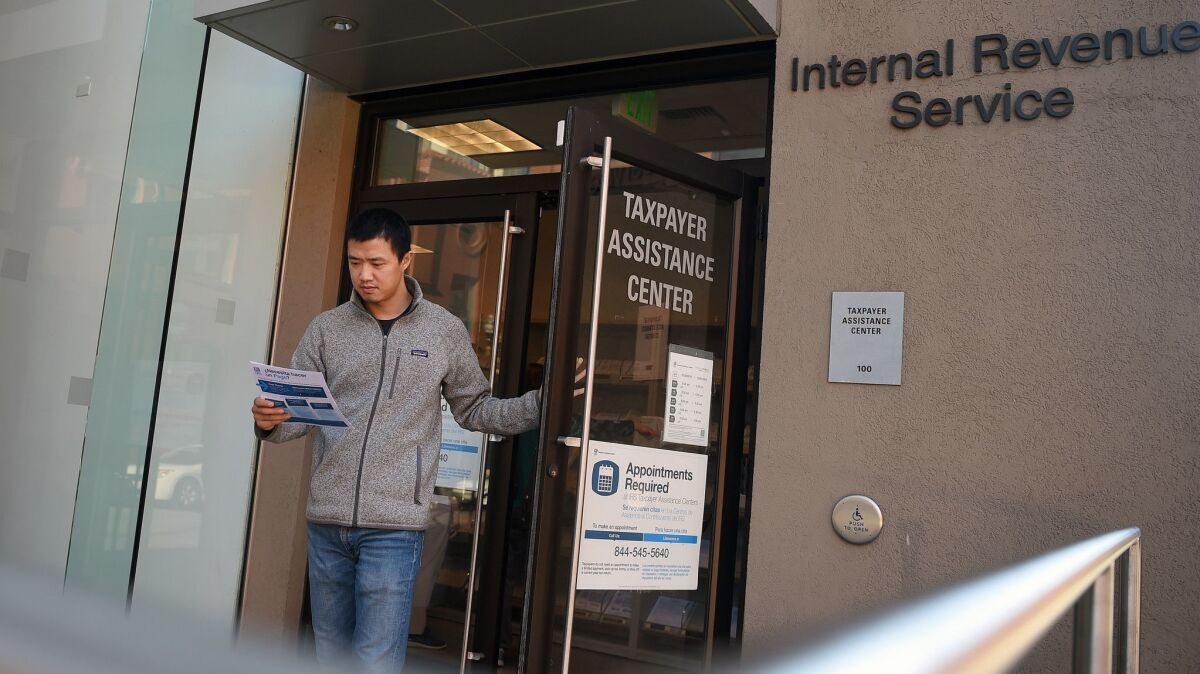 Leo Wang thought a promising career in the United States was within his grasp. After leaving home in China in 2015, he earned a graduate degree in entrepreneurship and innovation at USC and was hired at a Silicon Valley data storage company.
But after his first year on the job, Wang, 32, found himself hunched over his laptop, obsessively refreshing the U.S. Citizenship and Immigration Services website. He was hoping for good news.
It was last October, six months since he'd applied for an H-1B work visa for high-skilled employees. He'd waited so long for a response that his extended student visa had expired and his employer was forced to place him on unpaid administrative leave.
When still no response had come from the government agency by New Year's Eve, the company had to fire him.
"I've never felt so helpless," he said. "I came here, all the way to a place where I don't know anybody, in hopes of fighting for my American dream. There seems to be a crack in the system, and I happen to be the one who fell through."
But Wang isn't alone. Many tech workers say the process of applying for and getting H-1B visas has become increasingly murky and difficult under President Trump's administration. While many people zero in on Trump's crackdown against illegal immigration, his administration has also tightened or ended various paths to legal immigration.
Experts say changes to the application process for H-1B visas could discourage high-skilled workers from seeking employment in the U.S. The changes, including heightened requirements for evidence showing that a foreign worker possesses exceptional qualifications and the temporary suspension of "premium processing," which fast-tracks applications for a $1,500 fee, have resulted in a backlog of applications.
A process that could have taken two weeks has taken several months for many of those who filed petitions in the last year. Students and current tech industry employees are left in limbo, uncertain of whether they'll be allowed to remain in the U.S.
This week, the American Immigration Lawyers Assn., or AILA, released an analysis of Citizenship and Immigration Services data showing significant delays in the agency's processing of applications for various immigration benefits. AILA found that overall case processing times have increased by 46% over the last two fiscal years and 91% since 2014. It also found that processing times increased last year even as fewer people submitted applications.
AILA Vice President Jennifer Minear said the delays have reached a crisis level and are the result of policies that inhibit efficiency and act as "bricks in the Trump administration's invisible wall against legal immigration."
Last week, Citizenship and Immigration Services reinstated premium processing for all applications from the last fiscal year. "We plan to resume premium processing for the remaining categories of H‑1B petitions as agency workloads permit," the agency said in a notice posted on its website.
Still, immigration lawyers say that lifting the suspension will only partially address the delays in processing petitions, some of which have gone unanswered for nine months.
William Stock, an immigration lawyer in Philadelphia and former president of AILA, said that processing times of more than six months used to be rare. Then Citizenship and Immigration Services ramped up requests for proof that companies needed foreign workers. Nearly half of the 200 H-1B applications submitted by his law firm received those requests last year.
"The immigration agency is creating more work for themselves — and then they say they're falling behind," he said, adding that some of the businesses he represents have been forced to relocate jobs to places such as Canada and India.
Other lawyers agree.
"Given the immigration climate, we can anticipate a significant denial rate when all of these long-backlogged adjudications resolve," said David Berry, a partner at immigration law firm BAL Global, which has represented companies such as Google.
Companies use H-1B visas to temporarily employ foreign workers for jobs that require specialized knowledge when they can't find the talent locally. In 1990, Congress set an annual limit of 85,000 such visas, 20,000 of which go to people who have earned a master's degree or higher in the U.S.
Last year, Citizenship and Immigration Services received more than 190,000 applications, down from a high of 236,000 the year before Trump took office. When the limit is exceeded within the first week that applications are accepted, the agency randomly selects those it will ultimately review.
Get the latest politics news »
The agency currently selects applicants to fill the advanced degree requirement first, then fills the remaining openings. But starting in April, the agency plans to reverse the order, estimating that the change will result in a 16% increase of beneficiaries with advanced degrees.
Citizenship and Immigration Services Director L. Francis Cissna said the changes benefit employers, foreign workers and the agency's adjudicators alike. "We are also furthering President Trump's goal of improving our immigration system by making a simple adjustment to the H-1B cap selection process," he said.
Trump's "Buy American and Hire American" initiative, unveiled in 2017, brought scrutiny to the H-1B program.
At the time, Trump said: "Right now, widespread abuse in our immigration system is allowing American workers of all backgrounds to be replaced by workers brought in from other countries to fill the same job for sometimes less pay. This will stop."
Earlier this year, the president shifted tone. "H1-B holders in the United States can rest assured that changes are soon coming which will bring both simplicity and certainty to your stay, including a potential path to citizenship," he said on Twitter. "We want to encourage talented and highly skilled people to pursue career options in the U.S."
Tech companies employ some of the highest numbers of H-1B workers, according to 2017 data from Citizenship and Immigration Services. As of September 2017, more than 360,000 applications for new H-1B visas and extensions or transfers of existing visas were approved in the U.S. across all industries.
In 2017, 74% of all H-1B applications were approved, down from 87% the year before and the lowest approval rate in at least a decade.
Companies such as Cognizant Tech Solutions and Infosys topped the list of biggest employers of H-1B workers, with about 28,000 and 13,000 applications approved, respectively. Amazon was approved for about 4,800 such visas, Microsoft received 4,000 and Google and Intel each were allotted nearly 3,000.
Facebook, which had about 1,600 applications approved in 2017, said the company is continuing to sponsor H-1B workers in spite of the increased difficulty.
"We are feeling the same challenges as other companies but our commitment to hire the best talent remains strong and we continue to have success with our H-1B visa applications," Facebook spokesman Anthony Harrison said.
But in some cases, tech companies have opted not to consider potential candidates who would require an H-1B visa to work in the U.S. until there's more clarity about whether the suspension of premium processing will be lifted indefinitely.
Together, these changes have caused some immigrants who graduated from college in the U.S. to reject job offers, lose their jobs or ultimately leave the country as a result of the long delays in processing. Some say they have opted to or are considering a move to Canada, where the path to obtain work permits and eventually citizenship is typically more straightforward and quicker.
The path to citizenship for H-1B recipients also remains rocky. A bill hailed by many H-1B workers from India as the only chance at mending the many cracks in the path to citizenship was stalled in Congress last session. The bill is now tied up in the Department of Homeland Security budget at the center of the government shutdown debate. The bipartisan bill, HR 392, would have benefited workers from places such as India and China that have a backlog of green card applicants that spans decades by making the green card system first come, first served rather than country-based, some workers contend.
"I will die before I get my green card," said Varun Soundararajan, a senior software engineer who was born in India and works at Google. "Many folks like me on the green card line are praying that when the new Congress starts functioning, the bill will be reintroduced and will pass and get signed into law."
Without a green card, Soundararajan and many like him are subject to the uncertainty of reapplying for H-1B visas every three years. As the father of a child with special needs, it's a matter of grave concern for him and his wife, because leaving the country would make it difficult to access the care and resources needed to take care of their son.
"[His] care would be in serious jeopardy if my visa is denied," Soundararajan said of his son. "There are no guarantees that I will get my visa next time I apply."
The delays in processing H-1Bs paired with the backlog of green card applications from Indian and Chinese citizens also make it incredibly risky to try to switch jobs. Because of the delays in processing applications, there's little guarantee that the petition to transfer an H-1B visa will be approved or approved in time. Even if it is approved, workers from those countries have to restart the green card application process, which puts them at the back of the decades-long line again. As a result, workers often feel stuck at their current company, sometimes in a situation where they are being underpaid or mistreated.
Still, Chinese and Indian citizens make up the majority of H-1B workers nationwide. As of October 2018, nearly 75% of all H-1B petitions were filed on behalf of Indian-born immigrants and 12% were filed on behalf of Chinese-born immigrants.
"Any change to the H-1B system disproportionately affects Indian and Chinese immigrants because we are stuck on that H-1B visa," said another software engineer at Google, who spoke on the condition of anonymity for fear of repercussion. "I have multiple classmates from UCLA who joined the green card line years after I did and are already filing for citizenship whereas I'm still on the H-1B visa, which took seven months for me to get. They get a green card roughly within a year."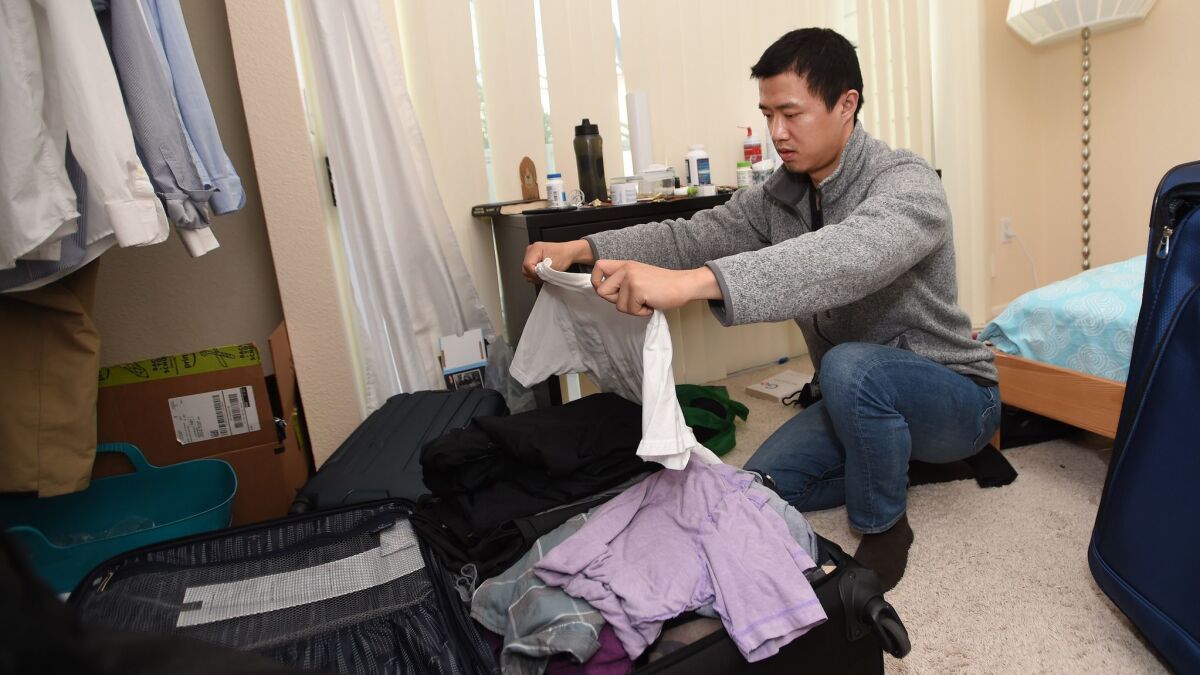 Back in San Jose, Wang finally got a response from Citizenship and Immigration Services — more than eight months after the agency started reviewing his application — in early January. It was denied.
According to Citizenship and Immigration Services documents, his role as a program manager — for which he led analytics programs, built dashboards and created statistical testing models that spanned the company's global marketing operations — was not specialized enough. Wang spoke to The Times on condition that we not name his past employer.
Records show the company was granted 85 visas in 2017, including two for Wang's same job title, and denied one.
"People under the same team as me got approval," he said. "It doesn't feel like there's a standard for the judgment call. It seems a little bit arbitrary."
What once felt like the beginning of a promising career in the U.S. became a nightmare for Wang, who plans to leave the country by mid-February.
He said the long process made him feel ashamed. He waited as friends and colleagues' applications were approved and told few people about his predicament, giving his mother vague answers when she asked how work was going. He spent the three months he was on administrative leave at home, living off savings.
Now he's searching for jobs — in Singapore, mainland China and Hong Kong — and planning to sell his car and other belongings.
Wang wants his story to serve as a cautionary tale to other H-1B applicants about the program's recent complications.
"I followed the rules and worked hard," he said. "It didn't work for me."
Twitter: @jmbooyah
---