Is Hollywood the next hacking target for China?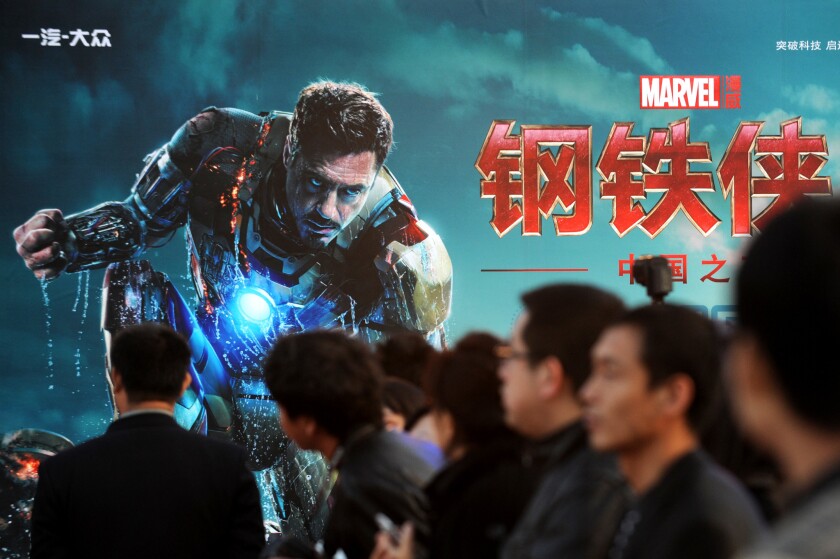 As the movie industry becomes a growing economic force in China, a new report predicts that Hollywood may become the next target for state-sponsored hacking efforts by that country's government.
In a report from FireEye, a San Jose cybersecurity company, researchers in the company's Mandiant Intelligence Center (now a division of FireEye labs) identified at least one hack of an entertainment company that can be traced back to China.
VIDEO: Santa Monica singer releases world's first bitcoin love song
And they say that they've spotted warning signs that point to increased efforts by the Chinese government to hack Hollywood in the coming months and years.
"Mandiant has observed high rates of China-based cyber intrusions against industries that China's state authorities consider strategic -- and entertainment is likely no different," the report says. "We expect China to increasingly target the film and entertainment industry."
Over time, FireEye executives say, China has developed a pattern of identifying major industries as being critically important and then launching cyber campaigns abroad to disrupt competitors and obtain intellectual property.
Many of the factors that have led to campaigns against other U.S. industries have now lined up to create the conditions for a similar cyberattack on Hollywood, the report says.
The reasons for these expected attacks are political and economic.
On the economic side, China has made a number of moves to invest in greater amounts of film production. To compete against U.S. companies, Chinese firms will need intellectual property as well as strategic information to give it more leverage for things like distribution.
On the political side, China's Communist Party wants to stay on top of stories or films being developed that might affect the country's image.
"Every industry where we've seen a lot of intrusion activity, we've heard the Chinese government make a political announcement that a certain industry is important," Jen Weedon, a Mandiant threat analyst, said in an interview. "And then we see them go after the industry. That kind of activity really dovetails with what we're seeing in entertainment."
In this case, the Chinese government has been making similar pronouncements about the film industry. And indeed, Wang Jianlin, one of China's wealthiest men, recently purchased AMC Theaters through his investment group and unveiled plans to spend $8.3 billion to build "Hollywood-like infrastructure in China."
In the wake of such events, FireEye has uncovered at least one hack of "a leading U.S. entertainment conglomerate that produces and distributes creative properties worldwide." The company attributed that hack to a group called APT1 (aka the 2nd Bureau of the People's Liberation Army General Staff Department's 3rd Department).
According to FireEye, the group "hacked into a leading U.S. entertainment conglomerate that produces and distributes creative properties worldwide."
What did they take? The report says the group "stole company business leadership's emails, which contained valuable business intelligence regarding ongoing negotiations between the company and China on major new investments and expansion into the country."
In addition to the hack identified by FireEye, another group that was making a documentary about Tibet contended the Chinese government attempted to disrupt the project through cyberattacks. According to an account written by the creaters of "State of Control" that appeared in the Hollywood Reporter:
"Our e-mail contact with producers in the U.S. and Europe had triggered an outbreak of computer viruses that had infected their systems and phones, deleted e-mails and crashed websites.... Upon returning to the U.S., the extent of the cyber-assault on the production began to reveal itself. Producers in Amsterdam, Los Angeles and Atlanta all had their computers and e-mails hacked. The malware in the Atlanta computer was evaluated by an IT expert who determined that it originated from an IP address in China. One producer was so startled by the attack on his computer that he backed out of the project altogether."
Hollywood can expect to see a lot more of such incidents, according to FireEye. The bottom line, from the report:
"We recommend that studio executives, producers, and supporting creative personnel take extra precautions by consulting with their security administrators when negotiating with Chinese entities, working on co-productions and collaborations, traveling to China, or developing projects perceived as contentious by China's government."
ALSO:
Reddit users launch fundraiser to help Dorian Satoshi Nakamoto
Why Thursday may have been the strangest bitcoin news day ever
Before bitcoin uproar, Dorian Satoshi Nakamato was a civic activist
---