WeHo ad tech company begins $100-million buying spree to launch an online publishing arm
West Hollywood firm Engage:BDR Inc. uses its technology to place ads in front of half a billion people each month. But none of those ads appear on websites it owns.
Though that's common for ad technology companies, Engage Chief Executive Ted Dhanik no longer sees that as a viable strategy. On Monday, the former vice president of fun and strategic marketing at Myspace launched a transformation plan for his 7-year-old company.
Engage announced the first of what's expected to be 12 acquisitions over the next 12 months of online destinations and ad sales forces. It has studied the targets for the last 18 months.
By becoming a media company alongside an ad service, Engage will have access to more data about consumers and can significantly boost revenue, signing more exclusive and broader deals with advertisers. Dhanik described the maneuvers as an aggressive plan to reach $250 million in annual revenue and have at least a third of its 500 million visitors come from websites and apps it owns.
"The idea of direct and exclusive inventory is no longer a concept, it's a requirement in the market," Dhanik said. "People want exclusivity. This keeps it much more sustainable."
Engage is starting with a $7.4-million purchase of Mydiveo, a recently launched Hollywood company that features videos of emerging musicians. Dhanik said the deal includes components like performance bonuses, but declined to specify terms. The goal, he said, is for Mydiveo to reach at least 3 million viewers over the next few months through the Web and apps for mobile devices and TVs.
"We loved what we built at Myspace on the music side, and Mydiveo is trying to fill a void that has been left" by Myspace's downfall, he said.
Altogether, Engage plans to spend more than $100 million during the buying spree.
------------
For the record
10:23 a.m., Aug. 30: A previous version of this article reported that Engage:BDR Inc. would use accumulated profit to fund its acquisitions. The company has not divulged the source of the funds.
------------
The self-funded company generates most of its undisclosed revenue today from video ads viewed on smartphones.
The ad industry hasn't seen a consolidation like the one Engage is seeking, but executives who've handled similar roll-ups in other industries are advising the company.
Engage is pursuing mostly media companies frequented by mothers clicking over from social media services. Dhanik said acquired companies would have independence and access to both higher-paying advertisers and technology to thwart ad-blocking tools.
Bitium goes with conservative growth strategy
Business software start-up Bitium Inc. received about $6 million in funding from existing investors such as Polaris Partners.
The Santa Monica company's program allows workers to easily log onto applications and for managers to control access. For example, an intern might leave a company knowing its Twitter account password. With Bitium, the intern could access Twitter while there without ever knowing the password. The intern's access could be revoked at the end of her or his tenure.
"We feel like we've built the second wave of identity access and management," said Chief Executive Scott Kriz.
The funding, which brings total invested capital to about $15 million, should enable Bitium to maintain a hiring pace of about five salespeople per month. It's up to 350 customers, including OpenTable, ad agency GroupM and a large insurance company.
Kriz said he wants to grow the company conservatively, rejecting opportunities to raise larger sums of cash. The company may raise a full round of financing next year and expects to stem losses by then too.
He compared his strategy to that of competitor Okta, a San Francisco start-up valued at more than $1 billion during a $75-million financing last year.
"I have tremendous respect [for Okta], but they either need to go public or they have a limited number of places to sell," Kriz said. "We want to create a sustainable business we can keep building on. It's maybe a mentality of being an L.A. company."
Sneaker re-selling app Goat gets a leg up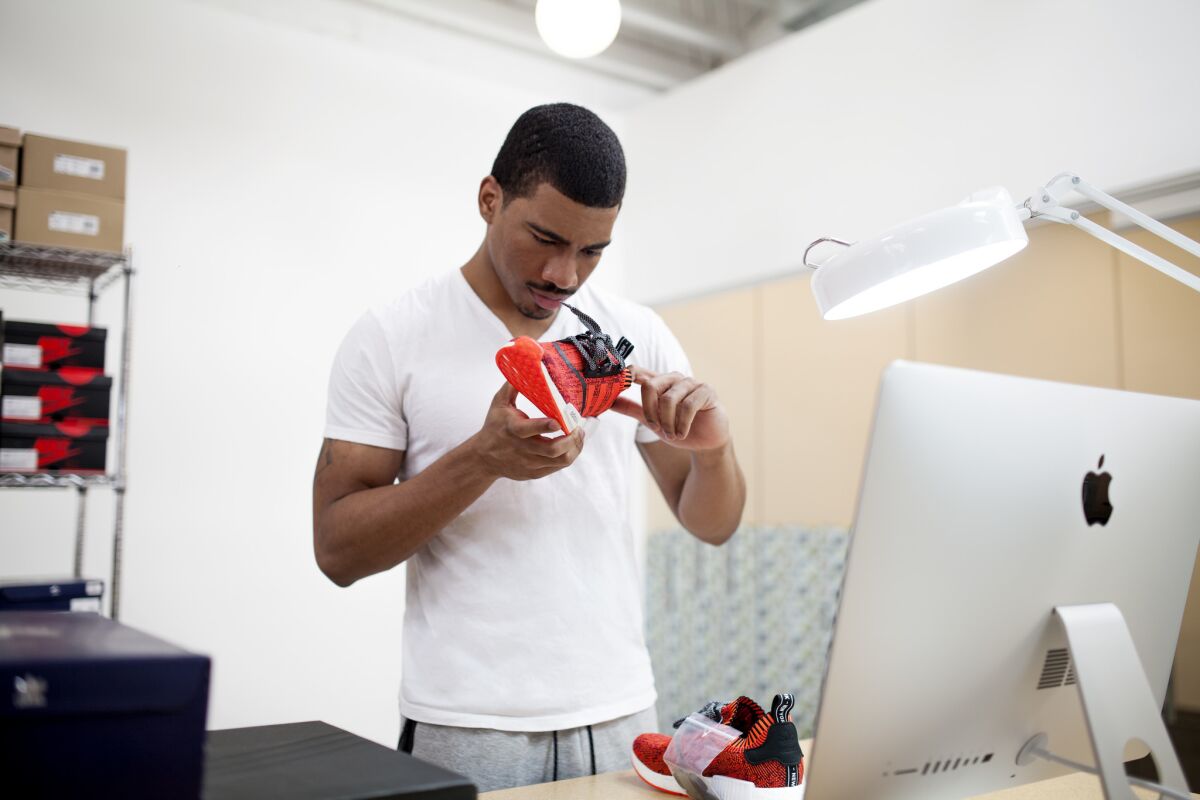 GOAT, a mobile app for reselling sneakers, said Monday that it had raised $5 million in a fundraising round led by Matrix Partners.
The Los Angeles company, launched last year under formal name Grubwithus Inc., is tapping into a voracious appetite among sneaker aficionados for premium and limited-edition kicks. GOAT, which stands for greatest of all time, connects sellers and buyers through the app. Like other fashionable online resellers such as TheRealReal and Portero, it has put in place safeguards for ensuring products are authentic.
After a pair of sneakers is purchased, Goat requires a seller to ship the product to its warehouse, where specialists authenticate it. If they are found to be counterfeits, the buyer is issued a refund.
Online reselling is a growing businesses. Luxury goods shop TheRealReal raised $40 million from investors in April, bringing the San Francisco start-up's lifetime fundraising to more than $120 million.
Goat said it has brought in $12.6 million from investors, including Upfront Ventures, Andreessen Horowitz and First Round Capital.
--Shan Li
Elsewhere on the Web
Santa Monica software testing start-up MindSpark is applying neurodiversity to its workforce, hiring people with autism or related disorders for jobs they are well-equipped to handle, according to Motherboard.
The lead investor in freight-moving tech start-up Cargomatic says though the Venice company is low on cash, it truly has access to "indefinite" investment and isn't going anywhere anytime soon, according to the Wall Street Journal.
Snapchat has teamed up with a start-up that crowdsources high school football game scores to let attendees apply a digital sticker with live scores to their photos and videos, according to Adweek. A Gatorade ad will be on the sticker.
Snapchat called a patent infringement lawsuit from a Canadian technology company meritless.
DogVacay Founder and Chief Executive Aaron Hirschhorn writes an essay explaining why his Santa Monica start-up shouldn't be considered a tech company.
The man who sold payment processing software start-up Braintree to Paypal for $800 million three years ago now has a medical company in Venice that's trying to make implantable chips to restore brain function to people with certain afflictions, according to the Washington Post.
In case you missed it
A key feature on Weedmaps (the Yelp for marijuana) — user reviews of pot businesses — may be tainted by thousands of potentially fraudulent comments, a flaw in the company's software revealed.
Ride-hailing company Uber announced that it teamed up with automated investor service Betterment to offer its drivers a way to set up retirement accounts through the ride-hailing app.
Coming up
The second annual eSports Conference comes to downtown Los Angeles Sept. 7 and 8, with speakers from top teams, service providers and game makers. On Sept. 8, UCLA plans to show off nine small companies — started by current and former students — that have been incubated at the university over the summer.
Twitter: @peard33
---