'League of Legends' e-sports competition softens controversial rule banishing bad teams, adds player panel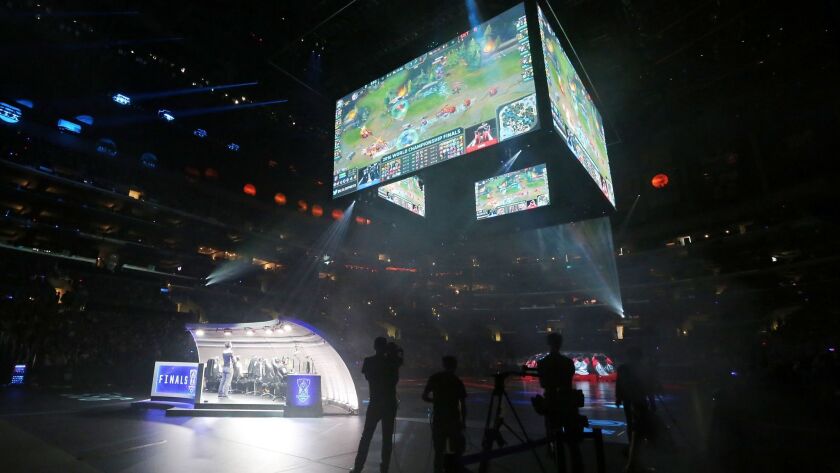 The world's most popular e-sport plans to soften a controversial rule banishing bad teams and to add a new panel made up of professional gamers.
The "League of Legends" North American league replaces its two worst performing teams with a pair of upstarts at the end of each year. Under a new plan announced Thursday, the practice of relegating teams while promoting others would be relaxed.
Starting next year, "League of Legends" developer and league operator Riot Games would lock teams in as a permanent members — although teams that struggle could still lose their spot.
The structural changes also include the Los Angeles company funding and organizing a players' association. It's meant to help competitors in the five-versus-five base-destruction game assert more power in negotiations with team owners. The association would serve as a single voice for Riot Games to consult.
The efforts represent some of the biggest moves by the gamemaker to make its league a more welcoming place for the sponsors, players and business partners that are crucial to turning competitions viewed by millions of people online each week into a moneymaker.
E-sports has emerged in the last five years as an exciting frontier in entertainment and sports. It's attracting growing investment from the world's biggest video game companies, including Activision Blizzard, Electronic Arts and Riot Games parent company Tencent. Other investors in e-sports ventures include owners of NBA teams, professional athletes and media moguls.
But the expanding community craves a move from freewheeling growth to simplicity and stability. Although no one's certain whether "League of Legends," "Counter-Strike" and other video games will have the lasting power of baseball or football, the potential of several new multibillion-dollar sports is spurring interest. Most of the teams are based in Los Angeles.
Dropping underperforming teams from the Riot Games' league has been popular among fans. For one thing, it gives them a reason to cheer for their favorite teams all season long. But owners feared that being knocked out would wipe out their multimillion-dollar investments in developing teams.
"Removing the uncertainty around relegation will enable teams to be able to better plan for their future, and to make long-term bets and investments in the league," Riot Games said in a statement.
In place of annual relegation, Riot Games would boot teams that finish 9th or 10th in five out of eight consecutive seasons. Riot Games holds two seasons each year.
Later this year, teams must apply for selection in the league. Riot said it would offer franchises to team ownership groups that are well-funded and prioritize player welfare, including by offering coaching and post-career education. Teams would pay a $5-million upfront entrance fee to Riot Games. Any existing ownership teams that don't make the cut would have the option to sell their player contracts and get exit payments from the league.
Each team would have a minor league squad in what's known as the Challenger League.
Riot Games plans to distribute some revenue from league-wide deals to teams and expects teams to share a portion of their revenue too.
Last year, Riot Games struck a seven-year, $300-million streaming rights deal with BAMTech, a division of MLB Advanced Media (Walt Disney Co. and the National Hockey League also hold stakes in BAMTech).
Riot Games e-sports senior manager Chris Hopper said the company would keep 32.5% of such deals, with another 32.5% filtered to team owners. About half of the team share would be flat, with equal payments to every franchise. But to encourage them to perform well, what they receive from the remaining portion would drop depending on their position in the standings. The last-place finisher would receive no standings-based cut, though the team would still be eligible for a bonus tied to viewership and other yet-to-be-determined data.
The new player's association marks a big experiment. E-sports is the first field in which labor law experts have seen management more cognizant of the benefits of collective bargaining than the workers themselves.
Owners say unions would help prevent ugly disputes that arise when players don't read their contracts and later object to their provisions. It also could deliver salary caps and other measures that create a predictable operating environment for team owners. But players haven't given much thought to organizing.
Peter Dager, chief executive of the team Evil Geniuses, said a game developer kick-starting a players' organization was worrisome because of the extra power it could grant the company. But he acknowledged that might be the best solution to warm players to the unionization idea.
"It's not the worst thing," Dager told The Times last week.
Veteran players briefed on Riot Games' new initiatives Wednesday said the biggest benefit they'll see is the ability to sign more lucrative contracts. With diminished fear of relegation, owners and sponsors should be willing to sign players to longer deals.
"You can ask for more because over time, you bring more value to a brand or team," said Yiliang Peng, who plays attacking characters in "League of Legends" for Team SoloMid. "You can be a franchise player. You can be on that team's products and promote them well."
But most of the gains would come to new players, who will come into a system with more hand-holding and less struggling for workplace protections, said Eugene Park, who plays a midfield position in the game for Immortals.
"League of Legends" competitors would get access to agents, lawyers and financial advisers as part of the association. Riot Games would offer recommendations to players on association management.
The minimum player salary would be raised to $75,000 from $25,000, and players could receive a bonus that's a percentage of their salary if aggregate spending on players comes out to less than 35% of league-wide revenue.
The company said the association is intended to serve as a buffer that protects players from being taken advantage of by unscrupulous people entering the industry.
Players would elect leaders among themselves by majority vote to represent their interests during league meetings. And Riot Games said it hopes and expects that players will assume full financial control over their association. Riot Games declined to say how much seed funding it's providing.
Riot Games' league in China also plans to move toward a more permanent set of teams. Its 11 other leagues in Europe, South Korea, Brazil and other regions have no immediate plans to evolve.
Top teams from the various leagues meet for a World Championship, which is scheduled to be held this fall at Beijing National Stadium, or what came to be known during the 2008 Summer Olympics as the Bird's Nest.
Twitter: @peard33
---
UPDATES:
1:45 p.m. This article was updated with additional details from Riot Games e-sports senior manager Chris Hopper about revenue sharing and the player's association.
---
Your guide to our new economic reality.
Get our free business newsletter for insights and tips for getting by.
You may occasionally receive promotional content from the Los Angeles Times.