Rapidly growing world of e-sports confronted by tragedy of Jacksonville shooting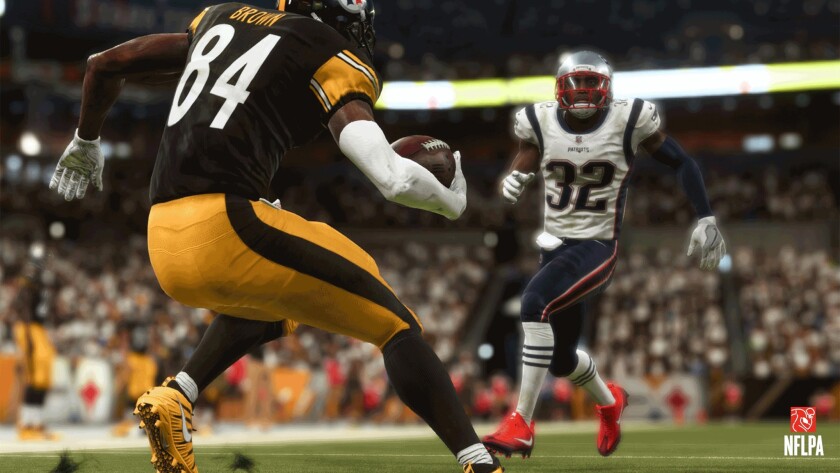 The fatal shooting Sunday at a "Madden NFL 19" tournament in Jacksonville, Fla., cast a pall over a sport that has players battling for ever-larger prizes and has ascended so rapidly that it has piqued the interest of Olympic organizers.
Competitive video gaming is expected to grow 38% this year into a $900-million global industry with a worldwide audience of 380 million, according to Newzoo, an Amsterdam-based market research company.
It's a pursuit that's increasingly gaining legitimacy, with fans all over the world filling arenas to cheer and watch their favorite players. Dozens of universities offer varsity collegiate e-sports programs. And e-sports are debuting at the Asian Games this week as an exhibition sport, a potential precursor to one day being included in the Olympic Games.
Last weekend, almost 20,000 people filled Vancouver's Rogers Arena (with 15 million watching online) to see 18 teams compete in the final rounds of the "Defense of the Ancients 2" league, better known as "Dota 2." The tournament featured a $25.5-million pool. OG, the top team in the multiplayer fantasy battle game, split $11.2 million in winnings after placing first at the tournament, according to e-Sports Earnings.
Those prizes are raised by the players themselves by purchasing in-game upgrades to make their characters more competitive. That belies the corporate money pouring into the industry in recent years.
"Overwatch," a team-based first-person shooter game made by Blizzard, is leading the trend toward city-based e-sports franchises. L.A.'s home team, L.A. Valiant, is a subsidiary of The Immortals, an umbrella organization that manages L.A.-based e-sports teams in a variety of games. Based on recent investments, the Immortals is valued at $100 million, counts former Hewlett-Packard CEO Meg Whitman as a board member, and has a deal with AEG to host its home games at L.A. Live.
Madden, named after the famed football coach John Madden, serves something more of a niche audience. Unlike "Dota" and other more popular e-sports titles such as "League of Legends," it doesn't require a team. It also doesn't have the same mass appeal as fighting games.
Yet Madden has been heavily promoted by stakeholders such as the NFL, ESPN and Electronic Arts, the publisher of the game. The competition is a way to engage a new crop of young fans to football at a time when the sport has seen its dominance in American culture challenged by politics and fear of injuries among school-aged athletes.
"Competitive gaming and e-sports are one of the most exciting ways to engage a larger, younger and digitally savvy NFL audience," NFL Commissioner Roger Goodell said last year.
MORE: From Detroit, a gamer watched his friends playing in Jacksonville: 'Then the guy started shooting' »
The NFL, ESPN and EA collectively run an annual competitive circuit that brings the best players together for tournaments that are livestreamed for global audiences. The attack in Jacksonville was a regional qualifier for a tournament on the "Madden NFL 19" Championship Series circuit that offered a $165,000 pot.
David Katz, 24, is accused of firing inside a pizza restaurant where the competition was being held, killing rival gamers Elijah "Trueboy" Clayton, 22, and Taylor "SpotMePlzzz" Roberston, 27, before killing himself. Among the injured was Drini "Young Drini" Gjoka, one of the sport's youngest and most talented players, who tweeted he was shot in the thumb.
"The tragic situation that occurred Sunday in Jacksonville was a senseless act of violence that we strongly condemn," EA said in a statement posted online. "Our most heartfelt sympathies go out to the families of the victims whose lives were taken today and those who were injured."
Three million players competed in the Madden Championship Series last year. Even more are expected this year. One tournament, EA's Club Championship, is offering a record $700,000 prize pool that could significantly raise the game's profile.
"'Madden NFL' is a small e-sports game in terms of viewers," said Jurre Pannekeet, an analyst for Newzoo. "Games such as 'League of Legends,' 'Counter-Strike: Global Offensive,' 'Overwatch,' and 'Dota 2' attract many more millions of e-sports viewers at the moment."
But investing in e-sports is an important part of EA's strategy, Pannekeet said, because it creates incentives for more gamers to play Madden. It also sets the bar for competition ever higher.
If EA can build a thriving ecosystem for competitive play, it will inspire gamers to spend more money on the franchise, such as with lucrative in-game upgrades for better players. EA, which is headquartered in Redwood City, Calif., has sold more than 130 million copies of Madden games since the series' first title was released in 1988.
"Having people try out the game and keeping them on as players for a long time is important to EA as they generate a large portion of revenues through additional in-game sales," Pannekeet said.
The professional Madden leagues grew out of a series of underground competitions hosted by players, where entry fees would go toward a grand prize in the neighborhood of $5,000 for a typical weekend tournament. These tournaments would sometimes be hosted online, but many players traveled around the country to compete. That fostered a nationwide community of football-minded gamers.
"These are my real-life friends," said Damon Kirk, a professional Madden gamer and friend of Clayton's who was not present at the shooting. "When you travel to a different city, it's like the Masons: You can hit someone up from Madden, and they'll show you a good time, take you out to eat and get a drink."
Kirk has been playing on the professional circuit since 2010, including one year in college when he played close to full time, earning enough to pay for a full $12,000 semester at Western Michigan University. The dollar amounts of the biggest tournament's pots have grown since EA incorporated the underground tournament circuit into its official leagues, but Kirk says the community feeling has remained the same.
The competitive Madden community has little overlap with the world surrounding newer games like "Overwatch" and "League of Legends," which reward fast-twitch hand-eye coordination and have grown in the often toxic comments sections of streaming services like Twitch.
Madden puts gamers in the position of a virtual coach more than a virtual player — EA updates the Madden games as the NFL season progresses to reflect changing rosters and player injuries, which gives avid football fans a leg up on the digital competition when it comes to game-day tactics.
"They don't even consider us an e-sport," Kirk said, "because we're based off a real-life game."
david.pierson@latimes.com | Follow me @dhpierson
---