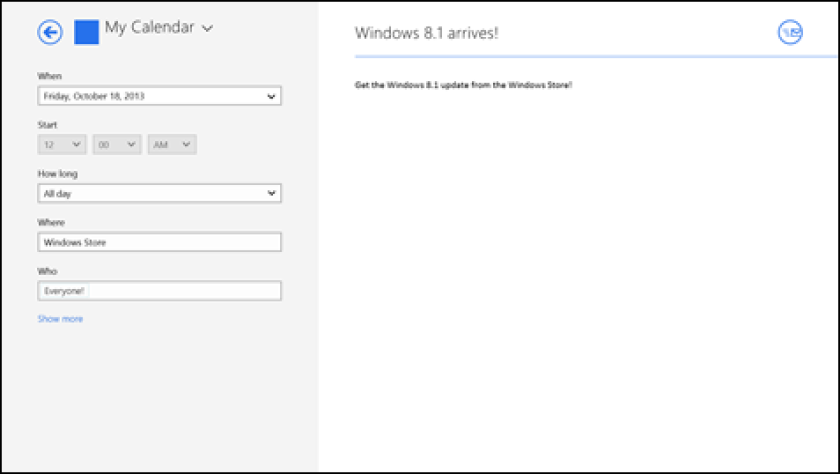 Microsoft will roll out the first major update for Windows 8 nearly a year after the operating system made its debut.
Windows 8.1 will be available to existing Windows 8 users as a free update that they can download from the Windows Store starting at 4 a.m. PDT on Oct. 17. The update will also be available at retail stores the next day.
"Windows 8.1 continues the vision we began with Windows 8 and is an example of our commitment to continuous innovation and improvement for our customers," Microsoft said in a blog announcing the release date.
PHOTOS: Six things rich tech execs splurge on
Among the changes in the new version of the Microsoft operating system is a search feature powered by Bing that shows users results from their own files as well as links and information on the Web.
Users will also have more customization options in Windows 8.1. On the Start Screen, users will be able to choose animated images for their backgrounds or use any of their pictures for their backgrounds -- as opposed to just color backgrounds. They will also be able to set up slide shows for their lock screens, rather than just a static image.
Other changes include a new version of Internet Explorer, files saving to the SkyDrive cloud storage service by default, and overall quicker performance.
Eager users can sign up to try an early, preview version of Windows 8.1 now.
"It's very exciting to be delivering Windows 8.1 to consumers just before Windows 8 celebrates its one-year anniversary," Microsoft said.
ALSO:
YouTube returns to Windows Phone
Facebook, OpenTable partner for restaurant reservation service
BlackBerry has been searching for a buyer since 2012, report says
---