India's Narendra Modi to chat with Facebook and dine with Google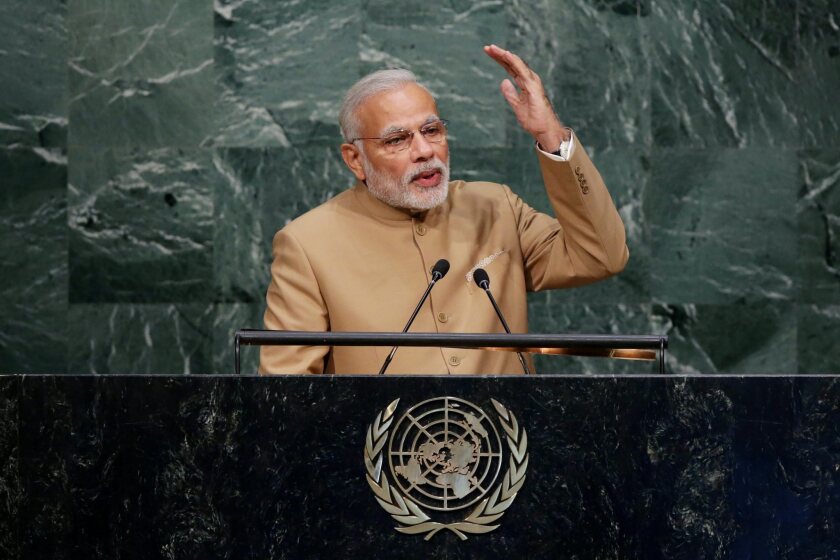 A U.N. official joked that Indian Prime Minister Narendra Modi spoke for 13 minutes over his allotted time Friday, or about one minute for every 100 million people in India.
The huge population and the broad ambitions he discussed in his speech are no joke to Modi, who's trying to lift nearly 1.3 billion people from villages and shantytowns into sparkling cities fueled by renewable resources.
In the middle of a weeklong tour of the U.S. from New York to Silicon Valley, he's leaning on leaders in America's finance, media, entertainment and technology industries for help. His message: India is too huge to ignore.
Interested in the stories shaping California? Sign up for the free Essential California newsletter >>
"I believe the sustainable development of one-sixth of humanity will have great consequences for the sustainable development of our beautiful planet," Modi said in his U.N. address, given in Hindi.
As India's economy grows, U.S. companies will have greater opportunities there, experts said. India serves as a place to outsource software programming and customer service, but now businesses want to invest in India to tap its consumers.
"As that balances out, you'll see more companies around the world make money in India rather than use India to save money," said Sumant Mandel of Santa Monica-based venture capital firm March Capital Partners. "That's what Modi's pushing."
Google, for instance, is selling affordable smartphones and laptops in India to hook Indians onto apps. This week, recently appointed Google Chief Executive Sundar Pichai posted a YouTube video to say Google "was passionate about playing its part" to revolutionize India's economy.
"We hope your visit will energize people in the Valley, excite Indians all across the country and renew and strengthen our partnership," Pichai said, addressing Modi.
Modi will dine with Pichai, Apple's Tim Cook, NetApp's George Kurian and other tech CEOs on Saturday and also visit Google, Tesla Motors and Facebook this weekend. Here's a look at what else Modi has been up to in the U.S., and what's coming up:
-- On Thursday in New York City, Modi heard criticism about India's tax policies and bureaucratic bottlenecks during a roundtable with finance-industry CEOs such as JPMorgan Chase's Jamie Dimon, Blackstone Group's Steve Schwarzman and AIG's Peter Hancock.
-- Later, Modi reiterated to media executives, including Sony's Michael Lynton, Vice Media's Shane Smith and News Corp.'s Rupert Murdoch, that India would do more to deter intellectual property theft.
"Best leader with best policies since independence, but massive task to achieve in most complex nation," Murdoch said, referring to India's separation from Great Britain in 1947.
-- Over a dinner Thursday of sea bass, chicken, savory cakes and rice pudding, 47 Fortune 500 CEOs heard Modi's pitch about ridding graft and complexity from India's government being his No. 1 priority. Attendees came from Pepsi, Time Inc., Goldman Sachs and Ford.
-- Modi will take questions from Facebook founder Mark Zuckerberg at a town hall meeting that will be streamed live online Sunday morning. Protesters, who say Modi has discriminated against Indian minorities, are expected to gather outside.
-- Modi also plans to talk at a renewable energy conference at Stanford University and meet U.S. start-ups at an "India-US Start-up Konnect" event.
Modi caps the weekend at a festival inside the 18,000-seat SAP Center in San Jose. On Monday, he returns to the U.N. to meet President Obama.
Chat with me on Twitter @peard33
ALSO:
Why Dollar Shave Club invests in unscripted customer service
Patient's suicide renews concerns about Kaiser mental health services
What you need to know about the Volkswagen emissions-rigging scandal
---