New Apple TV rumored to launch with iPad 3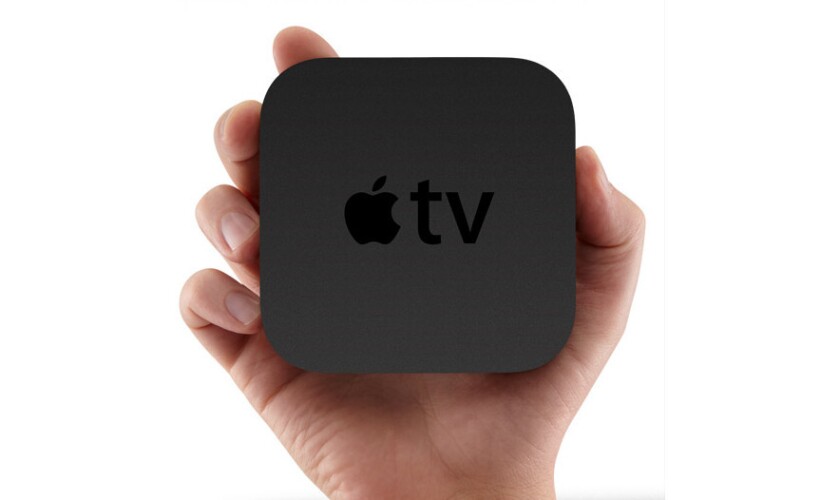 The iPad 3, which is expected to launch at Apple's March 7 event, might not be alone in its debut. According to one rumor, a new Apple TV set-top box could also make its debut, with the ability to stream 1080p video from iTunes, Netflix and other video services.
Currently, the Apple TV and iTunes both top out at 720p resolution video, but jumping to 1080p would not only help sell a new set-top box, but also provide higher-quality video content if Apple's next iPad gets its retina display as is also expected next week.
A retina display is technically any screen that has a dpi (dots per inch, which is a measure of how many pixels can fit in a square inch) of 300 or greater. The name retina display is used because such a dense screen should allow pixels to be indistinguishable from each other to the human eye at a distance of about 10 to 12 inches away.
The first-generation iPad and the iPad 2 both feature a 1,024-by-768 pixel resolution touchscreen and many believe that the iPad 3 will ship with a screen sporting twice the resolution of the first two models -- 2,048-by-1,536 pixels with a 326 dpi.
The new Apple TV, as first reported by Mark Gurman over at the Apple news site 9to5Mac.com, is rumored to have a variation of the dual-core A5 processor found in the iPad 2 and current Apple TV.
The new chip, which some have called the "A5X," is rumored to maintain two processing cores, but add an improved graphics engine, Gurman reported.
With improved graphics processing and likely a faster clockspeed, the new Apple TV would be able to handle the "smooth video playback" that Apple would be looking to deliver, he said.
"Other possibilities from the rumor mill include a redesigned Bluetooth 4.0 remote control, and Siri support, but those are not rumors that we can independently confirm [yet]," Gurman said. "This new Apple TV would seemingly launch with a new 1080p movie service from Apple's iTunes Store."
Apple officials weren't available for comment Wednesday, but the company does have a policy of not commenting on rumors and speculation.
We'll find out what Apple has in store March 7, so stay tuned.
RELATED:
iPad 3 rumors: From feasible to far-fetched
Apple market value hits $500 billion and counting
Apple iPad 3 launch? Press invited to March 7 event
Follow Nathan Olivarez-Giles on Google+, Facebook or Twitter
---